Q&A with... The Flaming Lips
Enter the Lips' bizarre world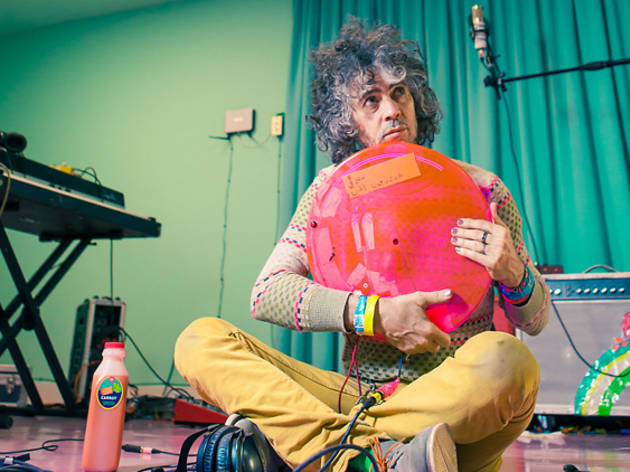 A four-disc album meant to be simultaneously played on a quartet of stereos. A USB stick EP encased within a weed-flavoured gummy skull. A young Justin Timberlake, wearing a dolphin suit, thumping the bass. These are all fair game in the technicolour world of The Flaming Lips, a band whose antics are only as mad and chaotic and unflinchingly bizarre as their music.
And what music it is. 'Psychedelic rock' only begins to describe the brand of sonic freak-outs the Oklahoma City group have been coaxing from their instruments since 1983 – and the Lips are now weirder than ever. Just listen to their latest drop, a spacey tribute to the Beatles' Sgt Pepper's Lonely Hearts Club Band, and you'll find they haven't exactly mellowed with age. Or, better yet, head down to their second gig in Singapore and see for yourself.
When the Lips popped by our shores in 2010, they were easily the most uproarious band we've seen live in Singapore. Besides the fireworks, confetti and dozens of dancers making merry on stage, frontman Wayne Coyne stuffed himself into a giant rubber ball before hamster-wheeling across a sea of fans.
It's little wonder they were voted by Q Magazine as one of the 50 bands to see before you die. Iliyas Ong catches up with Coyne ahead of the one-night-only show to find out if there's a method to the madness.
'Y'know those toads that you lick and it's like you're on mushrooms?'
On designing their live sets
'I'm very involved in the design. We're back to doing space bubbles and giant inflatable things, so the show is now crazier than ever.'
On changing their sound after 2009's Embryonic
'Steven [Drozd, multi-instrumentalist] and I were on an arc of becoming more refined. I don't really know what it is except it's this kind of primitive, grinding thing, where we're playing very otherworldly and sophisticated jazz chords. It was on a whole 'nother level. And once we stumbled upon that, we could never go back.'
On the Beatles tribute, With a Little Help from My Fwends
'It really all happened by accident. We were doing a New Year's Eve show, and were covering a few Beatles songs. "I am the Walrus", "Happiness is a Warm Gun"… but "Lucy in the Sky with Diamonds" was the standout track. It sort of pushed us along, and we thought, "Let's do the whole thing."'
On collaborating with Miley Cyrus on the record
'We're thinking we're bringing some innocent girl into this big, crazy machine that is The Flaming Lips, but it's really her bringing this new craziness, this new energy, this new joy. People think she's a Disney star, but I swear she is such a freak.'
On other candy releases
'Speaking about doing a gummy skull, y'know those toads that you lick and it's like you're on mushrooms? We're gonna do something like that for Art Basel in Miami. We like candy.'
On his top three Beatles songs
'The very top one would be "Strawberry Fields Forever". I was very young when that came out, and I love the part at the end where John allegedly says, "I buried Paul." "Tomorrow Never Knows" is like the beginning of dance music, and "A Day in the Life" is still a stunning track.'