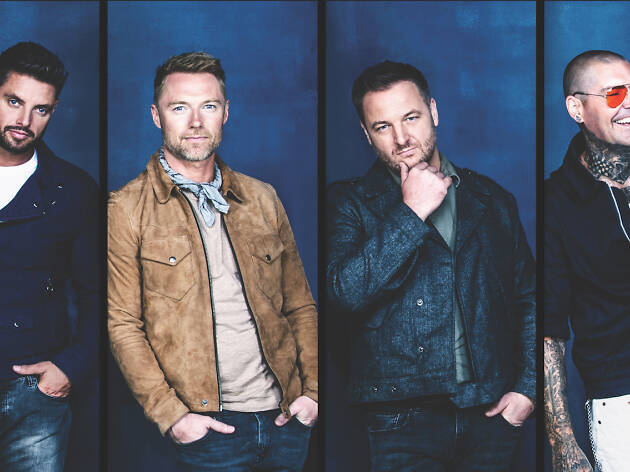 We chat with Boyzone before their last concert in Singapore
Boyzone's Ronan Keating shares with us his final words before closing the boyband chapter for good
Many of us grew up decorating our bedroom walls with fold-out posters of the biggest boybands on the planet. Irish boyband Boyzone is no exception. The Dublin boys were put together by Louis Walsh back in 1993 to be the next big thing after Take That. And big they were. Hits like Love Me For A Reason, Words and No Matter What dominated the pop charts for weeks, and shows sold out around the world. The band was on top of their game in the 90s.
Sadly, all good things must come to an end. And if you happen to be a die-hard fan whose hidden talents include singing to every word of Picture of You in your sleep, then this piece of news is an absolute heartbreaker. After 26 years of being a fivesome – then foursome in late 2009 (RIP Stephen Gately) – Ronan Keating, Keith Duffy, Michael Graham and Shane Lynch are ready to take their final bow as Boyzone. But before serenading fans one last time at The Star Theatre on June 12 as part of the Thank You & Goodnight farewell world tour, we chat with lead crooner Ronan Keating about the band's final fate.
RECOMMENDED: Upcoming concerts in Singapore
Hi Ronan! It hasn't been a year since you and the boys last performed in Singapore and yet it feels like a long time. What are you looking forward to the most this time around?
This time it'll be the fans because it's the last show. It's great to get the chance to come back one more time to experience the city and the people, as well as to say goodbye to everybody in Singapore one last time. We don't want to end it quickly; we want the moment to last – well, more than 24 hours to enjoy the experience longer.
Will you be coming back for more?
This is definitely Boyzone's last but I'm finishing a new album that should be ready towards the end of the year and I'm sure I will be back in Singapore promoting the new record.
How has the band changed over the last 26 years?
Oh my God… We've all dramatically changed in appearance. 26 is a long time! Our lives have changed with families. We've got children of our own who are older than we were when we started – it's crazy!
But we're all busy with our own solo bits and pieces, and individual careers. I guess it's nice to come back together again to say goodbye and close Boyzone's last chapter the way we want to.
It's been such a rollercoaster ride for the band. Why have you guys decided to close the chapter now?
For bands like Boyzone – I mean, we didn't see Boyzone lasting this long – the 90s were our years. Then came the 2000s, 2010s and now at 2019, it's been quite a unique journey. The right thing to do is to end on a high.
Ending on a high – does that include the album Thank You and Goodnight?
Yeah, it's a very special album. It took two years to make, which is a long time for Boyzone. Along the way, it took different energies, sounding differently. We were unsure of what we wanted the album to sound like and eventually we all agreed that the album should represent all of our individual personalities rather than us making another Boyzone album. This album represents the five of us with dramatically different sounds – country, pop, urban, rock. It's a mix of sounds like people listening to playlists with different genres – that's what this album is.
What's at the top of your playlist right now?
Right now I'm listening to all sorts – James Bay, U2. I listen to loads of different music all the time. There's a lot of great singer-songwriters all around.
Will there be a showcase of different genres during the show?
Well, no. This is a farewell tour. This is goodbye, so you're going to hear songs from the last 25 years. People come to the show to remember the night, to remember the old years. The show is more like a melancholy, retrospective celebration.
Will there be any special bits?
There's some new music but not a lot. It's mostly old songs. There's a part of the show where it's very emotional but very special and I hope the fans will enjoy.
Speaking of fans, what's your craziest fan experience?
Over the years, especially in the 90s, we had all sorts. Everything you could ever imagine like people dressing up and pretending to deliver room service at our hotels. One time, a fan jumped on the back of our vehicle and without noticing, we drove away. I was pretty frightened actually. We were driving at quite a speed and when we drove around the corner, she fell off and went flying. We stopped the vehicle and she was fine but yeah, that has happened a few times.
Any final words for all your fans in Singapore before you leave the 'zone'?
Just a massive thank you for the love and support they've given us for 26 years. It's amazing – we've been blessed. We don't take it for granted, we never have. I hope that everyone who comes to the show will get what they want from the show and enjoy themselves. Lots of love and massive thank you!
Catch Boyzone on June 12 at The Star Theatre. Tickets are available at Sistic from $108 to 328.