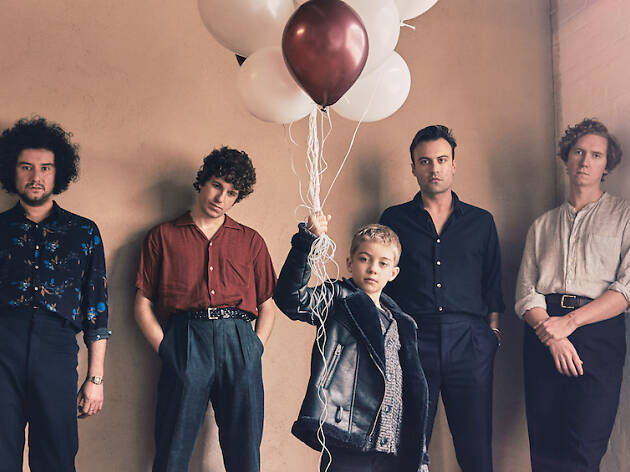 We chat with The Kooks before they headline Garden Beats
The indie outfit tells us the kookiest things ahead of their Singapore gig
It's been over a decade since the Brighton indie royalty burst onto the scene in the mid-noughties. And nothing gets the crowd shaking more than a hit of nostalgia. Cue The Kooks as they bring a dose of sunshine to the Garden Beats stage on March 9.
Besides singing along to their infuriatingly catchy indie-pop bangers like Naïve, Always Where I Need To Be and She Moves In Her Own Way, and nailing frontman Luke Pritchard's classic "uh-oh"s, expect to get acquainted with tracks off the band's latest studio album Let's Go Sunshine. Released last year, the shiny new record sees a playful blend of genres like retro-funk, dream-pop and chamber balladry on top of their signature guitar-fueled indie sound, and includes singles No Pressure and All The Time.
But before getting down to kooky on Saturday, we chat with lead guitarist Hugh Harris about the kookiest things, from food to fan experiences.
RECOMMENDED: Upcoming concerts in Singapore
Hi Hugh! What are you looking forward to the most in Singapore?
Hey! My Grandma had a nickname her whole life: Flower. This was in part due to her effervescent disposition but mainly due to the fact that she was obsessed with all plants. Growing up between Australia and the UK we – my sister and I – would visit her often in Sydney and lie around on hot afternoons listening to her describe the Singapore Botanic Gardens to us with profound enthusiasm. It would inspire me greatly. I'm mostly looking forward to spending some time in the Singapore Botanic Gardens in her memory, Sheila Harris.
Aww, that's sweet! And so is your sugary discography, so why call yourselves The Kooks?
[It's from] Kooks, a song on David Bowie's [album] Hunky Dory. He wrote it after hearing news of the birth of his son Zowie. At the time he was at home listening to Neil Young records and was inspired by both these events to write Kooks. Our band is a product of these things too. And many creatives see themselves as children of Bowie.
Be honest – are you all a kooky bunch?
I think we all have our kooks in us. It's what makes us. As a band, we do tend to embrace and celebrate this side of ourselves perhaps more than most. Forming in Brighton, a famously liberal city in the South of England, it was generally the go-to express yourself in line with counter-culture.
Well, we're suckers for kooky stories, so tell us...
The kookiest fan experience.
Our first drummer, Paul, had an absolute obsessive fan that would just go everywhere he went. She once managed to book a seat on our plane to Japan bang-next to him. She would have had a good 11 hours of sky-time face-to-face with him, had he not been ill, and replaced by our stand-in Nick Millard.
The kookiest gig ever performed.
I think in the early days, like early 2005, we had some wild shows that were just off the chart. People getting thrown out for heavy petting, stage invasions, you name it. Our live shows really connected people to their expression. No one was filming, no one had cameras on their phones, no one cared because there were no consequences or social media repercussions, it was just energy and love. I don't think a band will ever experience that again. Very proud to have seen the tail end of that world, and profoundly sad that it died in our arms.
The kookiest food you ate while on tour.
We get to sample the world. It's one of the great concessions of touring, and can be interesting. We were at a festival in South Korea outside the city. We finished the gig, jumped in a cab and asked the driver to take us to all the bars and restaurants, expecting him to take us into Seoul. In fact, he only took us to a kind of district suburb of Seoul, which we underwhelmingly took for the [city] centre. I remember thinking, "Seoul is a bit like Croydon". We sat down at a karaoke-barbeque [joint] and ate various cuts of cow's heart, whale, dog and cod-sperm with a large helping of goshujan and lashings of cheap vodka served in LED flashing glasses. It was thrilling. One day I'll go back to visit Seoul, actual Seoul.
Your new album is titled Let's Go Sunshine. If you could go anywhere in the world including a fictional place, where would you go?
I like your fictional location challenge, and I accept. New SydTokBurg is a perfect blend of New York's energy and 24-hour nightlife fizz, mixed with Sydney's beaches and weather, Tokyo's food, traditions and etiquette, St Petersburg's history, art and architecture.
You're headlining Garden Beats this year. Will there be any new surprises as compared to your last Singapore gig in 2015?
No alarms, no surprises. Just us being ourselves and hopefully making you happy.
Catch The Kooks at Garden Beats on March 9 at Fort Canning. Tickets are available at gardenbeats.com from $148-$178.