It's a strange feeling to step into a dark and quiet Zouk. Moving from RedTail Bar to where the main action of today is taking place, we catch sight of empty bikes for the Absolute Cycle classes on the main dance floor before entering the live room where Zouk Music Academy classes take place.
Today, our City Life Writer Izza and I are here to hit the decks. The newly launched Zouk Music Academy offers a one-session trial DJ class alongside 5-class packages at the beginner and intermediate levels. We're just interested in a taster, so we're getting to breeze through the basics of DJ equipment, software and mixing in today's one-hour session.
Our teacher today is none other than DJ Jeremy Boon, resident DJ at Zouk since it opened its doors in 1991. Oh, and you've probably done the YMCA at his wildly popular Mambo Jambo nights. But before we get lost in the nostalgia of clubbing days, here's what went down at our DJ masterclass.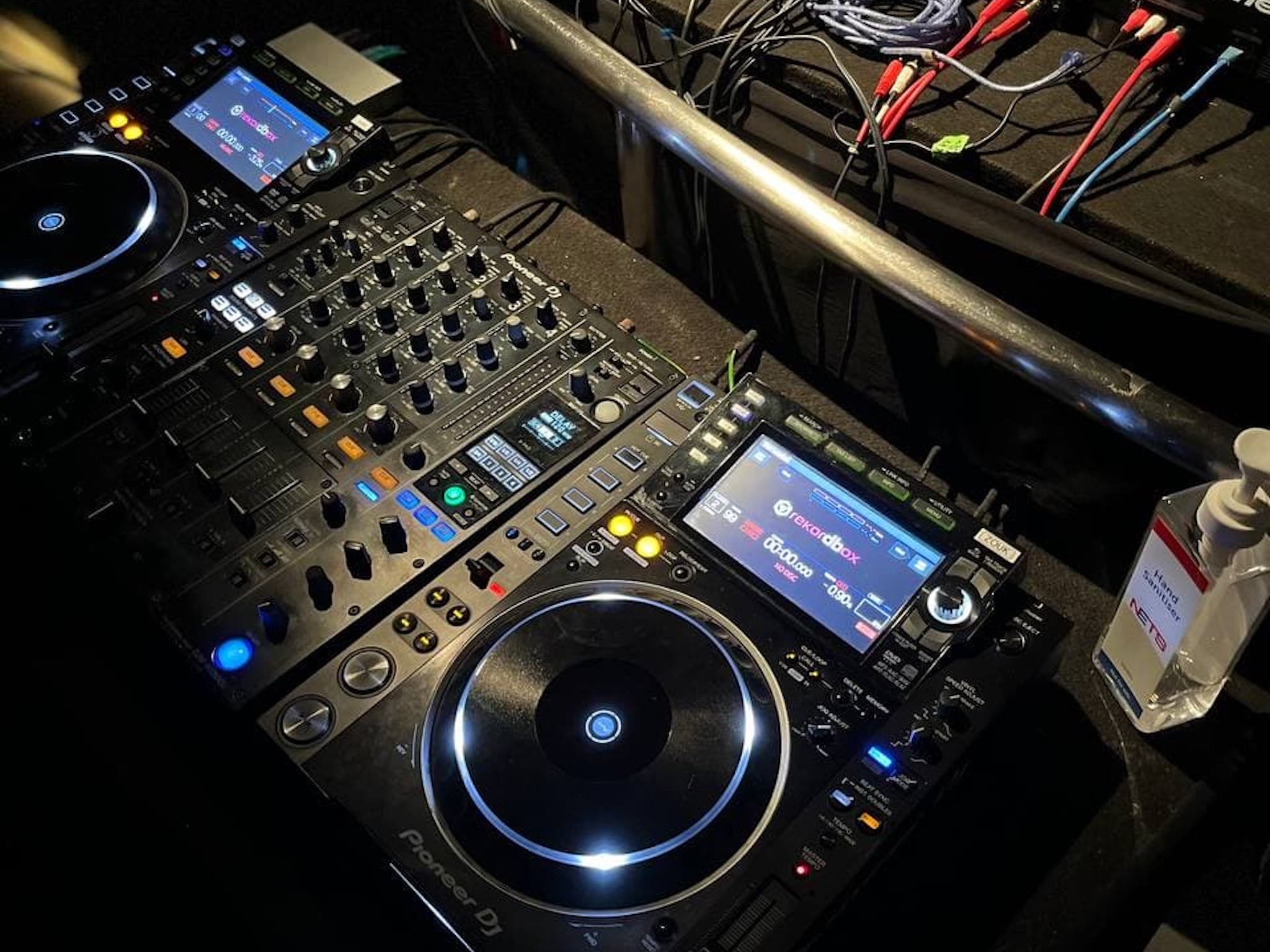 Getting acquainted
The first thing we catch sight of when entering the live room is the DJ controller. Just looking at it is intimidating (that's a lot of knobs), but Jeremy is quick to assure us that class today is going to be simple.
We get a quick lesson on the fundamentals of tempo, pitch and beat matching. Seamless transitions are everything for a DJ, so it's crucial that all these things line up when moving from one song to the next. That's where basic controls come in – the 'hot cue' button to start the next track, the turntable to help match the beats, and volume controls to fade music in and out.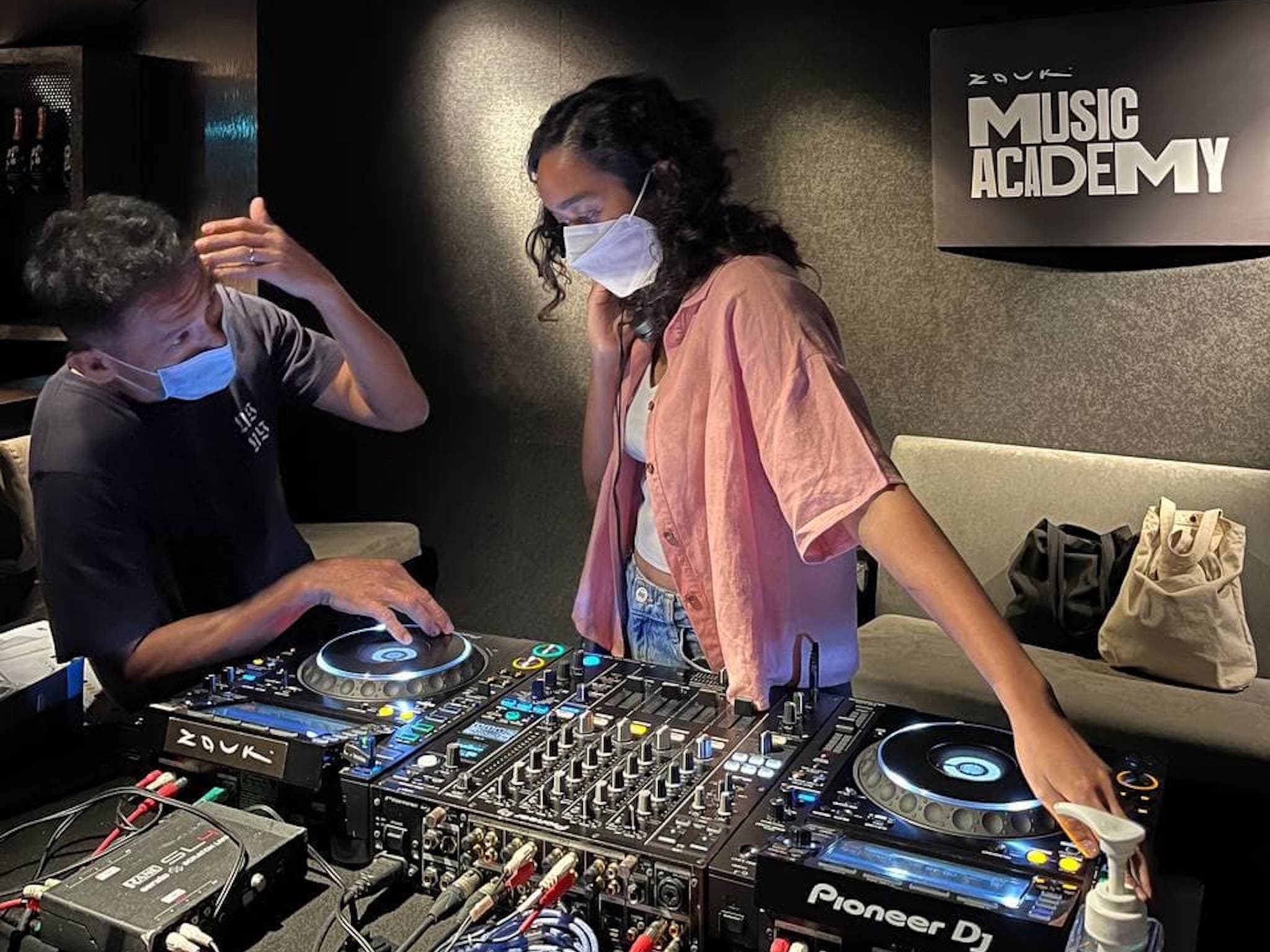 Mixing it up
Jeremy loads his prepared Afro Beats playlist into the DJ controller, and sooner than we imagined, it's time for me and Izza to try mixing one song into another.
I go first. Panic Room (Club Mix) blasts on the speakers while I listen to the upcoming The Man with the Red Face Classic ReDux through the headphone on my right ear. My job is to hit the hot cue button at precisely the right moment, then I have 30 frantic seconds to slow it down or speed it up so that the beats line up with the outgoing track.
I bob to the beat, I'm in the zone. I tinker with the turntable a bit and then confidently declare that the beats are matching. But when I turn the volume up so both songs are playing over the speakers, it becomes clear that the beats on the first and second songs don't match up. If I was getting it down on that dancefloor, I wouldn't be impressed.
Izza fares a lot better and gets the beat to match on the first try – the transition is pretty much seamless. Jeremy is impressed. I'm impressed – but also wondering what all my piano lessons were for.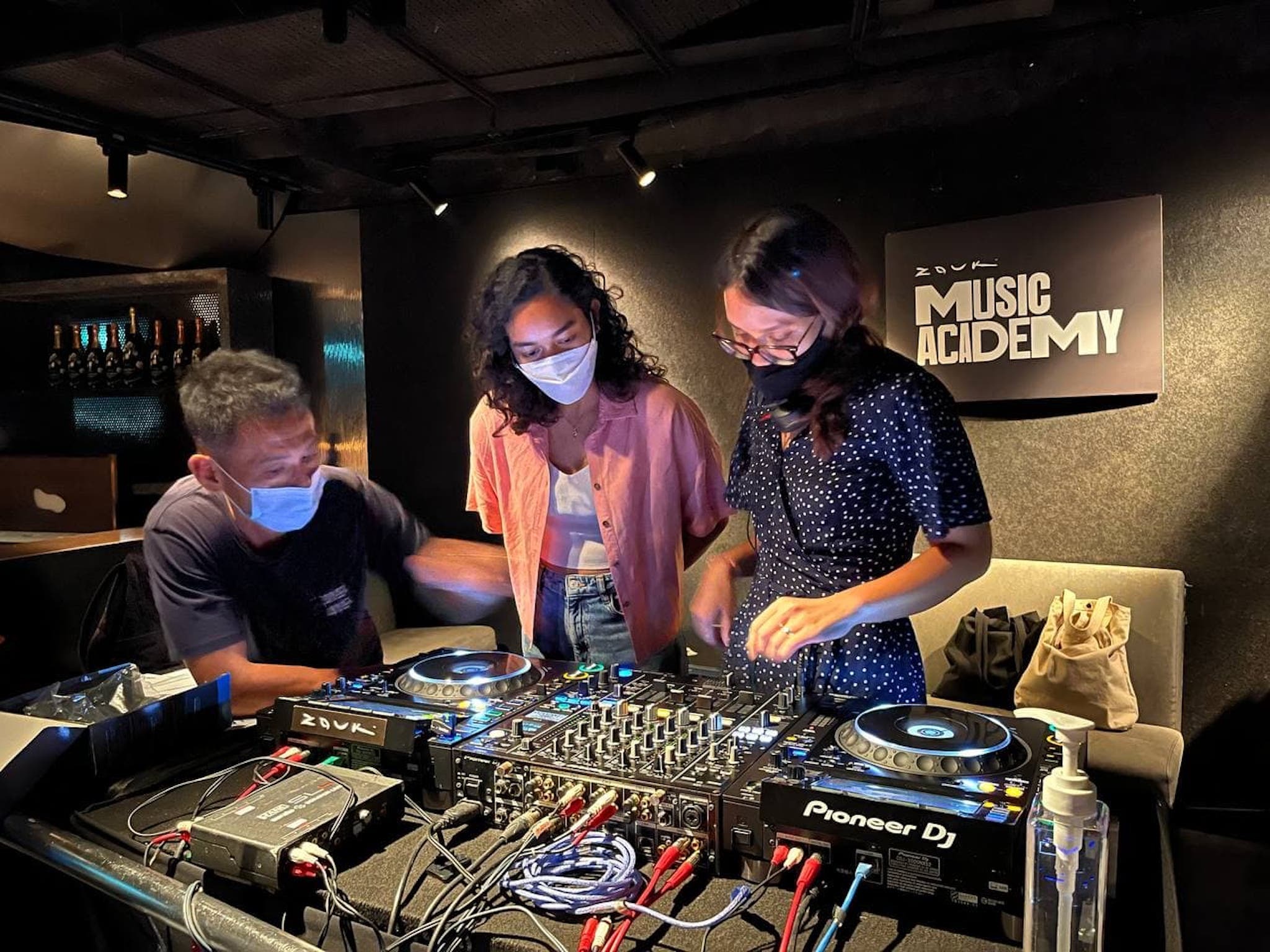 Getting a little fancy
We take turns to practice mixing songs into each other. "It must happen so smoothly that nobody on the dancefloor realises," says Jeremy. We're in awe at how he's able to mix so effortlessly, but then again, his ears have been trained by years of commanding the dancefloor.
Soon, Jeremy is satisfied enough to show us more fancy tricks. We play around with the equalizer (EQ) controls, progressively fading out the low, mid and high frequencies for more gradual transitions. Jeremy also shows us how to use reverbs, filters and other cool effects to create dynamism in the sets.
Behind the booth
We have some time to chat with Jeremy after wrapping up to find out what really goes on behind the DJ booth. It may look like they're just bopping about and pressing buttons, but there's a lot more going on than we realise.
Unlike most festival sets, club DJs seldom rely on a fixed set. Instead, they have to read and respond to the room. "I usually prepare more songs than I need," says Jeremy. "Imagine if there's a crowd that takes half an hour to warm up, but you only have 15 minutes worth of warm-up music." When he's DJ-ing, he's constantly gauging the mood, testing out songs to get people onto the dancefloor, and keeping the energy going.
Besides DJ Jeremy Boon, other Zouk resident DJs like DJ Ghetto, DJ Nash D and DJ Hong are available to helm the classes. They'll teach more intermediate skills, like trick mixing, basic scratching and beat juggles, and guide you through creating exhilarating dance-worthy sets.
Izza and I are probably not going to be the next Peggy Gou off this trial class alone. But it was a fun and accessible experience, great for anyone from total beginners to fledgling DJs.
"I have friends who bought simple DJ consoles to practice and mix music at their own house parties," says Jeremy. We're already thinking of getting one for the office.
Sign up for the trial DJ class ($49), beginner DJ course ($420) and intermediate DJ course ($450) here. From now till December 31, you can also bring a friend along to a trial class at no additional sign-up fee.