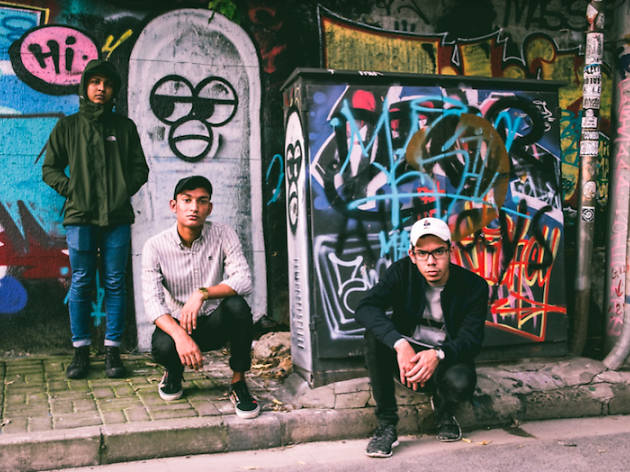 52 Weeks of #ExcitingSG: Week 4
Posted: Friday March 9 2018, 5:22pm
Welcome to Time Out Singapore's 52 Weeks of #ExcitingSG – our commitment to showing you the best of what's going on in the city this week. Every Monday, a guest writer who's "in" with the scene shares a recommendation on what to see, eat, do or buy in the city. This week, we chat with the members of local rap heroes Mediocre Haircut Crew (aka MHC for short), Omar, Dani and Fahim.
1. What gets you excited about Singapore?
Even though the country's pretty small in terms of land size, there are actually plenty of passionate people in the community that share the same enthusiasm or values, which you can socialise and learn from. Meeting new people in this city is endlessly rewarding and it's really evident why our country's most valuable resource is its people!
2. Where's your favourite hangout spot?
There's actually this Japanese bar called Tomi Sushi Echigotei on Cuppage Road at Orchard, which offers really cheap beer and good vibes. So shout out to the crew! We also like hanging out at BK Eating House on South Bridge Road. That's where we get our mee sua fix during our night on the town.
3. You guys are performing at this year's edition of Gastrobeats at i Light Marina Bay on March 16 (Fri). What can we expect from your set?
Think classics from our recent EP The MHC EP as well as some of our choice picks from the lesser known beat tapes that we made with homegrown music producer Fauxe.
4. What else are you guys looking forward to at Gastrobeats?
We just can't wait to watch some of the other hip-hop acts and local performers. Some of which that we don't wanna miss are Fariz Jabba, Yung Raja and Aesop Cash.
5. Are there any upcoming concerts in Singapore that you're excited about?
Mediocre Haircut Crew!
For more upcoming cool happenings, check out Time Out Singapore's 52 Weeks of #ExcitingSG challenge. Don't forget to show us how you're living your best Singapore life via the hashtag #ExcitingSG – we might just throw some free passes and VIP tickets to exciting festivals, gigs and events your way!
Share the story