Temperature, taste and fragrance – these are the three fine piths of Cantonese cuisine that sets one restaurant apart from another. And one such restaurant is not only successful in preserving timeless classics but also remaining dynamic and culturally relevant to today's palette. Ask around and you'll know that the 51-year-old Shang Palace needs no further introduction. Its delicacies speak volumes, evoking a familiar warmth and sense of place to reminiscent memories many find comfort in.
An end to a storied era now comes new dawn with Chef Daniel Cheung at the helm flexing 37 years of top-level Cantonese cooking. He brings with him a wealth of experience from cutting his teeth in prestigious kitchens – Spring Moon restaurant of The Peninsula, the revered Jockey Club where the rich and famous dined, and most recently one-Michelin star Shang Palace Kowloon – where the native Hong Konger rose to be one of the most respected chefs in the territory.
Through his deft hands, a refreshed menu consisting of his exquisite take on time-honoured classics with subdued traces of contemporary creativity marks the new beginnings of Shang Palace. Some of his well-loved dishes include the gently braised bamboo pith and imperial bird's nest topped with crab coral – a popular dish back in the 70's and 80's, succulent crisp Cantonese-style fried chicken with spiced salt, and spotted garoupa in silky egg white sauce and crisp parma ham. Amongst Cheung's stellar repertoire, there were two riveting dishes that truly stood out and shed light on masterful displays of technique.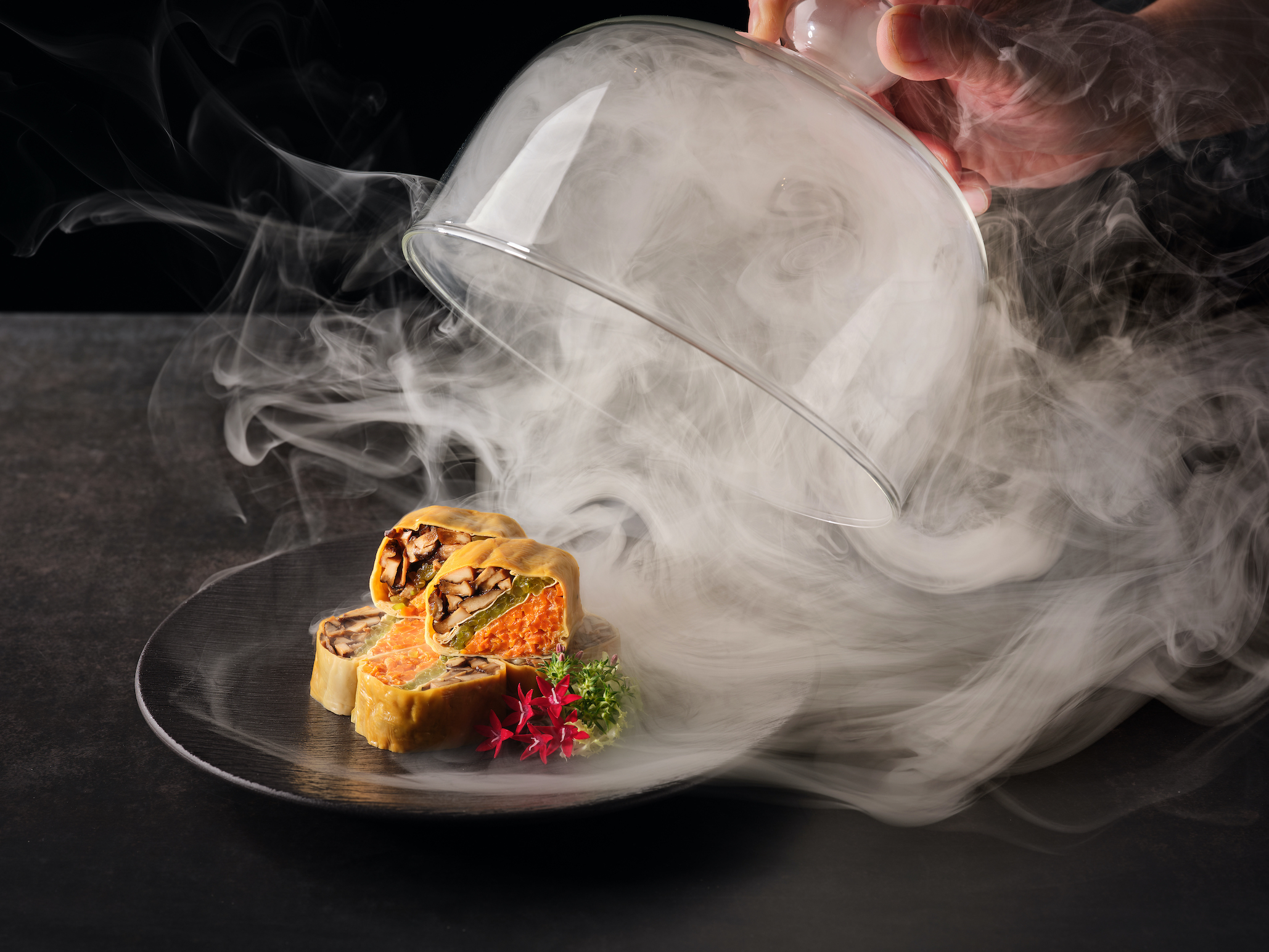 The first is a starter of applewood smoked bean curd rolls unveiled in shrouds of aromatic applewood smoke (pictured above). Despite the walk-in-the-park appearance, within lies layers of delicate flavours and textures achieved only by laborious technique; fresh earthy shiitake first deep fried then braised in a savoury mix of soy and oyster sauce; crisp shredded mustard green stems shocked by blanching in hot water and then cold water after; finely shredded carrots flash fried for crunch. The result is a harmonious one-bite orchestra held together by beancurd skin that is steamed then smoked with pu-erh tea.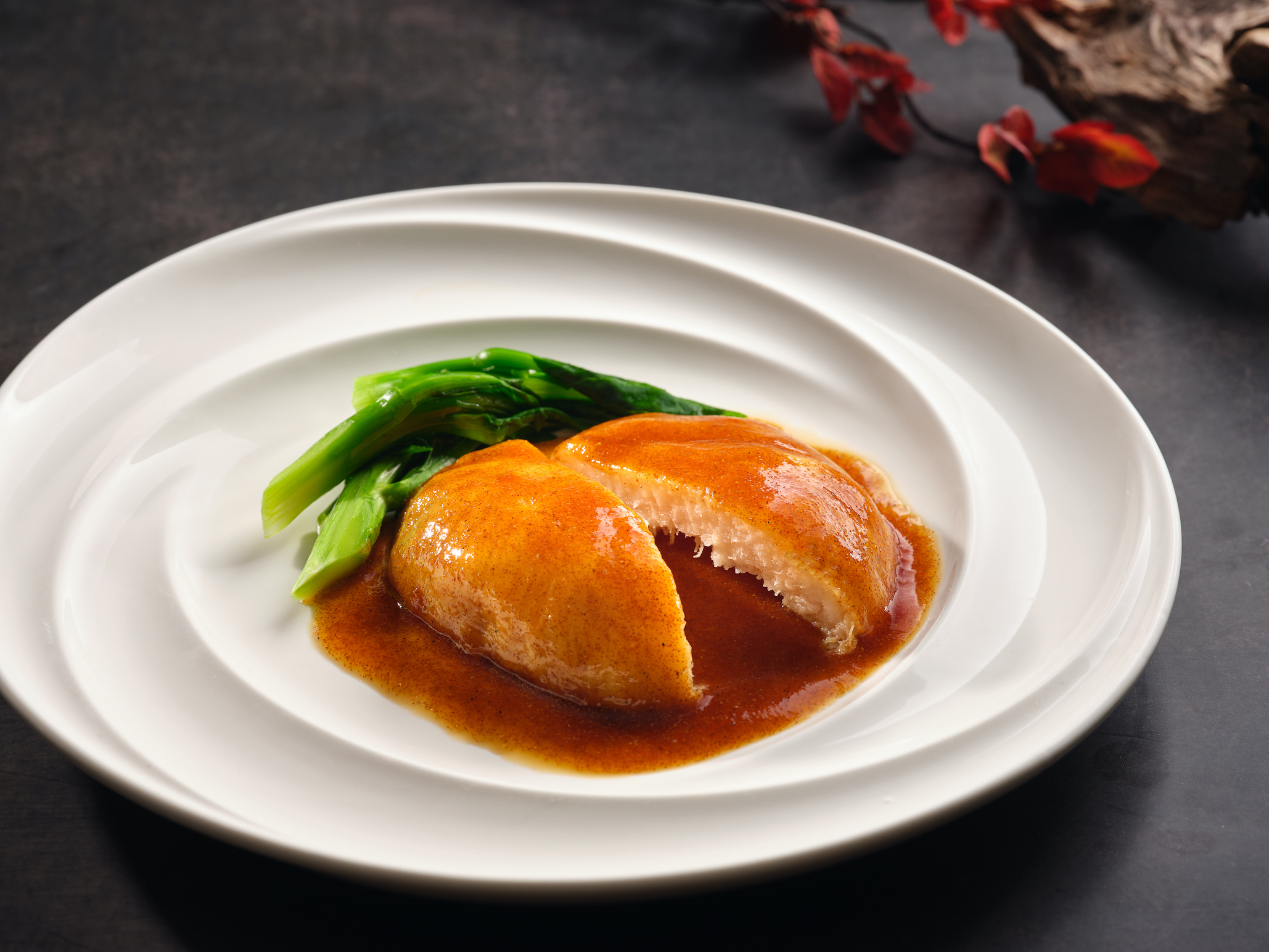 The other is a rustic yet pristine 50-year-old recipe of stewed shrimp pomelo peel oozing with heritage and nostalgia (pictured above). Setting the base, Cheung laces his superior stock with fresh dace and a dried mix of scallops, sole fish and shrimp. He then proceeds to boil the pomelo peel and soak it in ice water followed by squeezing to remove as much water as possible – the key to eliminating unpleasant bitterness found in the peel.
After repeating the process over five times, the peel is gently simmered in hot – but not boiling, more like a confit – oil till it fluffs up. It goes into steamer together with the superior stock for about two hours to yield a delicate yet powdery taro-like texture. The finishing touches of a briny-savoury sauce dotted with shrimp roe and perfumed with faint hints of lard complete the, once again, simple-looking dish.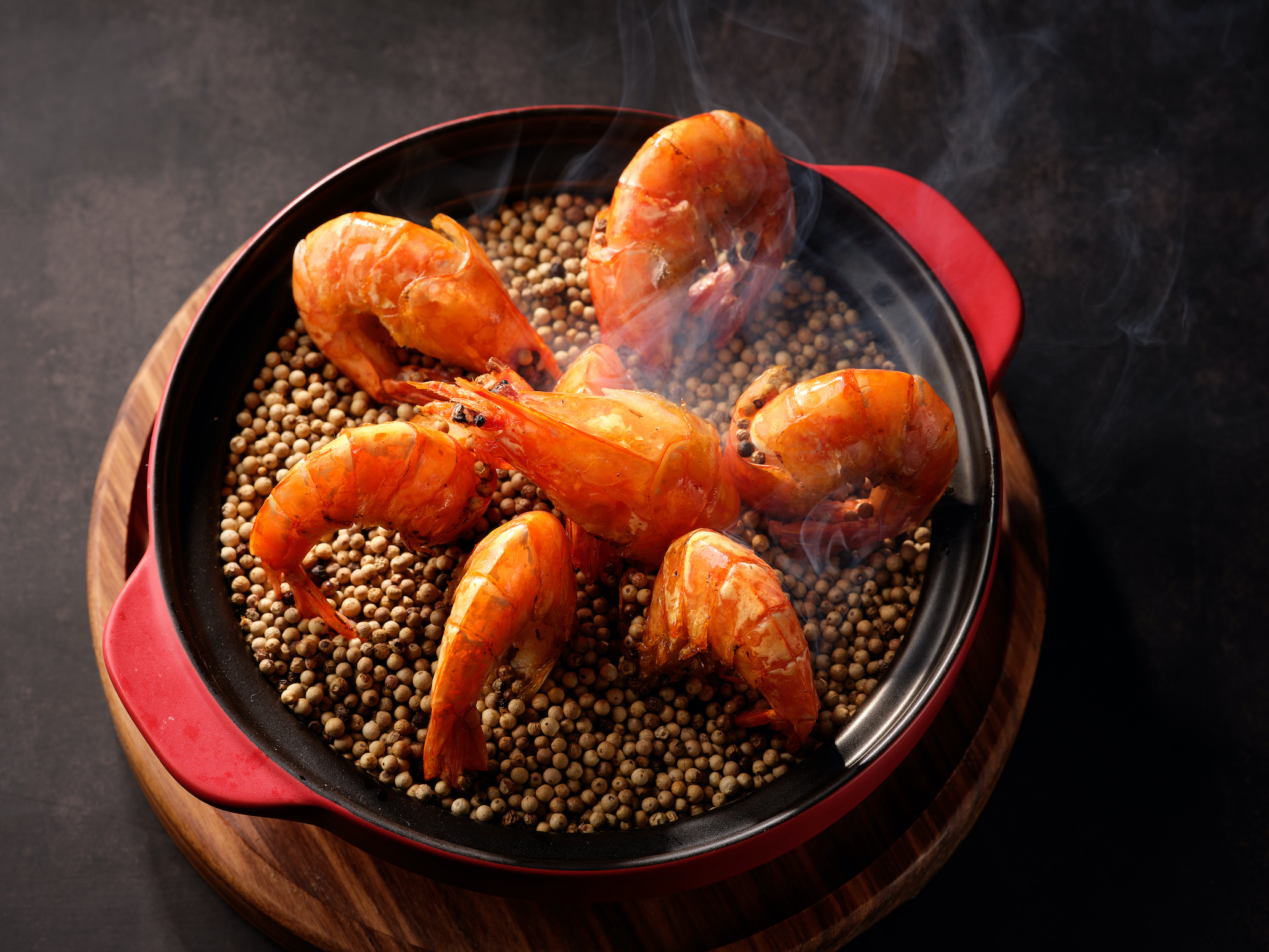 Another worthy shout-out goes to Cheung's sincere attempt at tailoring to regional ingredients by adapting his well-loved Hong Kong recipe of baked crabs with Chinese peppercorns to local live prawns with Sarawak white pepper (pictured above). A robust dish that teases all senses.
Of course, apart from Cheung's new dishes, guests will still be able to enjoy the one-Michelin-starred restaurant's renowned – and tightly guarded – nostalgic dishes that had been enjoyed across generations in the resplendent space. While it may serve to relive wistful memoirs for the elders, it is Shang Palace's unshakable status as a bastion of knowledge for Cantonese cuisine and heritage that will inspire younger generations of gastronomes to come.
Book here.
READ MORE:
Ce Soir is a new floral-themed French restaurant in leafy Portsdown Road
Anju is a Korean restaurant with Michelin quality food at approachable prices
Aussie-inspired brunch café Forty Hands will be closing down both Tiong Bahru and East Coast branches