The misconception that younger artists mostly don't own a signature artistic style has been debunked over and over again by brilliant local talents the likes of Aisha Rosli, Casey Tan and Divaagar. Here's another one you need to keep on your radar. NAFA graduate Lis Tamara might be relatively new to the scene yet her artworks are uniquely hers – with soothing pastel hues, references to objects from our childhood, and more. Her works are vibrant and colourful, mostly influenced by her emotions.
The artist only started oil painting in 2018 and has been exploring various styles since."I think I have a feminine, vulnerable, bittersweet, illustrative, naive, 90's Britney aesthetic, 80s cheesy-sentimental-love songs, personal diary, memorabilia, vanity project, 'David Bowie constant reinvention', 'Freddie Mercury's unapologetic fabulousness' and 'Lucy in the sky of diamonds' wacky kind of style," she muses. "There's a lot of ways I could describe my art style but I would never describe it as dark. It's light-hearted."
The NAFA graduate is also a full-time art teacher, nurturing creativity and art skills in younger children. We take a peek into the mind of Tamara to find out where her inspiration lies and the challenges she faces as a minority female artist in Singapore.
Hi Tamara! When did you decide you want to create art?
Growing up, I've had countless dreams and ideas of what I wanted to do. But it was at 18 that I decided I wanted to create art. I had a vision of myself — I was in my golden years, painting in the countryside, overlooking lush lavender fields and I looked contented. That vision made me really happy that one way or another, I would arrive at that future. I enrolled myself in art school at 23.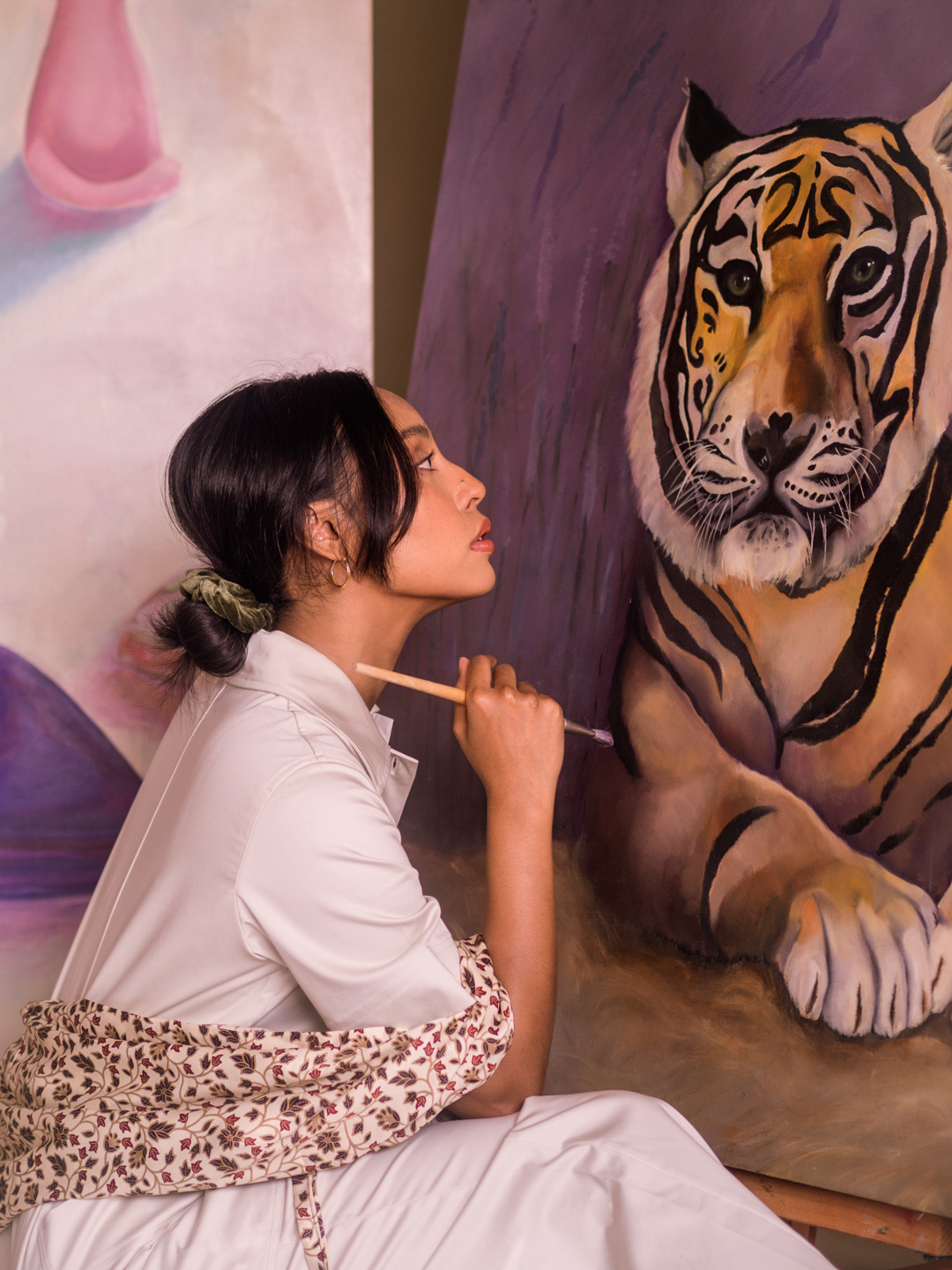 Where do you draw inspiration from?
Sometimes, inspiration comes the moment I close my eyes to sleep at night. I see an image in my dream and as much as I want to snooze, I get up and paint it. Most of the time, inspiration comes from my life, family, heartbreaks, music, conversations, the colours on my book jackets, food and fashion.
I often notice those cosy warm-lit pastry case windows filled with delicious looking cakes and pastries. And me being the romantic that I am, I find myself dreaming about how they were made, how nicely they'd be packed, the homes they'd end up in and the smiles of the people sharing it. I like the feeling that comes from the thought of that. And because that imagery transports me somehow, I tend to paint visuals in hope that it would do the same for others.
What does it mean to be a female minority artist in Singapore? What are the challenges you face?
Being a minority is only factual, but as an artist, it has never inhibited me. The present art industry looks past our default traits and instead celebrates the work we create, regardless of gender or race. And although growing up I've noticed that women tend to be defined as the more obscure, "have-to-be-discovered" bunch or a 'feature' rather than being included as part of the standard pool of artists, I see great steps that are being taken to change that. It was a delight to see that the National Gallery's ongoing exhibition, Something New Must Turn Up, is showing an equal number of female to male artists. Ironically, the challenges I face are usually the constraints of my culture instead. The rules of modesty are imposed onto my art expression and I've received judgement over figures that are less clothed or nude.
What motivates you to follow your passion?
It's definitely not money! Haha. It's the excitement of not knowing exactly what I'll create or where I'll go. I'm not entirely a technical painter, so I often let my paintbrushes dance and just see where my hands take me. The act of painting itself brings me joy and to see something that once existed only in my mind translated into a tangible visual form, is just magical. I want to live a life filled with romance, magic and through rose-tinted glasses.
Which is your favourite museum in Singapore and why?
The National Museum of Singapore. When my sisters and I were children, my parents brought us there frequently. [The museum] held screening events in the evenings ('Under The Banyan Tree') – shown on a huge projector at the museum's front lawn. My parents, who are film buffs, absolutely enjoyed it and we followed suit. I remember watching a documentary of Elvis Presley and visiting a heartbreaking exhibition dedicated to the life of P. Ramlee. It shaped my mind as a child and I'm grateful to have been brought up appreciating the arts. The fond recollections I have of my childhood surrounding the museum makes it my favourite.
READ MORE:
11 up-and-coming artists in Singapore you should know
Artist spotlight: This artist lights up HDB blocks in neon hues
The batik artists from Singapore you should know