Leather goods and ice cream sundaes might have little to nothing in common. And yet, the two uncanny items have found a new home at the Bynd Artisan and Sunday Folks Ion Experience Store. The multi-concept space is the latest collaboration between the homegrown labels – one that combines the artistry of Bynd Artisan's bookbinding and crafting services with specialty desserts and drinks from Sunday Folks.
Collaborating to open this lifestyle destination is almost like coming full circle for the two local brands, both of which started their journey as neighbours at Chip Bee Gardens. "We're drawing on each other's strengths," shares co-founder of Bynd Artisan, Winnie Chan, on the inspiration behind the unique storefront.
Earth-toned hues and wooden furnishings help create a soothing, relaxing atmosphere. Take in the natural scent of leather, and browse the extensive – and exquisite – selection of handmade goods from the atelier. From the gallery-style display, pick up a sleek Hygge pouch ($60) and stylish wine bag ($80), or bring home outlet-exclusive merchandise that includes a notebook ($50) and calligraphed coasters ($15) made from recycled fruit pulp.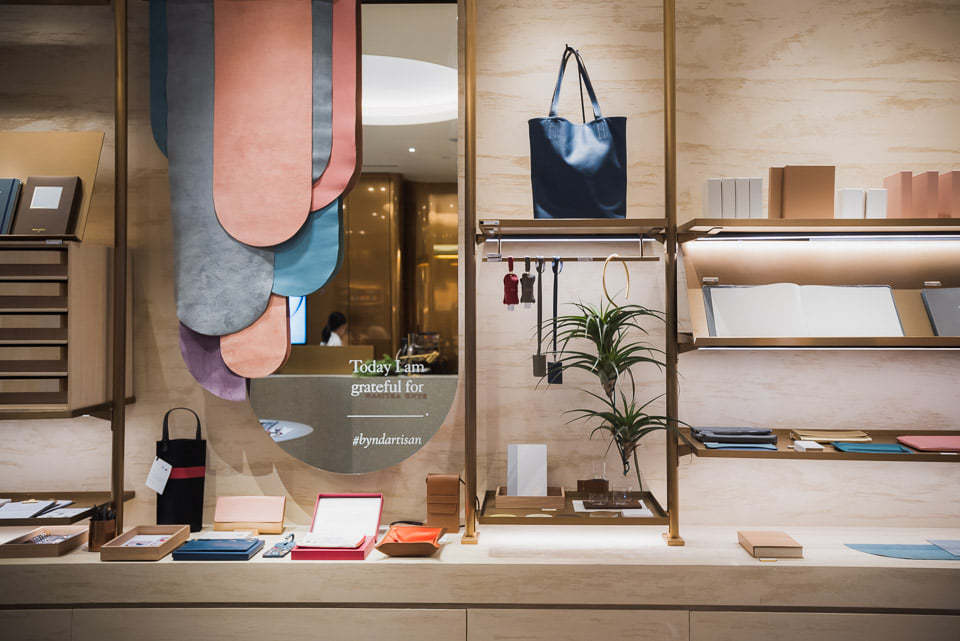 Then, check out the Gratitude Corner, which invites guests to pen down mindful intentions in a guest book, or strike a pose at the photo wall which comes decorated with an appreciation exercise to help encourage positivity.
Feeling peckish? Head to the back of the store and be greeted by the aroma of fresh brews instead. The dine-in café area by Sunday Folks offers a specially curated menu that can only be enjoyed at the Orchard outlet. Ice cream remains a highlight; but instead of the usual waffles and soft serve, the frozen treat is turned into cakes, or swirled into parfaits.
Do not be alarmed when the order comes accompanied by an hourglass; set the timer, and let the cool sweets thaw briefly for optimal enjoyment. Try Pavlova ($12), a tropical celebration with mango passionfruit sorbet layered with vanilla ice cream and coconut mousse; or get the pistachio-based Marrakech ($14) crowned with orange blossom chantilly cream.
Another must-try: elegantly constructed parfaits that look as good as they taste. Rum raisins and apple ($16) features mildly boozed rum and raisin ice cream, sitting atop apple compote and fresh grapes, then finished with cinnamon-dusted crispy popiah skin. Pair the desserts with filtered brews from PPP Coffee, served in leather-bound glass carafes; or choose to unwind with seasonal Japanese teas presented in cast iron teapots.
Read more:
- This is the first afternoon tea experience aboard a garden-themed ferry in Singapore
- Michelin Guide Singapore 2021: 3 three-starred restaurants, a total of 49 awarded