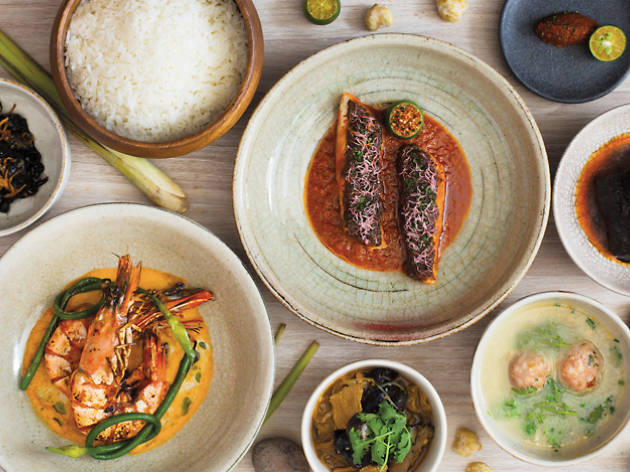 Celebrate Candlenut's 10th anniversary with award-winning dishes at a discount
Each of its signature dishes goes for just $20
Posted: Wednesday April 8 2020, 11:35am
While you can no longer dine in at Candlenut's beautiful, tropical-chic space in the lush COMO Dempsey enclave, you can bring home some of its signature dishes to enjoy at home. The world's only one-Michelin-starred Peranakan restaurant has recently released its 'circuit breaker' takeaway menu, that's also tied to the celebration of its 10th anniversary, where you can order a selection of its popular dishes to-go at just $20 each. "As all of us slowly ease into this unfamiliar new way of life, we want to share with you and your family a bit of joy, comfort, and yumminess that lifts the spirit," shares chef-owner Malcolm Lee in an Instagram post.
Candlenut might be billed as a mod-Peranakan establishment, but its food remains rooted in tradition. The Chef's Mum's Chicken Curry ($20), for instance, is based on what Malcolm grew up eating, stewed with local Toh Thye San chicken, cubes of potato, and kaffir lime leaves. Bakwan kepiting soup ($20) is another comforting creation, with chicken, crab meatballs and bamboo shoots served in a chicken broth that has been boiled for over four hours to yield a rich, robust flavour.
Other highlights include the Westholme Wagyu Beef Rib Rendang ($20) with fork-tender meat stewed over four hours in a dry curry mix; blue swimmer crab curry ($20) with bright, citrus-like notes from galangal; Aunt Caroline's Babi Buah Keluak ($20) slow-cooked with free-range Borrowdale pork; and Candlenut's Buak Keluak Fried Rice ($20) served with a sunny-side-up.
And what's a Nonya meal without the all-important side of sambal? Get a jar of the stuff ($12.50), made in-house without the use of preservatives to pair with your meal. While you're at it, throw in an order of the kueh bingkah ($20 for 200g) or that famed kueh salat ($80 for 800g), which requires a two-day advance order. Check out the full takeaway menu on its website, and ring up the restaurant at 8121 0176 to place your orders.
Check out meals from restaurants, bars, and even hawkers you can takeaway during this time.
Share the story