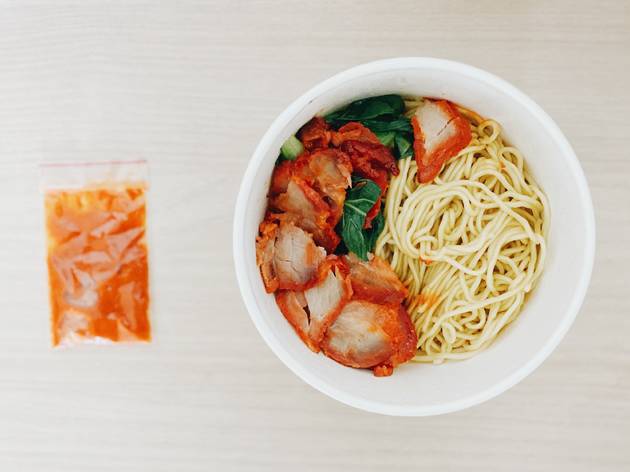 Da Bao Diaries: famed noodles from Eng's Wantan Mee
Paired with a fiery chilli sauce
Posted: Friday May 29 2020, 3:18pm
Welcome to Da Bao Diaries, a daily column dedicated to what Time Out Singapore's editors are eating and drinking while Singapore's 'circuit breaker' measures are in place till June 1. Da bao is a Singaporean colloquialism derived from Mandarin that refers to having a meal to go instead of dining in at an establishment.
I'll be the first to admit: I'm jealous of those who live in the East. The area is home to some of the greatest – and my personal favourite – food haunts. This includes Eng's Wanton Mee, a stall that's as famous for the dish as it is for the accompanying extra spicy chilli sauce.
Its original location along Tanjong Katong Road is rather inaccessible if you don't drive or live around the area. But in recent times, several franchised outposts have popped up around town – from Woodlands to Jurong East. And that means you no longer having to make a special trip down to the East to enjoy a bowl of its wonton noodles.
The noodles typically come coated in an oily pool of lard and sauce – a step that might prove unhealthy, but packs on the flavour. And if you're getting your noodles delivered or to go, the lard also helps protect the strands from drying out and clumping together. You need only toss the strands a little to loosen them up and enjoy. Of course, each order comes served with the requisite chilli that you'll want to add to the dish sparingly. Prices might differ if you're heading down to takeaway or ordering through GrabFood, but a bowl of dry noodles should cost $5.50 for a small serving and $7 for large.
HOW TO ORDER If you're still living outside the delivery radius of one of Eng's Wantan Mee franchises, WhatsApp 8323 9199 or visit engswantannoodle.oddle.me/en_SG for island-wide delivery. Fees start from $8 with a minimum order of $35.
Need more takeaway inspiration?
Share the story