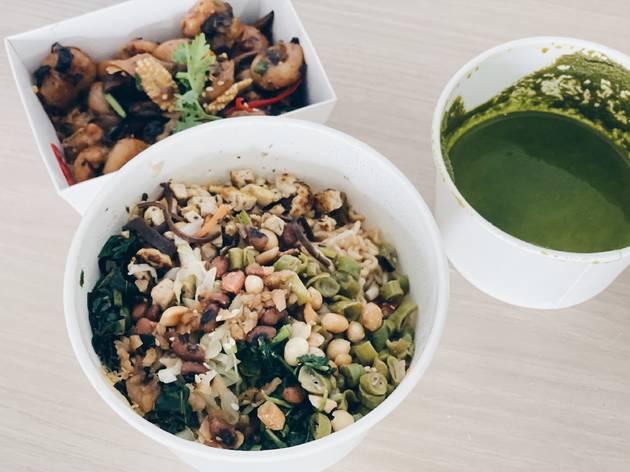 Da Bao Diaries: lei cha kolo mee from Thunder Tree
Affordable, healthy, and guilt-free hawker food available through delivery
Posted: Tuesday April 21 2020, 7:22pm
Welcome to Da Bao Diaries, a daily column dedicated to what Time Out Singapore's editors are eating and drinking while Singapore's 'circuit breaker' measures are in place till May 4. Da bao is a Singaporean colloquialism derived from Mandarin that refers to having a meal to go instead of dining in at an establishment.
Thunder tea rice has a bad rep – at least in my household. When people think of the traditional Hakka dish, they are put off by its green broth and heavy-handed use of fresh herbs and vegetables. But eating thunder tea need not feel like you're tucking into a bowl of grass, nor must it come spooned over rice. Over at Thunder Tree, a vegan Hakka hawker stall, owner Cai Xiaoxi adds a fresh spin to the dish.
First, the usual base of rice (usually brown or white) is swapped out for eggless kolo mee tossed in an aromatic sesame oil sauce and is tasty enough on its own. But for its lei cha kolo mee ($8), the noodles come topped with different beans and vegetables that help add crunch, taste, and texture. There's no telling what might be in your bowl; the toppings change with the season. Xiaoxi uses the crops harvested from her family's organic farm to prepare the stall's various dishes, so you might find Chinese spinach in your bowl today, and mustard greens tomorrow. Toppings of soft beans and homemade preserved radish add a savoury and sour crunch and help complete the dish.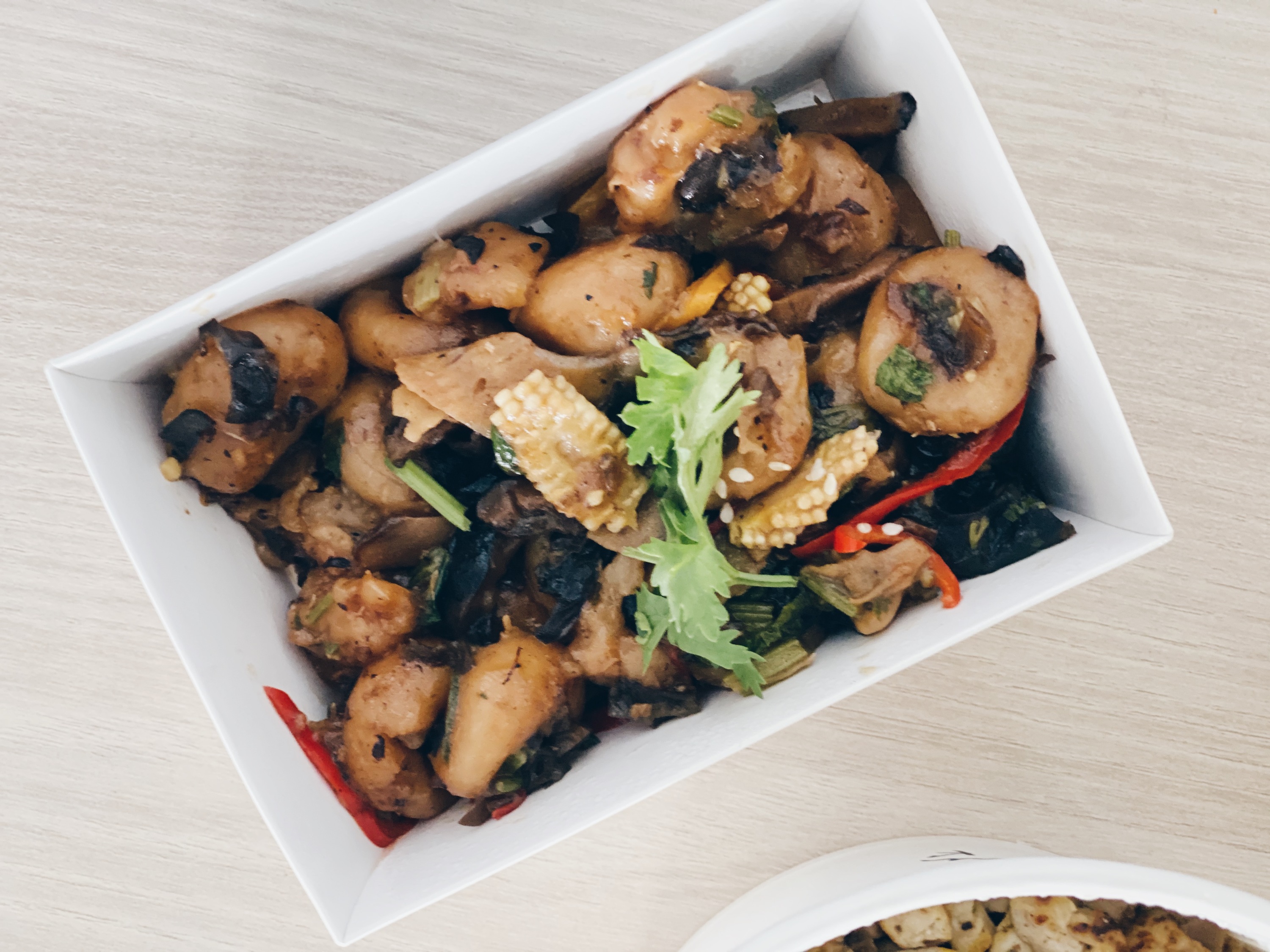 Not a fan of lei cha's herby soup? The stall also tops its kolo mee with wonton ($6) and slices of braised mushrooms ($6) as an alternative. During this period, Thunder Tree is also selling a selection of organic vegetables ($2.50) that you can buy along with your food order. Apart from its fixed selection of mains, keep an eye out for daily off-the-menu specials on its Facebook and Instagram page that include homemade abacus seeds, mochi, and Hakka yong tau foo.
How to order Thunder Tree is located at the basement of Raffles Hospital and remains open for takeaways during this period. Deliveries are done according to neighbourhood – they could be in the east one day and the west the next, so keep a lookout for Thunder Tree's next delivery schedule on its Facebook and Instagram. The delivery fee of $6 goes directly to affected cab drivers and art practitioners to help tide them through this period.
Share the story