Welcome to Da Bao Diaries, a column dedicated to what Time Out Singapore's editors are eating and drinking at home. Da bao is a Singaporean colloquialism derived from Mandarin that refers to having a meal to go instead of dining in at an establishment.
This week, plan for a stay-home date night with ease with take-out steaks, eat your way through multiple varieties with a stay-home Japanese buffet, or gather the family around the dinner table for some stellar roasted meats.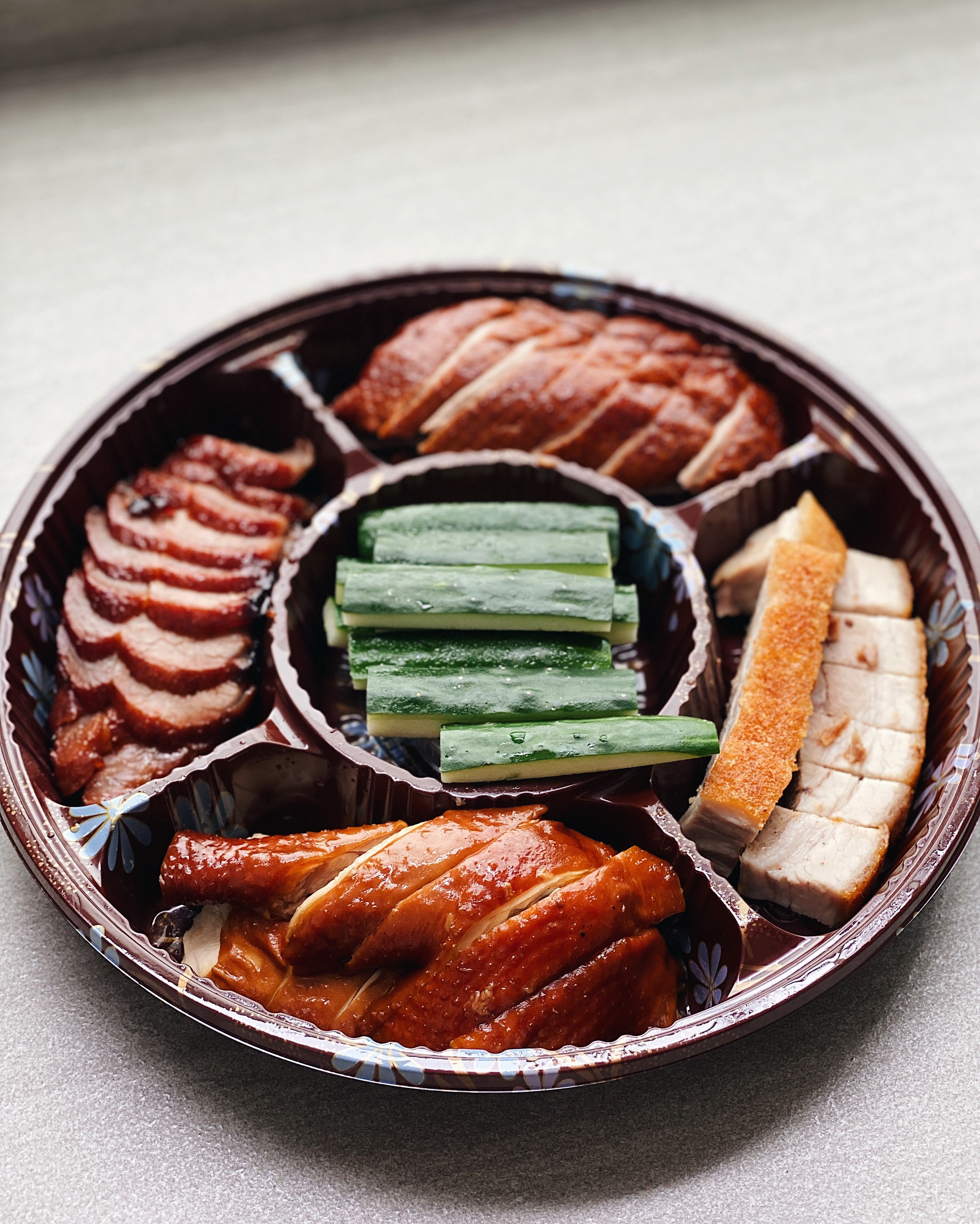 Kam's Roast
Take full advantage of the slew of National Day promotions happening this August, such as this roasted meat platter from Kam's Roast. The Hong Kong-based meat specialist (also a Michelin-approved) might be best known for its goose, but its rendition of other smoke-kissed meats is just as delicious. For this month, the Kam's Roast Platter goes for just $58 (instead of the usual $78), with enough food within to feed four or five hungry mouths.
Inside, you'll find slices of barbecue pork char siu, glazed with a sweet sauce; a quarter of soya chicken; and a quarter of its roast duck. Our only gripe: the crackling from the thick-cut roasted pork might have lost some of its crispiness from the travel, but a quick dunk into the selection of sauces will easily remedy it. Besides the usual chilli, try the ginger scallion sauce that adds brightness, and helps cut through the richness) of the roasted meat. More impressive is the herbal-scented duck gravy, which comes delivered in its own separate bottle; it is meant to accompany slices of tender bird, but we found it equally enjoyable when drizzled over plain rice ($2).
Minimum order $50
Delivery fee Varies according to your location
Order here kamsroast.com.sg/order/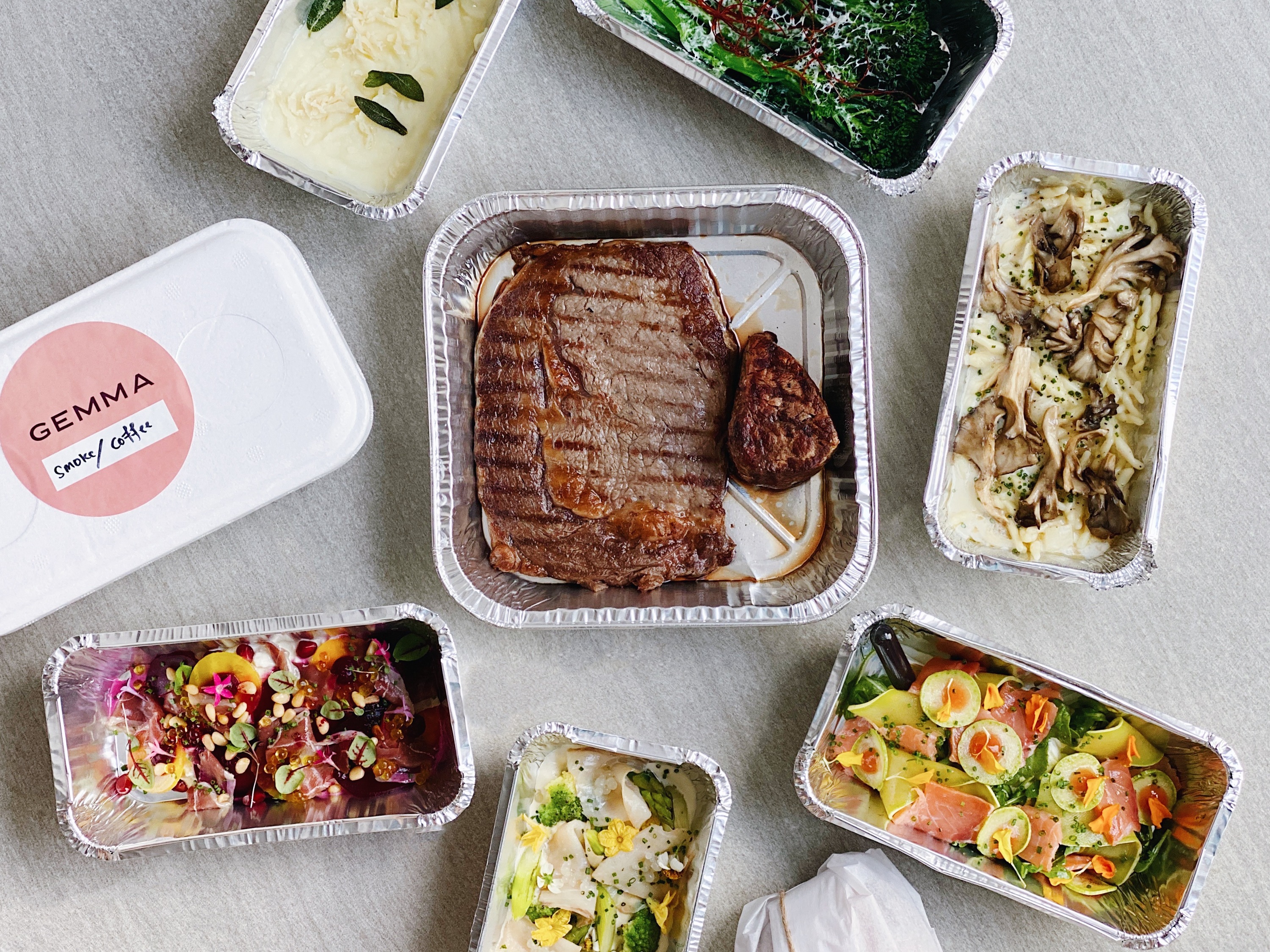 Gemma Steakhouse
Still can't dine out? Date nights are still possible with the curated sets from Gemma Steakhouse. The restaurant by chef-owner Beppe De Vito of The Illido Group will bring a slice of Mediterranean summer to the door – in the form of tea-soaked cured salmon, handmade pasta, and of course, stunning pieces of grilled beef. The duo of steak ($195) is meant for two, but is really enough for three. Start by slicing up some Altamura bread, served with whipped tarragon-hinted butter. Appetisers are a colourful showcase of fresh catch and produce: tea-smoked Atlantic salmon rests on a bed of sheep milk panna acida, duck prosciutto is brightened with a medley of beetroots, and swordfish belly is flavoured with 12 different spices.
Hand-rolled trofie provides plenty of flavour and fun; the thin pasta is tossed with smoked Scamorza cheese and roasted maitake mushrooms in a creamy sauce. But call us biased, but we found our eyes getting drawn to the two different steaks – Jack's Creek black Angus tenderloin that provides plenty of bite, and the amazingly tender wagyu ribeye. Both travelled well, and cutting into the slabs revealed a gorgeous amber-hued middle. Sides of charred broccolini and whipped Agria potato will make sure the belly is happy. But make sure to save room for desserts; the restaurant has created a series of premium Hokkaido milk gelato, with options of Colombian arabica espresso, Lorenzizi cantaloupe, binchotan-smoked milk, and more to end the lavish meal on a sweet high.
Minimum order $50
Delivery fee $15, free for orders above $150
Order here gemma.oddle.me/en_SG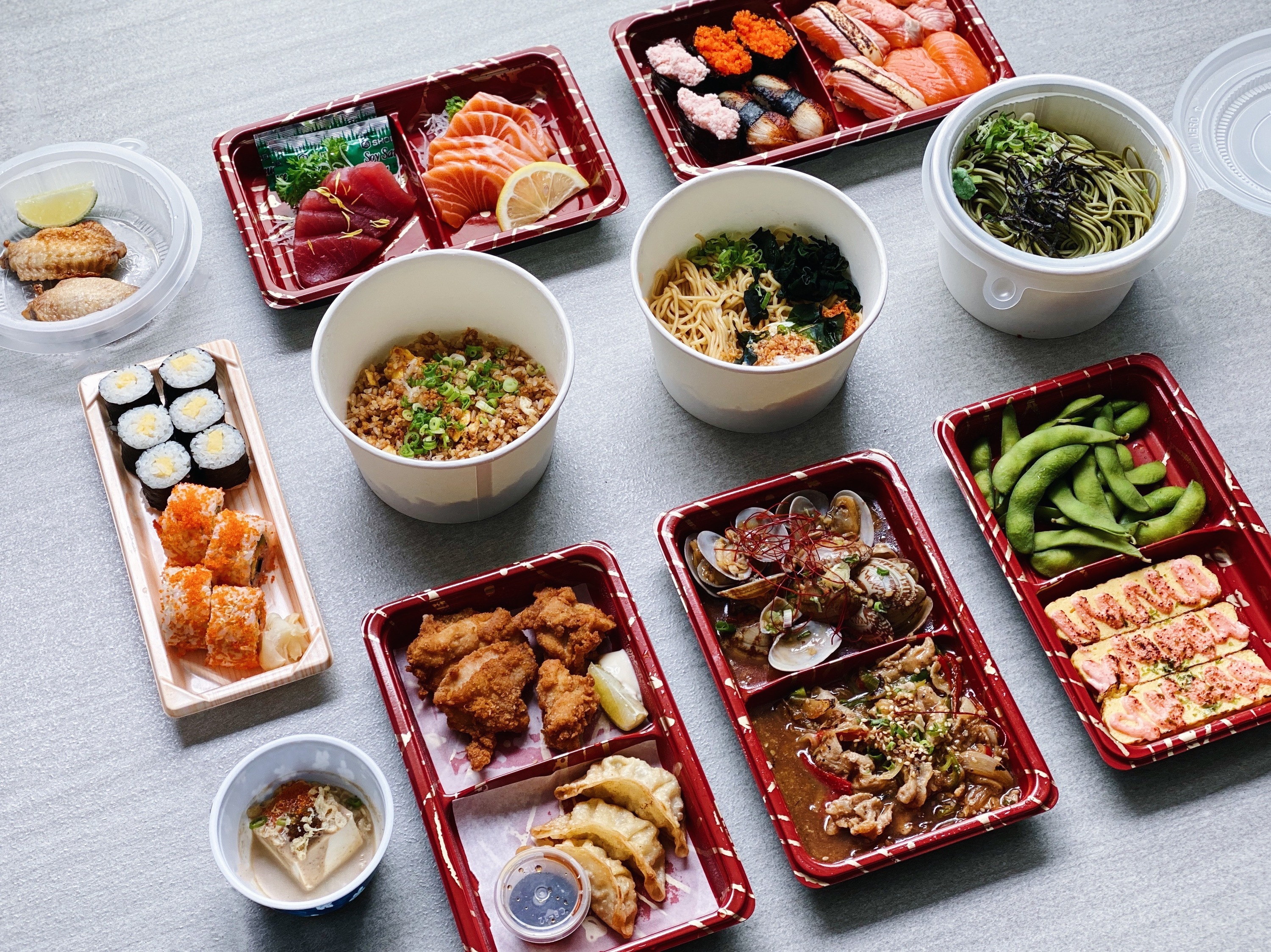 Senshi Sushi and Grill
The joys of digging into a buffet feast can still be enjoyed when staying at home. At Senshi, the Japanese restaurant has launched a take-out version of its a la carte buffet – bringing you variety in the form of sushi, sashimi, soba, and many more. The meal for two ($84) comes with the choice of over 60 different options.
Highlights include the smooth century egg tofu, thick-cut slices of salmon and tuna sashimi, and karaage. Aburi sushi sees salmon getting a slick of smoky mentaiko and torched cheese. Between bites of unagi sushi and California roll, throw in orders of some warm dishes as well, such as the pork yakiniku, sea clams with butter, and grilled chicken wings. Carbs can also come in the form of green tea soba, spice-hinted dry ramen, and classic garlic fried rice. For desserts, bite on the red bean rice cake, or the light and creamy Hokkaido cheesecake. From now till the end of the month, Senshi offers a 20 percent discount for silvery orders of its a la carte buffet, and a 30 percent discount for pick-up buffet orders.
Minimum order $60
Delivery fee $8
Order here senshisushigrill.oddle.me/en_SG