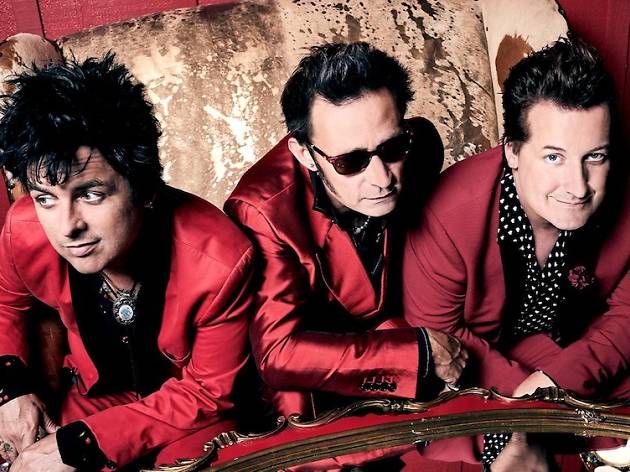 Green Day kicks off Hella Mega Tour in Singapore on March 8 2020
Posted: Wednesday September 11 2019, 4:17pm
We're not going to wake you up when September ends to deliver this PSA: Green Day are performing at the Singapore Indoor Stadium on March 8, 2020, as part of the Hella Mega Tour. This marks the first return of the American pop-punk heroes since their Singapore debut in 2010.
Fronted by lead vocalist and guitarist Billie Joe Armstrong, the rockin' trio – including bassist Mike Dirnt and drummer Tre Cool – skyrocketed to fame with chart-topping headbangers like Basket Case, When I Come Around, Geek Stink Breath, and Good Riddance (Time of Your Life) which spawned attention-grabbing music videos that were on heavy rotation on MTV in the 90s. Their highly-acclaimed 2004 studio album American Idiot won them two Grammy Awards – one for Best Rock Album and the other for Record of the Year for the single Boulevard of Broken Dreams. The album even got a stage adaptation on Broadway, bagging them two Tony Awards in 2010 and another Grammy in 2011.
Kicking off in March, the Hella Mega Tour's first stop is right here in Singapore before moving to other Asian capital cities such as Bangkok, Manila and Hong Kong. The band then head to Europe and the United States with two other mega rock bands, Weezer and Fall Out Boy.
Upon breaking the news of their much-anticipated Hella Mega Tour, Green Day dropped their latest single Father of All... from their upcoming 2020 album of the same name. The album comes after their twelfth studio album Revolution Radio which was released in 2016. According to Billie Joe Armstrong, the new album is 26 minutes long, making it the shortest record they've made since 1995's Insomnia (33 minutes).
Don't wanna be an American – or in this case, Singaporean – idiot? Then check back for more information including when tickets are being released.
Share the story