As it goes, Japanese food has humble origins. There's nothing more satisfying than koshihikari short-grain rice and a comforting bowl of miso soup. But these days, there's been a flurry of restaurants with a penchant for edible gold flakes, overly aburi-ed slabs of sashimi, and the ever-popular mentaiko mayo.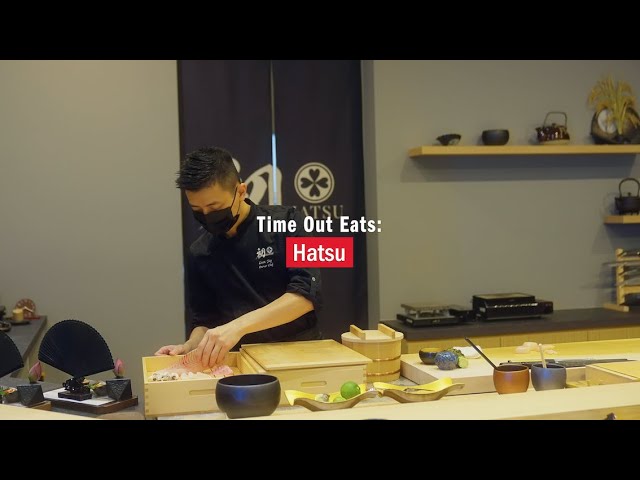 Thank goodness that new Japanese restaurant Hatsu is nothing like that.The name Hatsu itself implies "the beginning" so Leon is taking it right from the start of Edomae sushi. While proudly a modern sushi restaurant, they still have the technical and traditional knowhow behind sushi itself. It's not simply a matter of slapping rice and fresh sashimi together – as chef and owner Leon Yap would say, he wants his diners to "experience authentic sushi".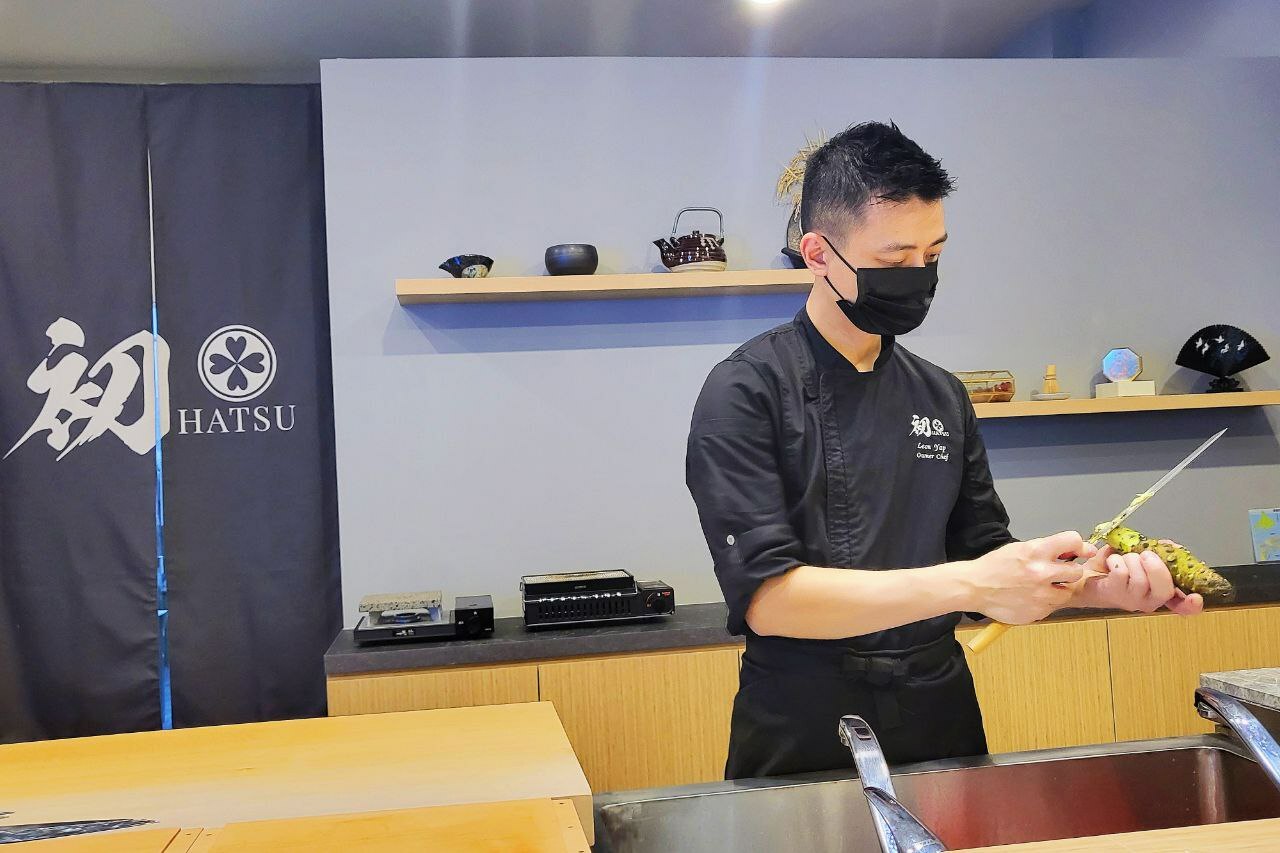 And that, in itself, is a mighty feat. With 15 solid years of Japanese culinary expertise under his belt, he's worked in restaurants like Aoki, Shinsora, and Yamagawa. He's clinched the award-winning title of Champion of the World Sushi Cup Japan 2019 and is a certified International Sake Sommelier at that – so what else would we expect but quality Japanese cuisine?
This relatively cosy restaurant in Novena's Hotel Royal seats just 20 diners. After all, they do fly in seasonal Japanese ingredients from Toyosu market, but also the seafood markets of Osaka, Kyushu, and Hokkaido. Now, one thing Hatsu places a huge measure on is the shari (sushi rice). As the restaurant claims, 60 percent of what good sushi involves is the rice. We're inclined to agree – a distasteful rice base means that the sushi is subpar at best.
At Hatsu, they pride themselves on using a sugar-free akazu shari (red vinegared rice) that's specifically from the Miyagi prefecture. This is rare. Don't expect to see it in conveyor belt chains like Genki Sushi or even Sushiro. In fact, they pride themselves on their own akazu recipe, which comes with three distinct types of red vinegar.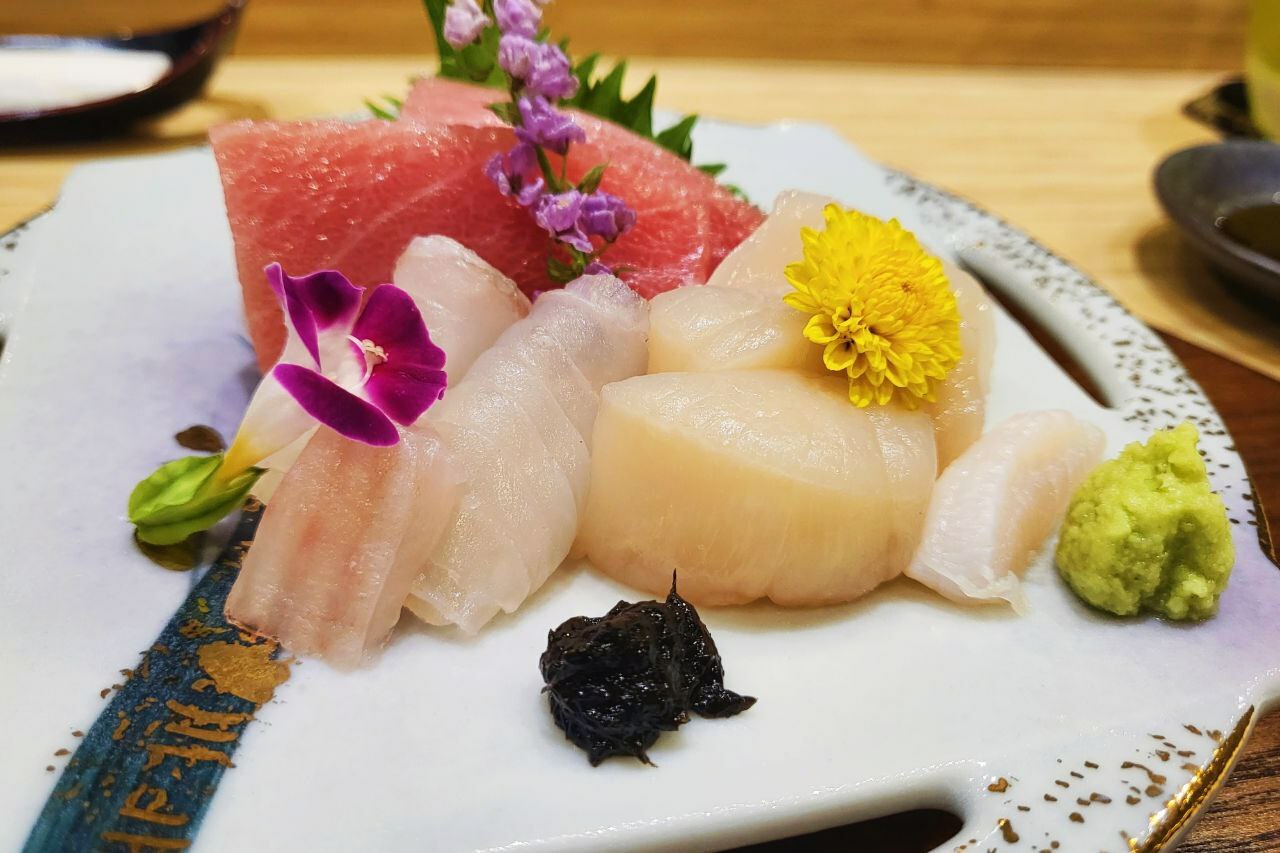 We tried the Grand Hatsu menu ($250). As this is an omakase meal, expect it to change according to season and chef Leon's preferences of the day. The appetisers come elegantly presented: biwa masu (trout) with yuzu jelly, Hokkaido octopus simmered in soy sauce and bean, and a ball of taro yam that's topped with a savoury miso paste. Next, a seasonal sashimi platter with barfin flounder, plump Iwate scallops, and chutoro (medium fatty tuna). A steamed dish, simmered winter melon with chunks of Hokkaido crab, as well as a lineup of freshly fried tempura also made an appearance.
Typically, at any omakase, most anticipate the nigiri courses. It wasn't any different here, with standouts like one which had otoro (fatty tuna) first torched over piping hot slabs of lava stone or others like the crowd favourite Murasaki uni gunkan. The so-named Umami Bomb Maki, a house specialty by chef Leon, is another for those who go gaga for sea urchin. This signature sushi is rolled with tuna, pickles, and dry aged bonito – all with a generous topping of Bafun uni, Poland Oscietra caviar, and cured egg yolk.
But theatrics aside, the lineup of more traditional sushi like aji (horse mackerel) and nodoguro (black throat sea perch) were also well done. While we did enjoy the sushi, there was a lingering feeling that the rice itself felt a tad bit sticky and all clumped together. It might very well be the lack of sugar, to replicate the authentic Edomae sushi. In any case, the neta (topping) itself was finely done – aged, to bring out a depth of flavour and light texture.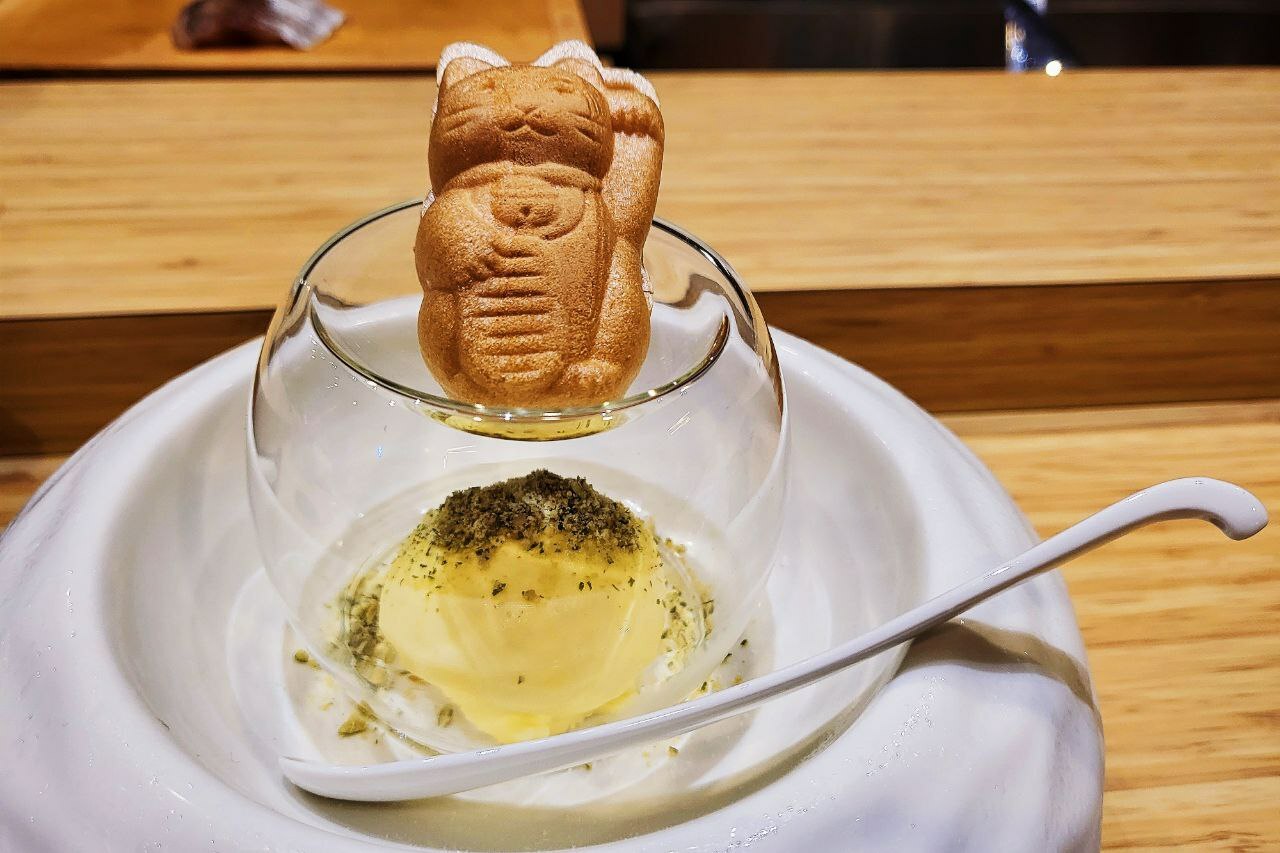 Having perched on these counter seats since 8pm, it's been a steady stream of food. Satisfying, but we were beyond well fed two or so hours down the road. So when a lineup of three desserts came out, it's almost shocking that we still lapped it all up. While the castella egg cake and fresh Japanese fruits (Yamanashi peach wedges and Kyoho grapes), the true star of the show is the Hokkaido milk ice cream that's infused with shio koji, salt, and pumpkin seeds. It's cleverly served with a maneki neko-shaped Monaka rice cracker, so you get an appetising crunch with each lick of this ice cream.
Chef Leon, as a sake sommelier, also has a collection of Junmai Daiginjo, Junmai Ginjo, Junmai sake bottles from all across Japan. Hatsu starts from $60 for the lunch omakase and $128 for the dinner omakase.

Book here.


READ MORE:
Hazuki presents elegant Japanese kappo cuisine in Orchard
Singapore takes top spot in Asia in the World's 50 Best Bars 2022 list
It's confirmed – Japan to allow visa-free entry for individual travellers from October 11