Take your cameras out – the Marina Bay precinct is looking a lil' brighter than usual this June as it lights up for the annual sustainable light art festival, i Light Singapore 2022. Spanning over three weeks, this year's showcase displays stunning installations that use energy-saving lighting and environmentally friendly materials.
"We hope this year's lineup of artworks and programmes will further invigorate Marina Bay and bring cheer and delight to festival-goers. At the same time, we hope that visitors will be encouraged to reflect on our individual relationships with the environment and with one another," Urban Redevelopment Authority CEO Lim Eng Hwee said.
Each edition of the i Light Singapore 2022 starting this year will be anchored on colour from the visible light spectrum. The chosen colour this year is violet, alongside the theme Spark of Light. Violet is known to have the most powerful electromagnetic energy in the visible spectrum – signifying the awakening of the senses, akin to the spark of an idea in one's mind.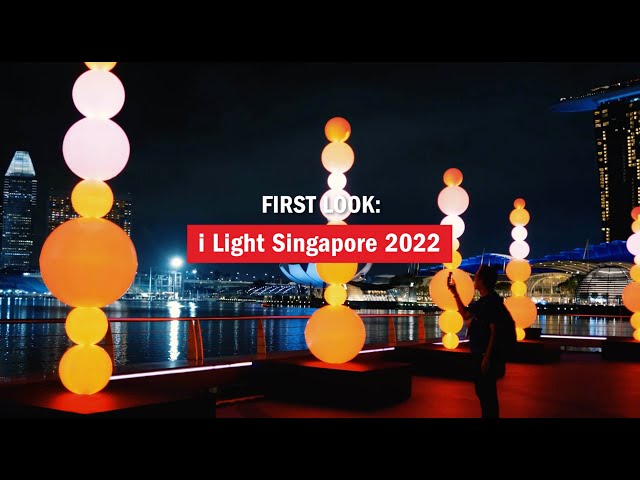 Artworks to check out at i Light Singapore 2022
The lights are scheduled to go on at 7.30pm daily from June 3 to 26. Festival-goers can expect immersive and interactive artworks by local and international artists with a focus on environmental sustainability. The artworks aim to encourage conversations about our lifestyles and consumption behaviour to build a more sustainable future.
Alone Together by Ping Lim and Ian Grossberg
This interactive projection, created by Singaporean artist Ping Lim and American collaborator Ian Grossberg, captures the experience of living in isolation during the pandemic. The vignettes are inspired by scenes in housing estates in Singapore, highlighting the private moments that tell a story of people's lives when they were confined to their homes.
Fallen by Nerdist x Artina
Another highlight is the projection mapping artwork by South Korean artist group Nerdist x Artina. Featuring a recycled transparent dome and bubble wrap, the exhibition aims to highlight the effect of waste pollution on the environment.
Other programs are also available at Marina Bay's Lower Boardwalk on a floating pontoon boat such as holographic projections and trippy light beams. More details on the full lineup of artworks and programmes at the Festival will be announced later in May. Visit the site here for more information.
Read more
Gardens by the Bay rings in its 10th anniversary with new attractions
How arts and culture is coming back to life in Singapore