Things are more vibrant than ever for Neil Road, with the birth of contemporary fine-dining Restaurant Born by chef Zor Tan. Housed at Jinrikisha Station, this heritage building was formerly a rickshaw depot back in 1903 and has seen multiple changes of hands over the years. Most recently, it's only had a blurry slew of KTVs and nightclubs to its name. Even international superstar Jackie Chan got his finger in the pie by purchasing the entire building in 2007, but even the legend couldn't do much to honour the space. Till now, that is.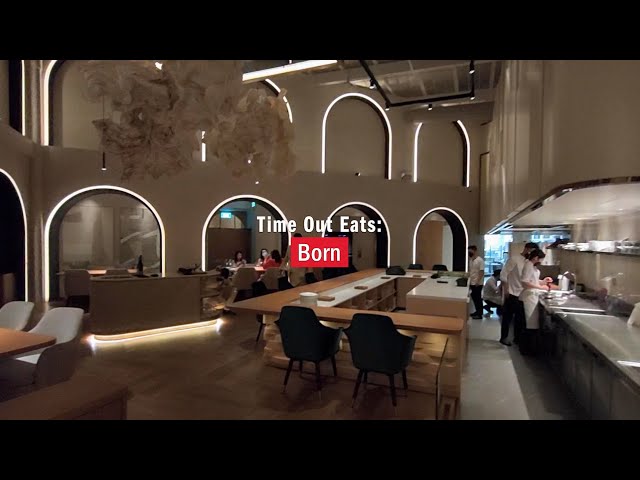 A stunning heritage building along Neil Road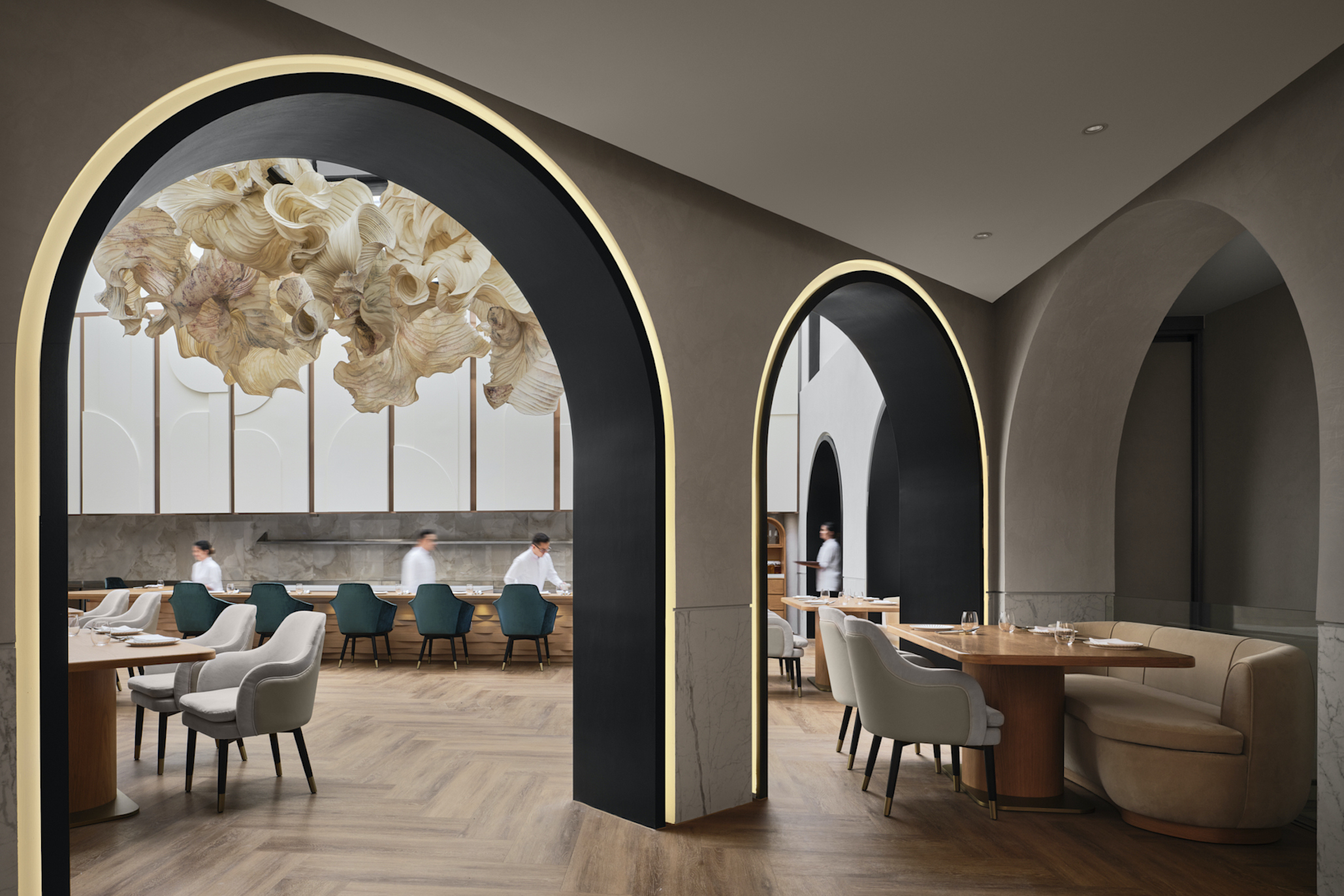 Renovating a heritage building isn't easy but despite having multiple restrictions, there are bound to be opportunities – for one, teasing the senses with various ambiences while journeying through the chambers. Peek into intimate private rooms that lead into a cavernous 36-seater main dining hall with high glass ceilings. Natural light fills the room, revealing the open kitchen where chefs work nimbly over eye-catching artworks by Dutch artist Peter Gentenaar floating above. There's an inimitable fuse between modernity and heritage that exudes easy elegance.
Rising up the ranks for chef Zor Tan
If the name doesn't ring a bell just yet, perhaps the name Andre Chiang will. When Chiang's eponymous Restaurant Andre launched, Tan was cherry-picked to become one of five from Jaan who joined the opening team as a commis chef. There, he catapulted through the ranks in steady succession under Chiang's tutelage, helming kitchens as the co-executive chef of RAW in Taipei and executive chef of Sichuan Moon in Macau which garnered two-Michelin stars in just a year since opening.
Stepping out of Chiang's shadow, he now develops and elevates his own unique brand of contemporary cuisines where he marries the East and West through techniques and cuisines.
The Circle of Life revolving around Born
Tan draws inspiration from his personal journey and cooks up nine courses ($368) tied to nine guiding principles: birth, roots, memories, craft, relationship, vicissitudes, time, progress, and legacy. "This is the story of my life… seen and felt," as Tan describes. Expect a matrimony of French gastronomy paired with a deep knowledge of Chinese flavours – bold and familiar expressions narrate his story.
Be warned as this is no place to be if you're looking for a quick dine and dash. Prepare to set aside at least four hours to fully experience Born as each course is presented over a narrative while some involve clever – but not overly gimmicky – finishing touches that are worth whipping your camera out for to impress your friends.
Prelude of what's to come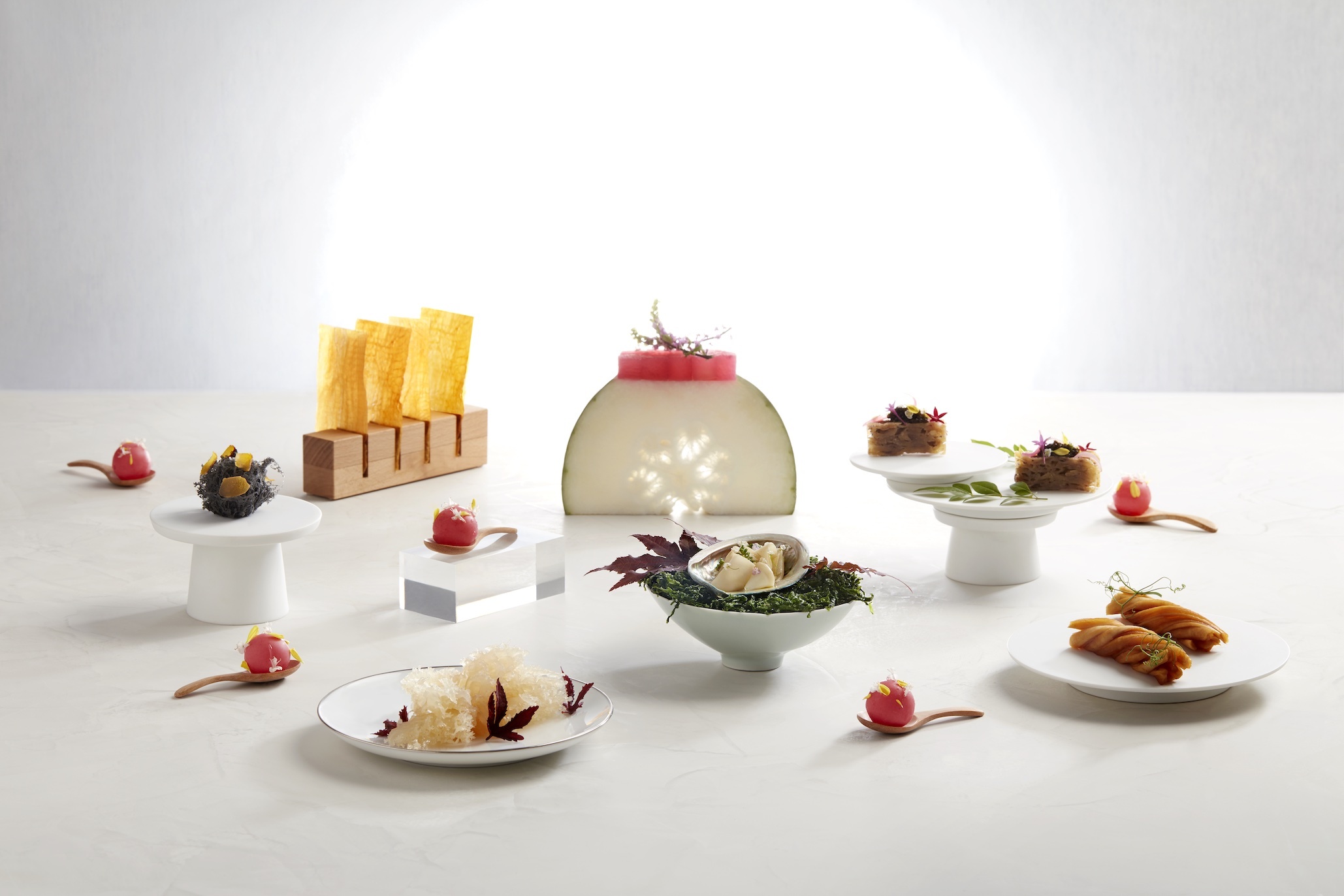 Tan's retrospection starts with a trio of pickles, paying an ode to his parents who operated an 'economic rice' stall in Malaysia. "The process of pickling is time-consuming and so is putting in the hard work to reach one's goals,' said Tan. Our unanimous favourite was the crunchy pickled Japanese daikon skin. It had a punchy yet numbing spice.
Holding on firmly to how his parents taught that contentment comes from having a full belly, the series of eight snacks reminded us of economic rice dishes that are all too familiar. Both the chicken skin mille feuille and braised abalone were clear standouts. The former was a crackling crisp savoury delight that reminded me of the silky stir-fried eggplant dish and the latter featured garlicky tender abalone, enhanced with burnt chilli pesto that bring to mind slurping on fresh cockles.
A culinary journey through food
From reimagining a dish based on sashimi and soy sauce from his first-ever stint in a Japanese restaurant to paying tribute to his mentor, Andre Chiang and his legendary foie gras parfait, the nine-course pageantry has obvious global influences – think Spanish, Japanese, Cantonese and Sichuan – from kitchens where Tan spent his time in.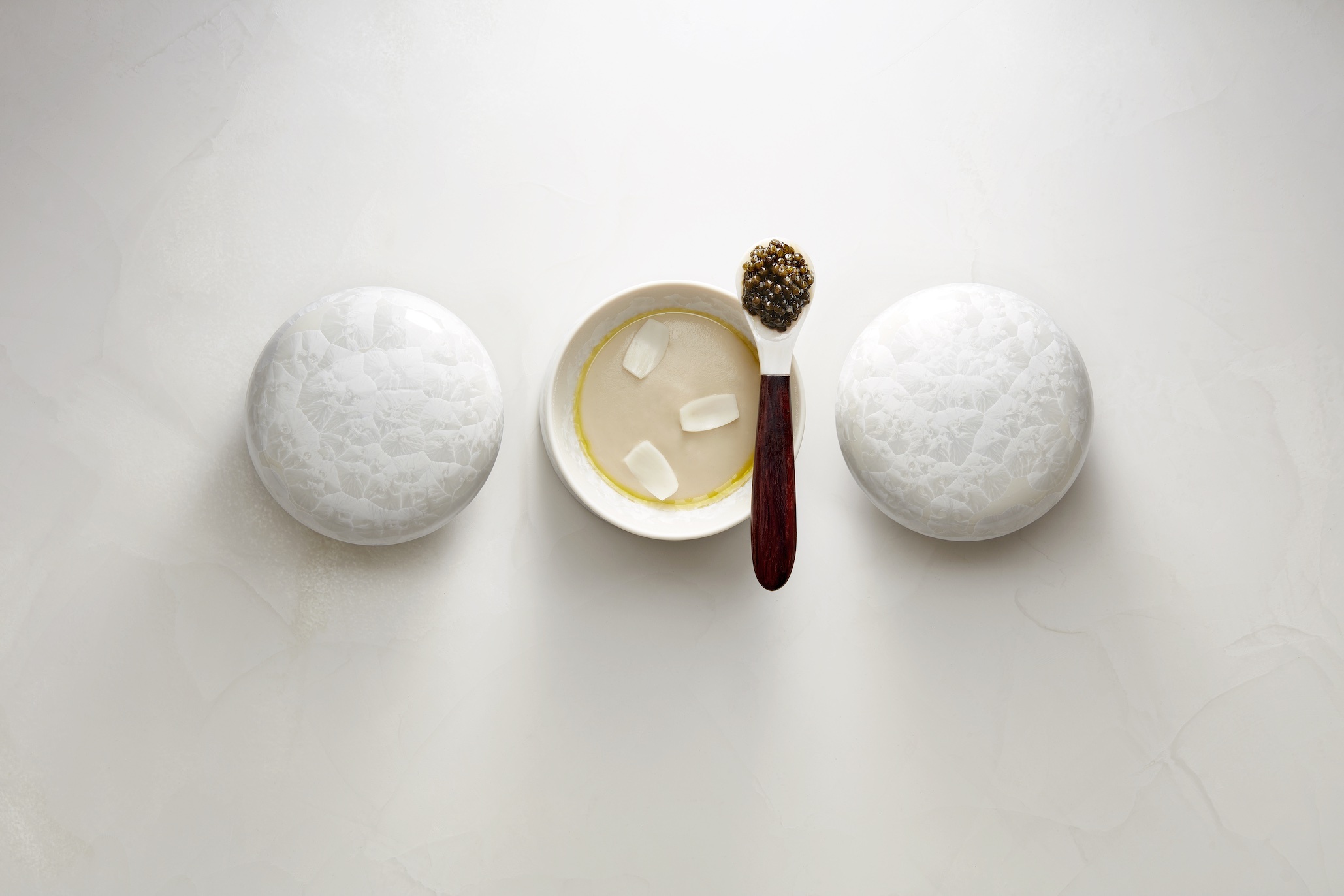 One of his favourite vegetables is the Jerusalem artichoke – and rightfully so, it's our favourite too. The artichoke is cooked in burnt butter stock and blended into a lightly sweet espuma (vegetable foam). The dish is finished with a nutty crunch of a fresh lily bulb, a touch of brine from a dollop of caviar, and decadent shavings of white chocolate. It makes for contrasting textures, with Tan serving up a crisp dehydrated maltose-dipped artichoke skin with edible chocolate soil to accompany the mellowy foam.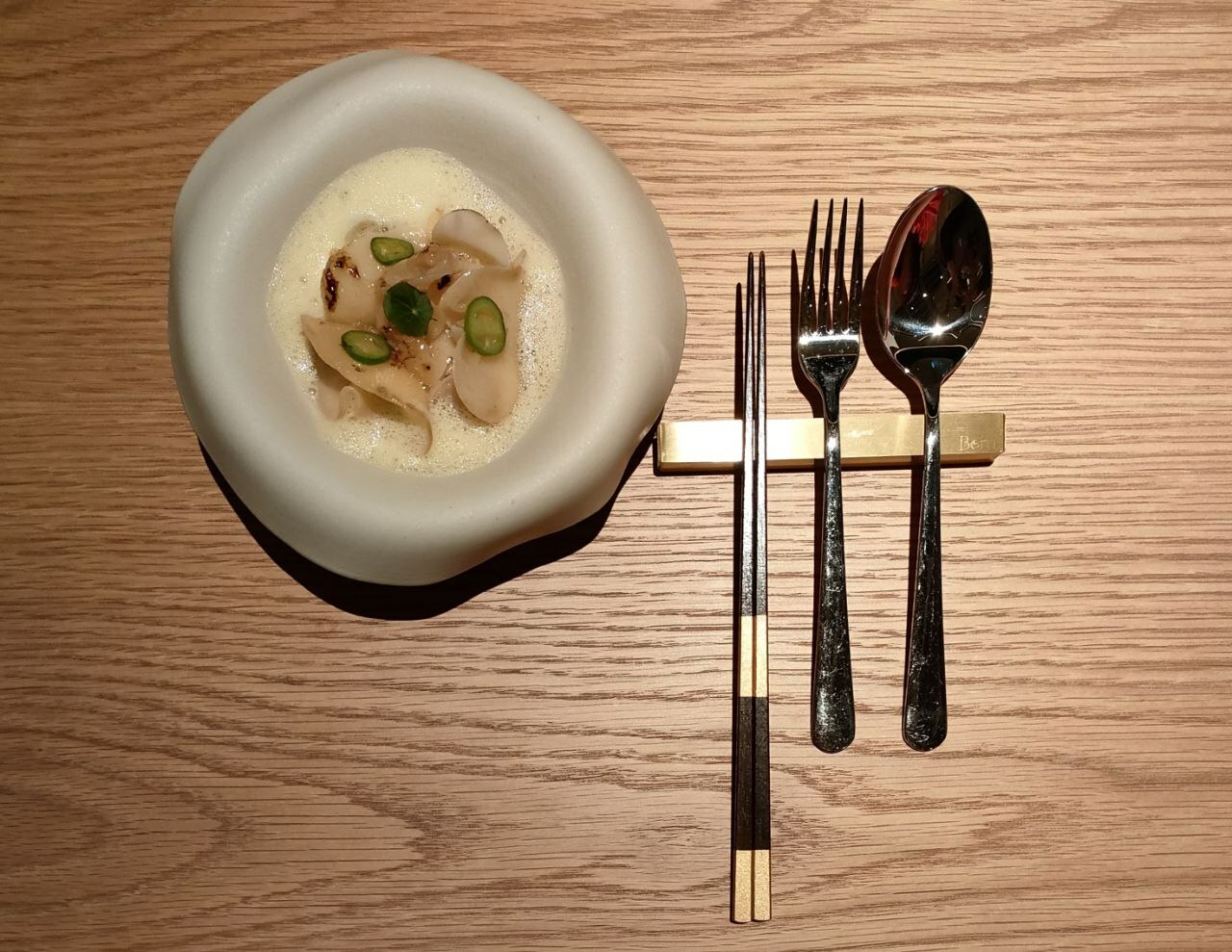 The following courses were nothing short of delicious with Tan's masterful techniques, but what truly impressed was the monkfish – a tribute to his time at Macau's Sichuan Moon where he fell in love with the classic Hunan steamed fish dish of "duo jiao yu tou". Tan's clever use of fermented yellow "huang di jiao" imperial chilli and "er jing tiao" greenhorn chilli builds up a nuanced slow burn that lingers but doesn't torch the tongue.
Toothy slabs of monkfish are first bincho-grilled while ears of crunchy jade fungus – an uncommon fungus varietal from the mountains of Yunnan – sit in a moat of chicken fat emulsion and stock. The result is a warm string of robust flavours and textures that will leave you licking the plates.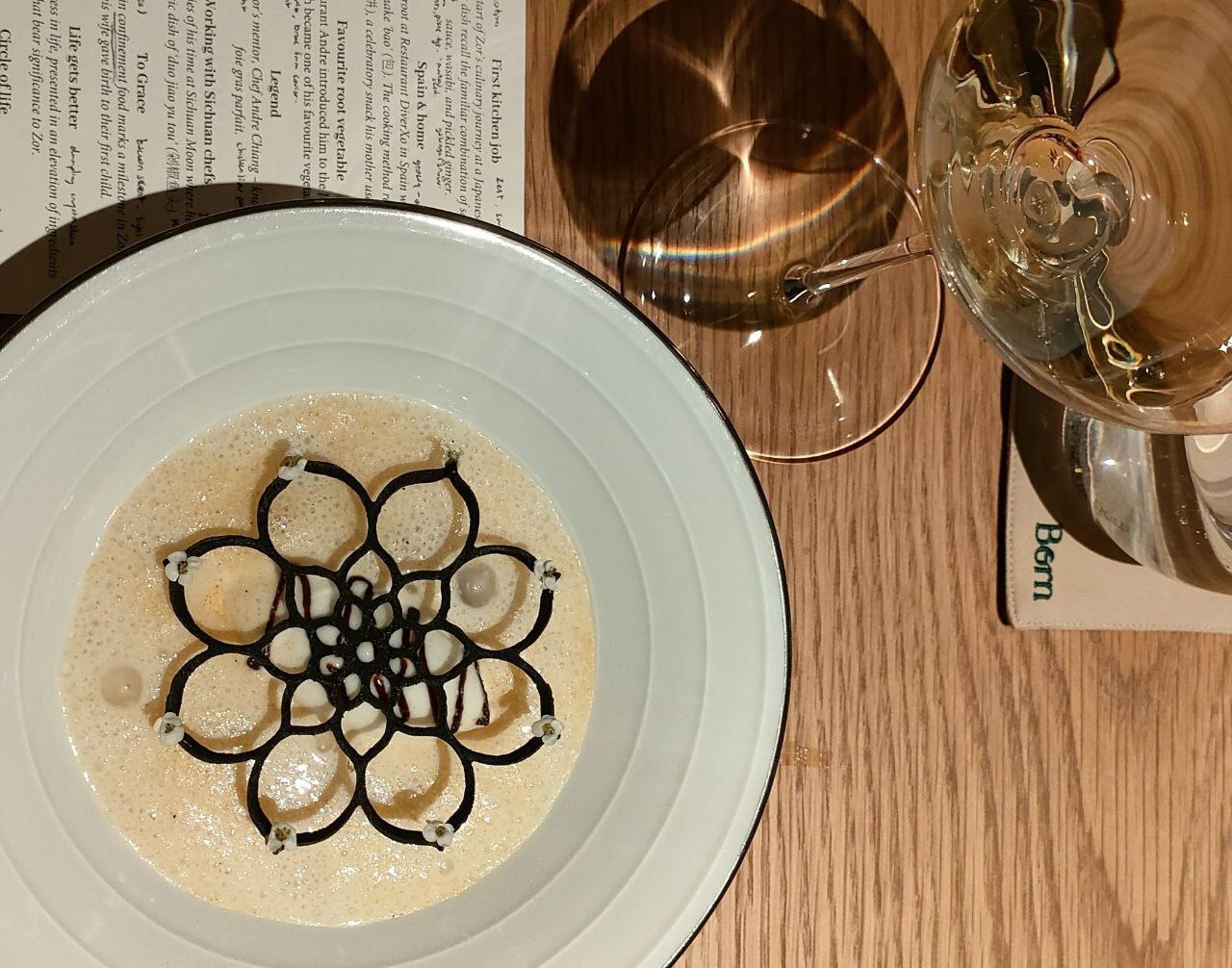 To round off the meal in every Chinese celebratory dinner, rice is typically served. Here in Born, the tradition is honoured with a twist of a classic Mont Blanc dessert. A deconstructed base of French chestnut puree, candied chestnuts, and black garlic comes through once you spoon away layers of toasted rice ice cream espuma, milk ice cream and a crowning charcoal lotus-shaped sable tuile.
The arrival of the petit fours signals the curtain call of Tan's courses. Conceptualised around the Chinese flavour profiles of sour, sweet, bitter and spicy, there was a sourish sea buckthorn jelly, a flaky sweet Ispahan Lotus, a ganache of bitter gourd bonbon, and lastly, a spicy beef fat financier to treat.
Before we knew it, four hours withered away. But it wasn't in vain as we got to experience the young chef's culinary chops backed up by an applause-worthy menu that keeps on giving.
Book here.
READ MORE:
These are the Michelin Bib Gourmand winners of 2022
Three Singapore restaurants have made it on the World's 50 Best Restaurants list preview, from #51-100
Seven restaurants in Singapore made it to Asia's 50 Best Restaurants 2022