You can't miss the trendy signboard of new-wave hawker Gimee Face. This modern bak chor mee (minced meat noodles) joint, even in a newly renovated coffeeshop, stands out with its brightly lit stall front adorned with emerald green and gold motifs. It dishes out bowls in record time, almost like a well-oiled machine. I found myself in a queue of younger foodies, some who were likely to have been attracted by the punny name and hip decals.
You might very well receive contentious stares from silver-haired counterparts. They were – or rather, still are – very much sceptical about the bowl of noodles in front of me. Some might find it too gimmicky at first, and I confess, I was one of them since first seeing them open a year ago. But before writing them off your list, give them a chance. If $5 is all it takes to determine whether it's gimmicky or not, it is a risk I'm willing to take.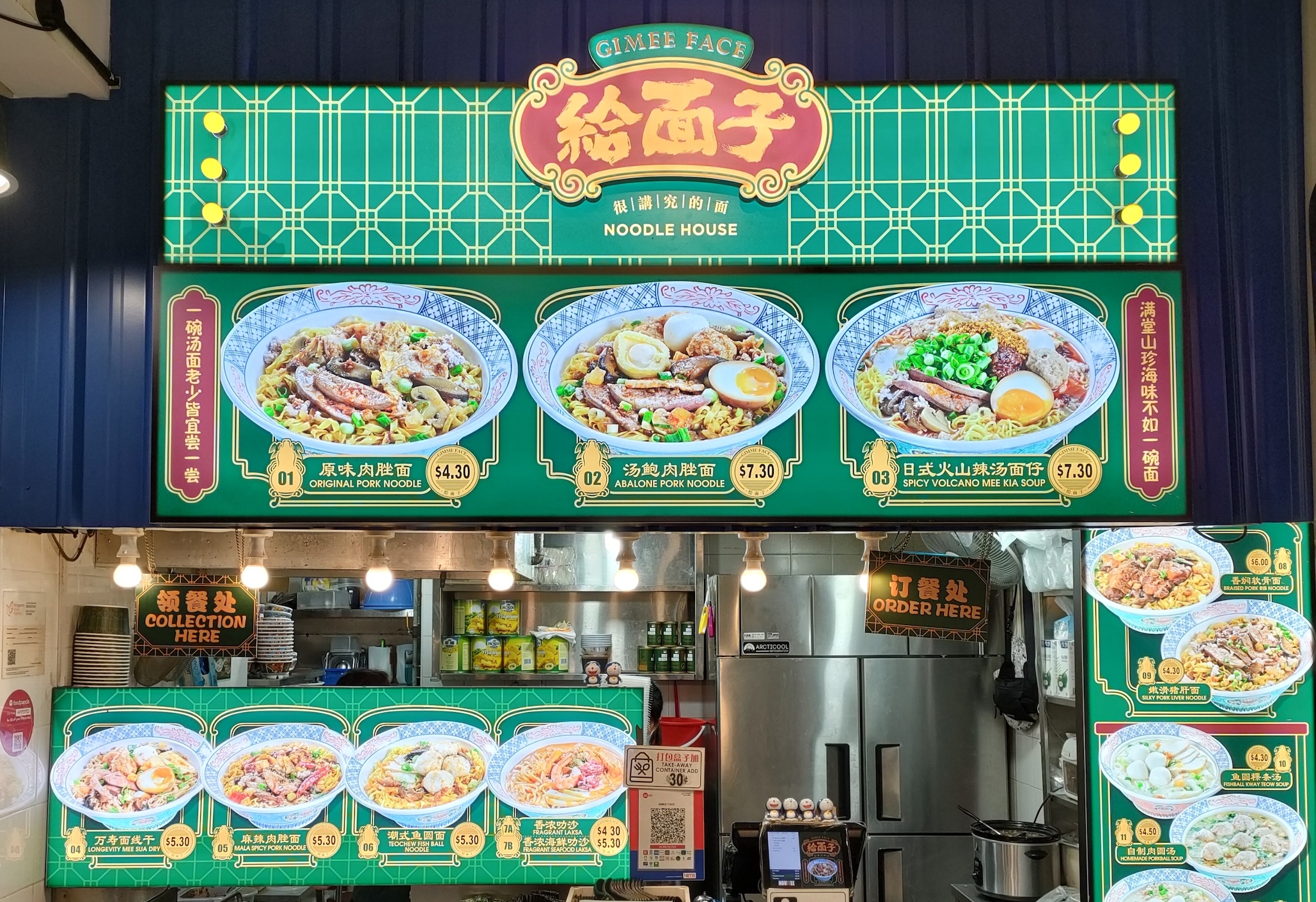 Shopping here may be a little overwhelming as they've got quite a wide selection of noodles, from humble classics to elevated fusion bowls such as Japanese tonkotsu and Sichuan mala. But consider me a purist, so I went for the original pork noodle ($4.30). Glistening, springy egg noodles, checked. A balanced between spicy, savoury and vinegary, checked. Tender clean tasting slices of pork and liver, checked. All's not without helpings of the inimitable crispy pork lard.
These are make or break factors of any good bowl of bak chor mee. For a "gimmicky" bowl to have all this – it's brow-raising, if you may. There and then, I decided to venture into the fancier side of the menu with the spicy volcano mee kia soup ($7.30) and mala spicy pork noodles ($5.30). The seafood laksa ($5.30) looked enticing too, but it was all sold out before the dinner rush hour – great, another thing that will keep me up at night.
One sip of the bone white broth of the former and you can tell that it is spicy Japanese ramen reimagined with pungent hae bee (dried shrimp) flavours and a perfectly cooked Ajitsuke egg. But don't go expecting the decadence of a $20 tonkotsu ramen. The latter, however, didn't leave a lasting impression on this staunch mala enthusiast. While it did capture the numbing hits of Sichuan peppercorn, it does fall short in the fiery heat department – a first and definitely the last for me.
What was a quick chat with the friendly people behind the stall revealed that the stall belonged to a local chain. And they are hot on their heels with seven outlets around the island in areas such as Holland, Telok Blangah, Bukit Batok, Hougang and more.
As I left satiated, I felt optimistic for future generations of foodies. We live in a time where we're witnessing an exodus of retiring hawkers and so follows the extinction of traditional recipes. Which leaves the remaining stalwarts who find it increasingly difficult to reach out and appeal to younger audiences. Hence, a bridge is needed. Bridges like Gimme Face where they honour time-tested local favourites with a touch of creativity and relevance – an act of bringing in new blood per se. And concepts as such should never be discounted for ever trying, for it is truly a thankless grind.
READ MORE:
Where to buy mooncakes in Singapore 2022
Indulge in a Sunday brunch buffet with free-flow champagne at Estate
Cult-favourite Café Kitsuné to be opening soon in Capitol Singapore