Where to buy mooncakes in Singapore 2019
Leap over the moon with these mooncakes that are sure to please during the Mid-Autumn Festival on September 13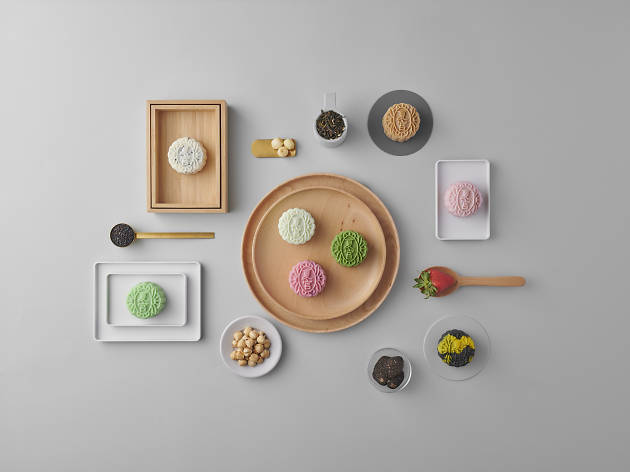 The sun is in Leo, Mercury is no longer in retrograde and we're in peak mooncake season. The forecast: a flurry of sweet treats in a multitude of unconventional flavours packed in a pretty box. The variety can be overwhelming – remember the days where we just needed to choose between salted egg or plain? – so save yourself the trouble and zoom in on these eight options.
RECOMMENDED: The ultimate guide to Chinatown and the best free Mid-Autumn events in Singapore
Most photogenic: Goodwood Park Hotel
Blue pea flower with white lotus seed paste and melon seeds ($43.80 for a box of two)
Colour us impressed: the blue pea flowers used in this snowskin mooncake create a shade of blue that's reminiscent of Chinese ceramics. Other mooncakes in the range are just as visually pleasing – with the kiwi dragonfruit manuka honey ($36) making its debut in pastel pink. Other popular favourites like the mango with pomelo ($36) and D24 durian ($46) also make a return this year.
Best personality: Mdm Ling Bakery
Signature Shanghai Mooncakes ($52 for a box of three)
Beauty isn't (pastry) skin deep. Beyond the buttery crust and fillings of pandan, red bean, or lotus paste, these uniquely-shaped mooncakes – inspired by the sampans of yesteryear – are socially conscious, too. Gift boxes feature an adorable design by Looi Siao Siang from The Everyday Revolution – a social enterprise that focuses on empowering youths with special needs. An added bonus: for every box of mooncake sold, $1 is donated to the cause.
Thousand Layer Yam Mooncakes ($64 for a box of four)
To achieve this mooncake's flaky, buttery texture is no easy feat. Each layer is paper-thin and delicately folded to surround a sweet yam paste middle. Indulge further with the addition of a single yolk or mix things up with the restaurant's other creations like the white lotus paste mooncakes with macadamia nuts or salted egg yolk.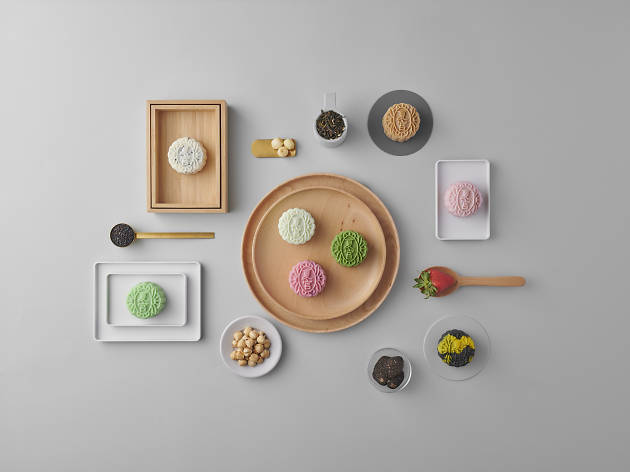 Best collaboration: Regent Hotel
Mini Snowskin Mooncakes ($81.30 for a box of eight)
The best of Regent Hotel's dining destinations come together for an epic collaboration. Flavours from Basilico's bestseller, the truffle carbonara, is turned into an aromatic dessert featuring cream cheese and black truffle ($81.30). Also part of the collection: a yuzu strawberry cheesecake-inspired mooncake ($81.30) by the Tea Lounge; a boozy Hanky Panky ($81.30) version from Manhattan Bar; a floral osmanthus tea and purple cauliflower ($81.30) creation by the Summer Palace.
The cutest: Mandarin Orchard Singapore
Limited Edition Piglet-shaped Mooncake ($32)
These adorable parcels are as cute as a button. Unique to Mandarin Orchard's mooncake collection this year, the piglet-shaped mooncakes come with a choice of two different flavours – azuki red bean paste or low-sugar white lotus paste.
Shangri-La's signature mini baked custard with bird's nest ($120 for a box of eight)
Add an exquisite touch to your mooncake this year with some bird's nest, prized for its beautification properties. It comes generously encased within smooth, sweet custard, and are best served warm for maximum enjoyment. But for those looking for something traditional, perennial favourites, like the white lotus seed paste with salted yolk, are also available.
Most timeless: Thye Moh Chan
Salty Tau Sar with Salted Egg Yolk ($33.80 for box of four)
Amid all the new-fangled creations, Thye Moh Chan continues to make traditional Teochew pastries using time-honoured techniques. Its mung bean filling, for instance, takes hours to soak, prepare, and cook. It's then used to fill its tau sar pastries to bring you a taste of the past.
Mooncake Box Set ($65 for a box of nine)
We get it – Japan and all of its wonders are thousands of kilometres away. But when you can sample mooncakes made with ume (plum) from Wakayama, or kinako flour from Hokkaido, the Land of the Rising Sun feels just that bit closer. Janice explored various prefectures to source for distinctive flavours – and they inspired her take on the festive snack. With yuzu from Kochi, hojicha from Kyoto, and chestnuts from Kumamoto, these mooncakes bring you a taste of Japan in one box.
What makes – or breaks – a good mooncake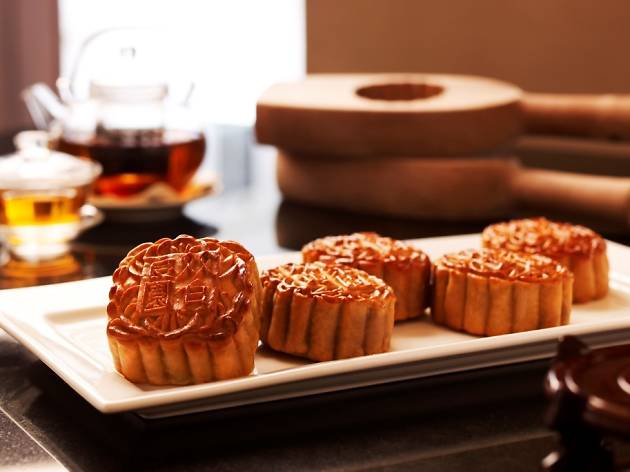 Baked mooncakes
The paste of a well-made mooncake should adhere to the thin shell. If there's yolk, it should be embedded in the paste and not crumble easily. Needless to say, oily liquid shouldn't be oozing out. If you need more than visual cues, then trust your nose: the mooncake should have a fragrant, sweet smell.
Snowskin mooncakes
The outer layer on snowskin mooncakes should be stretchy with the consistency of mochi. It shouldn't be overly starchy or taste like dough. If the mooncake has an artificial flavour – it's probably because it's heavy on the food additives – you're better off not eating it.
More snacks!