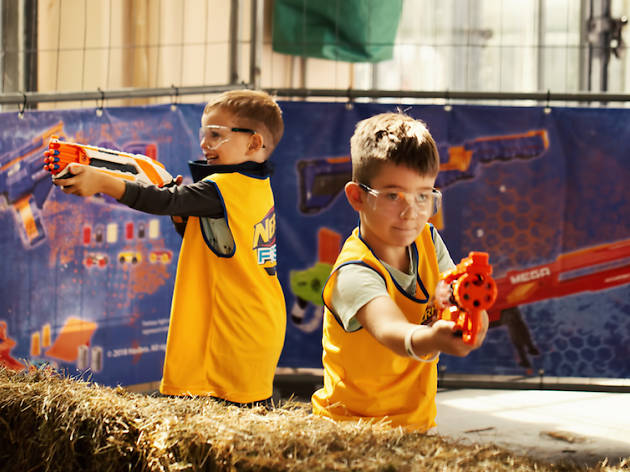 The world's first dedicated Nerf centre opens at Marina Square in October 2019
Posted: Thursday August 29 2019, 1:40pm
Who says Singapore is boring? Despite a plethora of exciting play experiences emerging around the city including The Canopy at Jewel Changi Airport which opened its gates in June, the Lion City is not one to rest on its laurels. Now, lock and load as the world's first Nerf Action Xperience comes to town. Opening on October 1 at Marina Square, the 18,000 square-feet dedicated Nerf entertainment centre is one you'd want to gather your army of adrenaline junkies for.
A huge hit with the kids and kidults since the late 80s, the iconic Nerf brand is known for its foam-based (read: kid-friendly) toy guns such as the dart blasters. Amping up the Nerf experience, toy company Hasbro – which currently owns Nerf – teams up with production group Kingsmen Creatives to design a thrilling play space that encourages active learning and team bonding.
Get your heart pumping at multiple indoor themed activity zones that test your agility and creativity through active play, teamwork and more. That's not all – keep a lookout for more exciting events and complimentary weekly programmes to get you going. And if all that shooting and dodging flying pellets got you working up an appetite, refuel at the food and beverage areas. There are also retail stalls with exclusive Nerf merchandise for you to expand your arsenal.
Now, mark your calendar, arm yourself with a Nerf blaster loaded with darts and get ready to fire.
Share the story