Canada's most beloved coffee shop is now open in Singapore. At VivoCity to be precise, where it has taken over Butter Bean on Level 1 with a cosy, wood-accented space. Famous for its coffees, donuts, and Timbits, Tim Hortons' first Singapore outpost brings donut flavours and sourdough melts you won't find anywhere else.
For the uninitiated, Tim Hortons was started in Canada in 1964 by famous hockey player Tim Hortons. It began as a friendly neighbourhood café in his hometown Hamilton, Ontario, serving up comforting cuppas and baked goods to beat the cold winters. Today, Tim Hortons has more than 3000 outlets in Canada and more than 5000 outlets globally.
The Singapore outpost is not the first in this part of the world – it already has outlets in China, India, Pakistan and the Philippines. In the following months, it will open more stores in Singapore (Nex, One Raffles Place, and Suntec City are next) as well as outlets in Malaysia and Indonesia.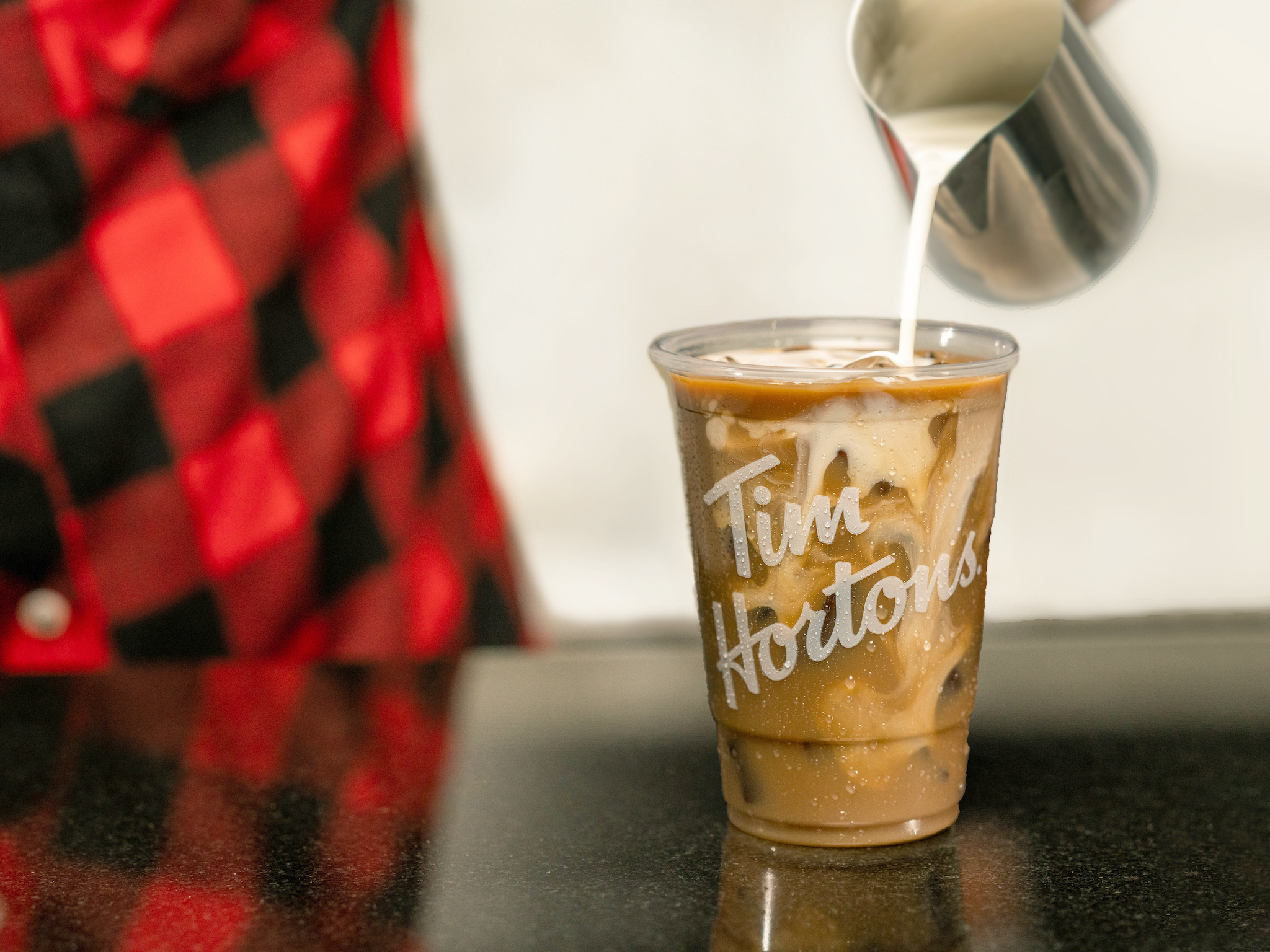 At the Singapore outlet, try premium drinks like signature coffee blends, flavoured lattes, and Iced Capps. Get a full hit of the rich, bittersweet Tims' Espresso Blend in an espresso shot (from $3.50) or try it in latte standouts like the maple cinnamon and espresso chai lattes, both $7 for a regular.
The chocolatey Tims' Dark Roast can be had in freshly brewed cuppas (from $3.50 for a Daily Brew) while Tims' Original Blend can be found in the cold brews (from $5.50 for The Original), which will soon have flavours like pink grapefruit and maple cream foam.
Those who like something sweet and refreshing should go for the Ice Capps, a frozen coffee shake available in flavours like salted caramel and Belgian chocolate.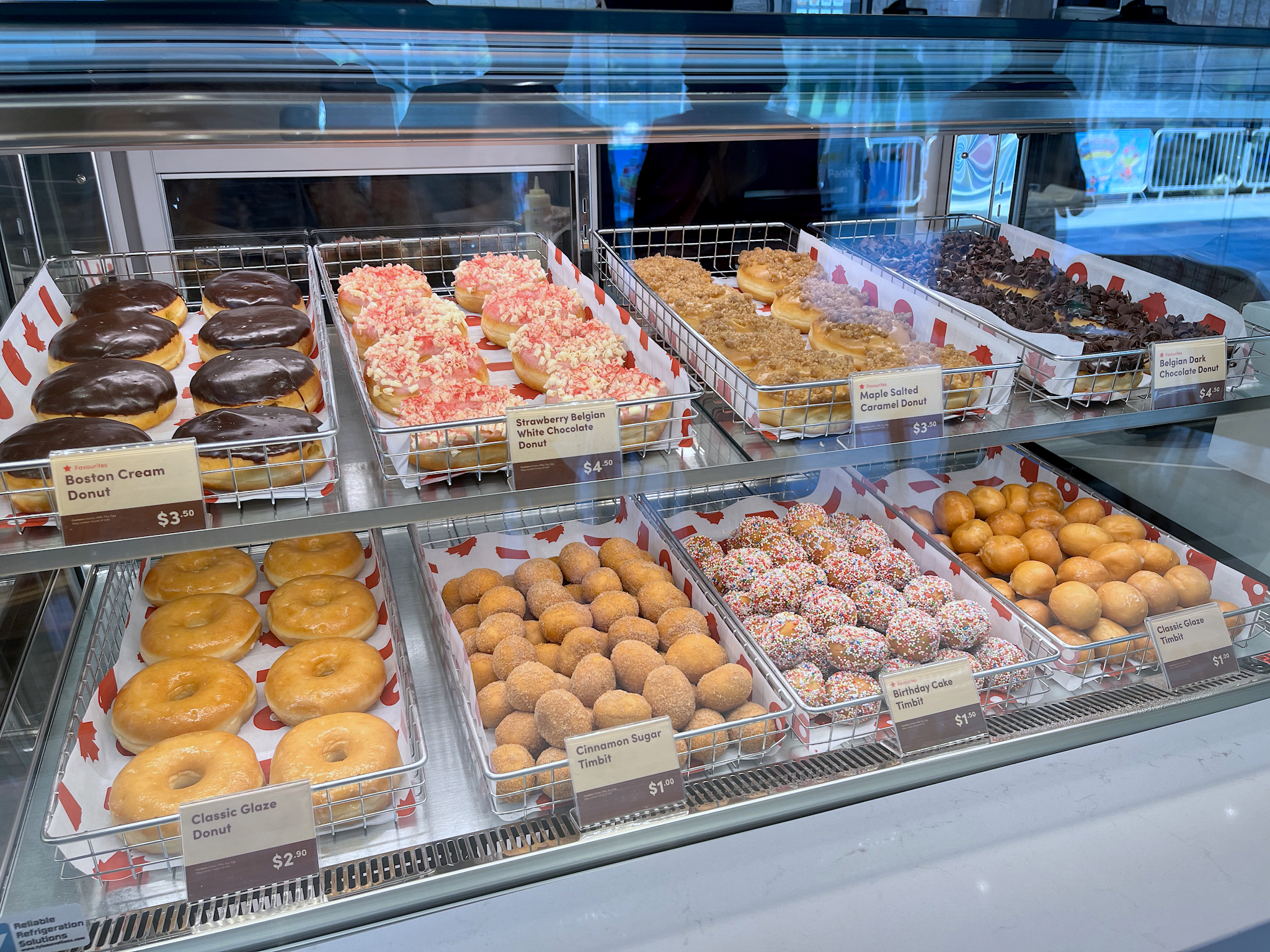 There's no going to Tim Hortons without trying its donuts and Timbits. Find classic flavours like the classic glaze and Boston cream. A Singapore exclusive is the yuzu lemon cream, a sugar-dusted bombolini that oozes a tangy yuzu custard. Other flavours have received an upgrade of sorts – Belgian dark chocolate and strawberry donuts can be found in Tim Hortons stores overseas, but the local variations have an extra smattering of chocolate curls.
Want a tiny snack? Go for the Timbits, which are donut holes dusted with cinnamon sugar or rainbow sprinkles. Donuts are sold in packs of six ($20) and Timbits are sold in packs of 10 ($10).
Need a quick lunch? Tim Hortons has savoury options too. Six sourdough melts make up the menu. Choose from truffle egg mayo cheese, triple cheese and caramelised onion, truffle mushroom, maple glazed chicken ham and cheese, tuna sriracha cheese, and pesto chicken mozzarella ($8.90-$9.90). The melts are lighter than you would expect and are made hot on the spot.
Tim Horton's first store opens to the public from November 17 and will be open daily from 10am to 10pm. Be one of the first 100 customers daily from November 17 to 19 to get a free regular café latte every week for a whopping six months – that's 24 free drinks. On November 17, the 101st to 200th customer will get exclusive Tim Hortons merchandise while the 30 best-dressed customers will receive a 'swag box' worth up to $80.
For more information about Tim Hortons and its menu items, visit https://timhortons.sg/.