Ring in the new year with a splash at Siloso Beach Party 2019
Party from dusk till dawn on December 31 at this 12-hour tropical New Year's Eve celebration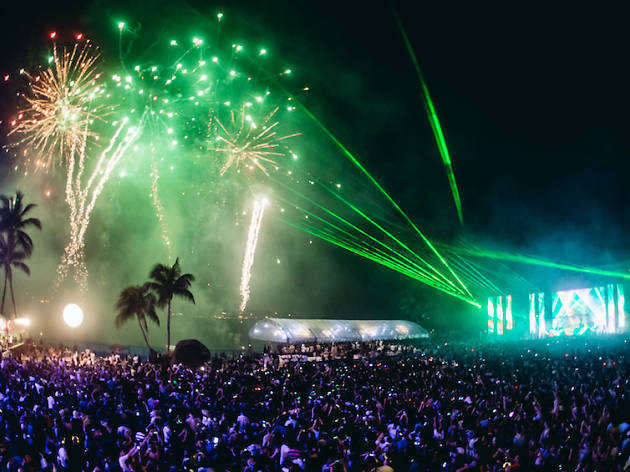 The new year is just around the corner, and there's nothing worse than a last-minute panic attack on what to do during the final hours of 2019. To ensure you make the most of New Year's Eve, start filling in your party schedule pronto.
For starters, make plans to hit the Siloso Beach Party 2019. Back for the 13th edition, Siloso Beach Sentosa morphs into a raging beach blowout with the hottest DJs, a water-jet dancefloor, a giant foam pool and a massive firework display – all happening from 6pm on December 31 to 6am on January 1.
Boogie to beach bangers
Feel the sand between your toes and throw some shapes to an electrifying mix of chart-toppers spun by international and local beatmakers. Gyrate alongside the crowd to the throbbing bass and beats of party favourites like Australia's Mashd N Kutcher, The Netherlands' Julian Jordan, Thailand's Make You Freak, and South Korea's DJ Queenzell, as well as the 2019 winner of the Sentosa DJ Spin Off who will be crowned on November 30. These international spinners are joined by DJ Kaylova with the energetic Twins Gone Wrong hyping the crowd – both repping the Lion City. Over at the Foam Stage are DJs Jade Rasif, Caden, Jensen and Kevin O'Hara.
Hit foam run
What's a Siloso Beach Party without its main draw? The signature foam pool returns with more bubbly fun. But before you dive in, make sure you're kitted out in suitable garb. With plenty of soapy, frothy water, you won't be leaving this slippery dance floor dry. If the sand and foam don't quite cut it, boogie your way to the Wet & Wild Zone where water jets blast off around the dance floor.
Fuel up for the fireworks
Sink your teeth into an array of tasty bites at the Food Zones. Get boozed up for that extra Dutch courage to find someone to knock tonsils with at the stroke of midnight when the sky illuminates with a kaleidoscopic firework display. But that's not all – the party doesn't stop until the rising sun turns the sky pink and orange.
Sounds like your NYE jam? Advance tickets are available at $68 from December 1 to 31, while standard tickets go for $88 on December 31 from 6pm onwards. VIP tickets are available at $108. Mastercard and Sentosa Islander cardholders, as well as NTUC and SAFRA members, can enjoy a further 15% discount. Secure your tickets online now.
If you're planning to ditch the party bus for Grab, key in the promo code SBP2019 to enjoy $8 off your Grab ride into Sentosa from 6pm to 10pm on December 31. After all that partying, key in Sentosa2020 for $8 off your Grab ride home from 2am to 6am on January 1. Note that promo codes can only be redeemed once per user with a limited quantity available.
For more information, visit sentosa.sg/silosobeachparty.