Shanghai's best bars and clubs
Ten great bars for cocktails, views and clubbing and music in Shanghai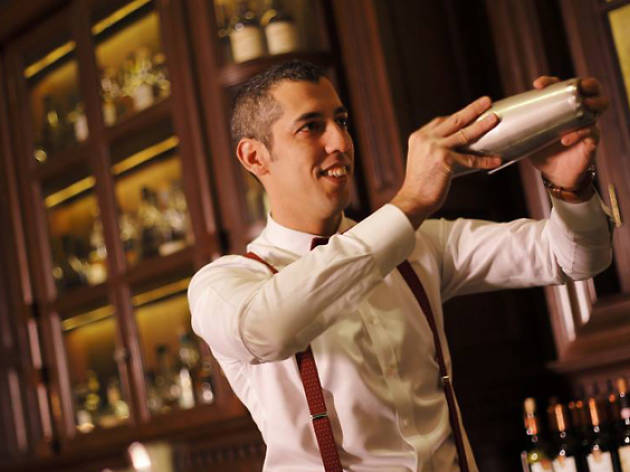 Shanghai has so many nightlife options to choose from it can be hard to know where to start. We recommend ten of the best bars and clubs in the city for drinks with a view of the famous Pudong skyline, clubbing on The Bund, enjoying a quiet cocktail in the Former French Concession or heading underground for electronic music.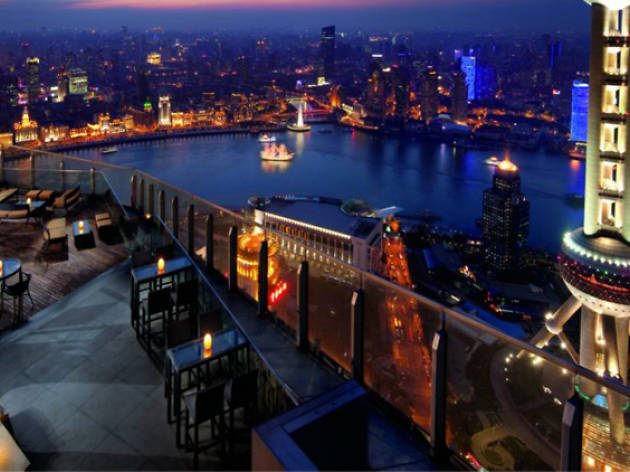 For a view
On the 58th floor of the new Ritz-Carlton Pudong, the terrace from Flair has one of the best views in town, practically looking into the Pearl Tower. Given the location, it's on the pricier side, most drinks will set you back $21 plus 15 per cent service charge, from signature cocktails such as the Crystal Blue Shanghai to a ginger mojito or a Hoegaarden, but it has a great spacious outdoor terrace, which is perfect for relaxing in Shanghai's warmer months.

For a view without making such a dent in your wallet, try Time Out favourite Captain's Bar over on The Bund. Inside the slightly basic Captain's Hostel, the nautical-themed bar has a similarly impressive view of the Pudong skyline, but none of the glamour and drinks usually all come in under $11.50.

Ritz-Carlton is at IFC Mall at Lujiazui, Pudong 8 Century Avenue, near Lujiazui Huan Lu. Captain's Hostel is half a block behind the Bund. 37 Fuzhou Lu, near Sichuan Zhong Lu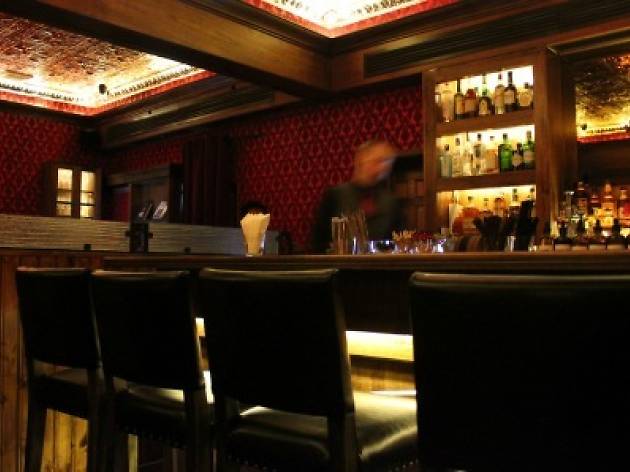 For quality cocktails
The first real venue to bring the prohibition-era cocktail bar trend to Shanghai, Senator Saloon houses a beautiful dark wood interior under an eye-catching tin roof (brought in especially from Texas) creating a sleepy, late-night hideaway atmosphere.

For drinks, barman David Schroeder has created a menu of Prohibition Era mixes of standouts like the robust, complex and brilliant Martinez ($17), a kind of happy truce between a negroni and a Manhattan, and a lighter basil gimlet ($16) with a satisfyingly herby burst. There's also a strong range of unique bourbons and barrel aged gins and some good bar snacks, such as the unmissable pulled pork sliders.
98 Wuyuan Lu, near Wulumuqi Zhong Lu, Xuhui district. Changshu Lu. 徐汇区五原路98号, 近乌鲁木齐中路. (5423 1330). Daily 5pm-late.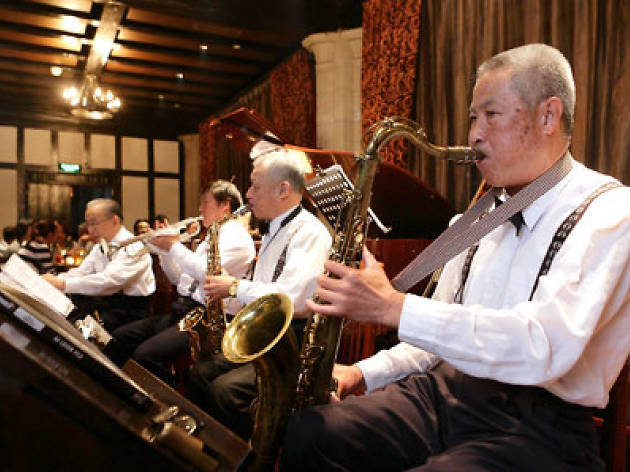 For entertainment
Every night at 7.30pm, the Jazz Bar at the Peace Hotel plays host to Shanghai's oldest jazz band – their average age is 77, and some members first played together in 1947. In this faithfully-recreated bar at the iconic Peace Hotel, watching these old boys go (slowly) through jazz standards is a classic experience. Be sure to book ahead for a table. Beers from $10, cocktails from $16 (plus 15 per cent service charge).
First Floor, Fairmont Peace Hotel, 20 Nanjing Dong Lu, near Zhongshan Dong Yi Lu, Huangpu district. Nanjing Dong Lu. 黄浦区南京东路20号, 近中山东一路. (6321 6888). Noon-2am daily.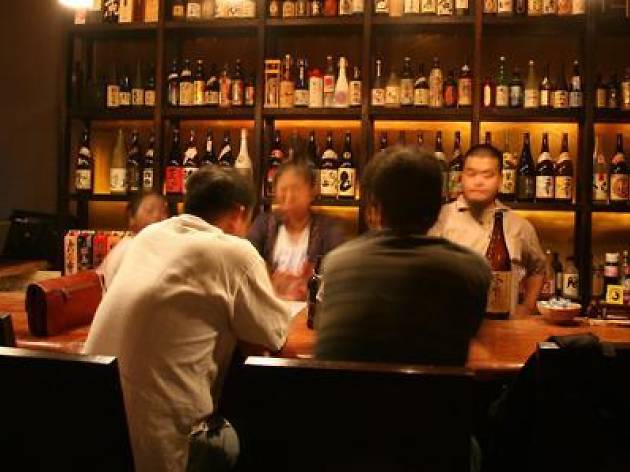 For a secret Japanese vibe
Mokkos, hidden down a quiet alley on a quiet street, is a hidden gem where the friendly barmen will only serve you shochu and plum wine (or beers if you ask nicely). The music is quirky reggae, and the barmen and patrons regularly pull out instruments and burst into song. Plum wine and shochu from $8.
103, Lane 1245 Wuding Xi Lu, near Wanhangdu Lu, Changning district. Jiangsu Lu. 长宁区武定西路1245号103室, 近万航渡路. (6212 1114). Daily 7pm-2am.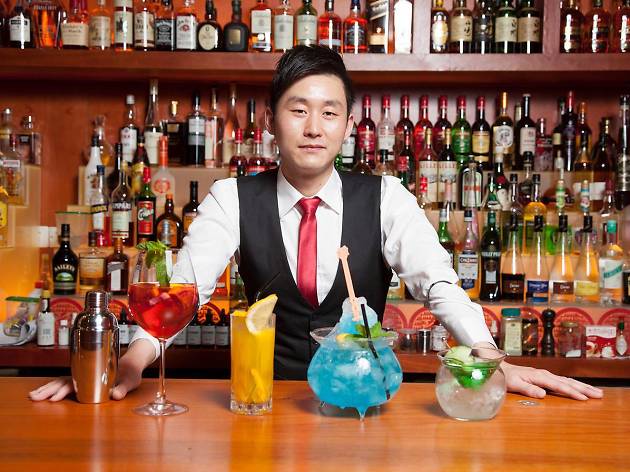 For the best of Shanghai's bartending talent
A landmark new opening and a major stride forward in Shanghai's surging drinks scene, Yuan is an experimental cocktail bar at the forefront of a new chapter in the city's drinking culture. Behind the bar is an all-Chinese line-up of bartending talent, including local legend Ted He and fast-rising up-and-comer Jerry Chen, the winner of the inaugural Time Out Shanghai-Cointreau Cocktail Shakedown competition in 2012.
Yuan is also one of the first bars in town to successfully riff classics with Chinese ingredients to render cocktails that are actually drinkable making it top the list of one of the most inventive, Sino-centric cocktail menus in town such as the Shaoxing Cavelry made from Chivas 12 Scotch and wolfberry-infused Shaoxing rice wine (drinks are from around $16).
17-2 Xiangyang Bei Lu, near Changle Lu, Jingan district. Shaanxi Nan Lu. 静安区襄阳北路17-2号, 近长乐路. (6433 0538). Daily noon-3am.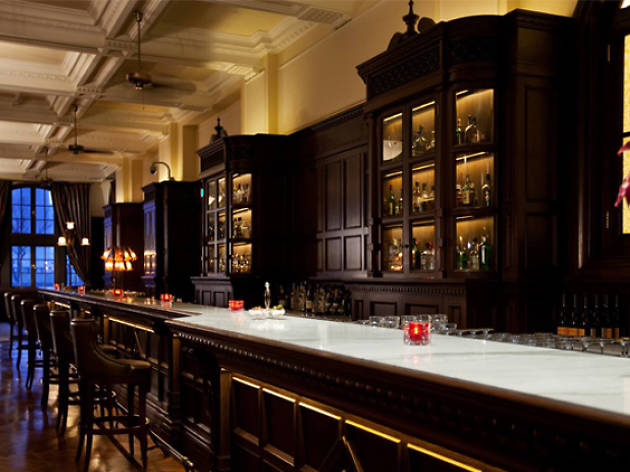 For old world elegance
The Long Bar at the Waldorf Astoria was the longest in the Far East in the days that this building hosted the exclusive Shanghai Club (from 1911 until 1949). Having been recreated in all its wood-panelled Art Deco glory, it is now one of the most elegant hotels in the city, playing classic jazz and serving exquisite classic cocktails, oysters and classy bar snacks. Cocktails from $20 (plus 15 per cent service charge).
First Floor, Waldorf Astoria, 88 Sichuan Zhong Lu, near Guangdong Lu, Huangpu district. 黄浦区四川中路88号, 近广东路. Nanjing Dong Lu. (6322 9988). Mon-Fri 4pm-1am; Sat-Sun 2pm-1am.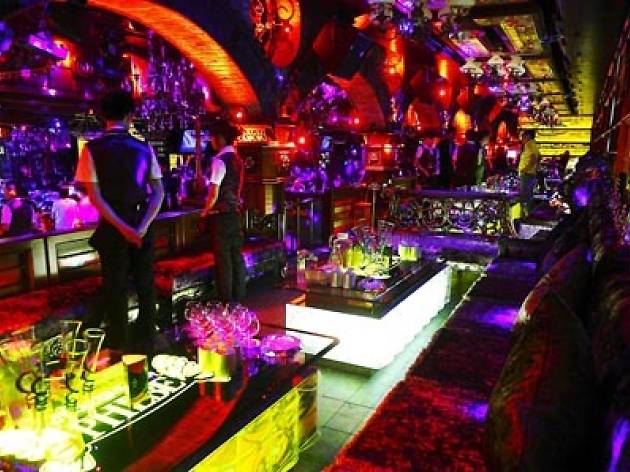 For a classic Shanghai clubbing experience
Since the closure of Fumin Lu staple No. 88, Phebe 3D Club (aren't all clubs in 3D?) is our favourite choice for the classic Chinese clubbing experience, and makes for a baffling, but entertaining evening. The main room is filled with tables of people rattling dice and being served drinks with sparklers in, ensuring that there is no real dancefloor. Gaudy faux baroque furniture abounds underneath bombastic chandeliers while a pounding chart R&B and hip pop soundtrack booms out over the masses. It's such a ridiculously over-the-top and thoroughly bizarre place that by the time you come across a giant ten foot tall model of a knight on a horse in one corner, you're no longer all that surprised.
Cocktails start from $55 but beware that if you sit at a table, it will have a minimum spend limit. There are also wristband patrolled $23 all-you-can-drink deals at weekends, but these are served at a bar in the lobby, away from the money-spending crowds.
First Floor, 10 Hengshan Lu, near Gaoan Lu, Xuhui district. 徐汇区衡山路10号, 近高安路. Hengshan Lu. (137 9536 8335). Daily 8pm-6am.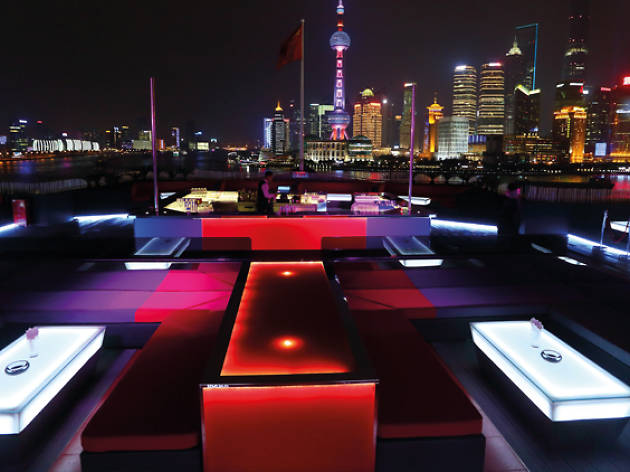 For seeing Shanghai's 'jet-set'
Expensive and exclusive, Bar Rouge is a slick and polished bar on the Bund, with steep prices to match. The luxurious décor, extensive drinks list and impressive terrace overlooking the Lujiazui skyline add to the glamourous atmosphere. Frequently hosting international house DJs, often with a European feel, this is a favourite among the stylish see-and-be-seen crowd. Just like your squad, right?
Seventh Floor, 18 Zhongshan Dong Yi Lu, near Nanjing Dong Lu, Huangpu district. Nanjing Dong Lu. 黄浦区中山东一路18号7楼, 近南京东路. (6339 1199). Daily 6pm-late.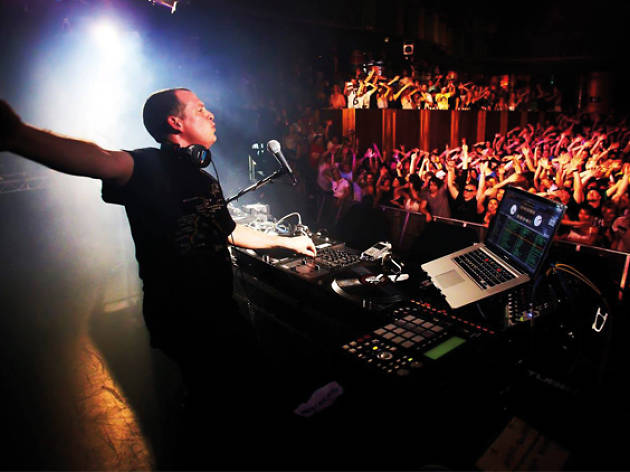 For underground electronic music
The Shelter is a veteran of the Shanghai underground nightlife scene, and one of the few clubs in the city to offer a diverse range of dance music from local and international DJs of hip hop, drum 'n' bass, dubstep and techno.
Housed in a converted bomb shelter, the main room is regularly heaving with a crowd who come for the music rather than the décor, while a labyrinth of low tunnels provide chillout areas at the back. This is the place to check out for those who love their clubs dark, hot, sweaty and loud.
5 Yongfu Lu, near Fuxing Xi Lu, Xuhui district. Shanghai Library. 徐汇区永福路5 号,近复兴西路. (6437 0400). Wed-Sat 10pm-late.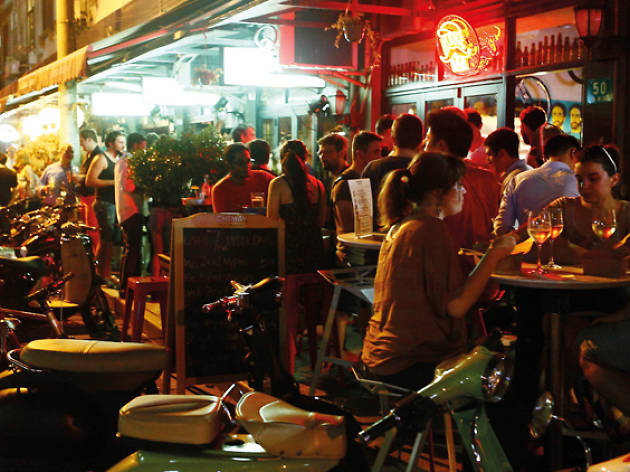 For a bar crawl
Yongkang Lu has become the bar street of choice for Shanghai's expat community in the past year, with a string of drinking establishments opened along what was once a quiet residential road. The influx has been so great in fact that some residents have taken to throwing buckets of water over drinkers who get too rowdy and most bars now close at 10pm. Nevertheless, it can be a fun place to hang out, especially in summer.
Le Cafe des Stagiaires
(
No 54
) was one of the first bars in and remains one of the best; try their on-tap La Chouffe beer ($9). For cocktails, head to either Revolucion Cocktail (
No 58
) for Cuban twists on the classics such as a Strawberry Mule ($11), or to the tiny
Ginseng
(
No 39
) for a Martinez ($18). If you work up an apetite after all that boozing, check out
The Sailor's
(
No 35
) for some cheap and tasty fish 'n' chips (from $7).
Yongkang Lu, near Xiangyang Nan Lu, Xuhui district. Jiashan Lu. 徐汇区永康路, 近襄阳南路. Daily 11am-10pm.