Three Arty Clubs
Benita Lee sources out three nightspots to admire the art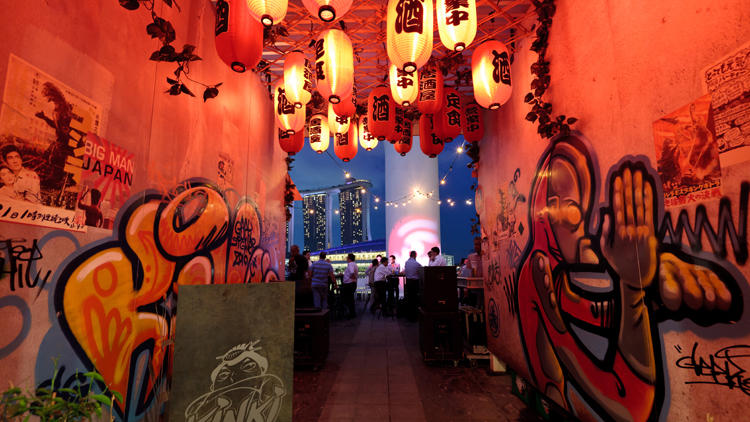 Bursting with vibrant graffiti and street art, this rooftop spot offers a mix of stunning aerial views, delish Japanese finger food, unique Nippon-inspired cocktails and the quirky vibe of Tokyo nightlife. With bragging rights as Singapore's very first graffiti art bar, the two-year-old venue features edgy artworks by Chris Garver from Miami Ink and local artist ANTZ. Plus, watch out for DJ B.I.G. and his audio-visual showcase of live video mixing every Saturday night.
From the team behind nearby Chinatown enclave The Vault, this cavernous underground space in the CBD plays a mix of house classics, nu favourites, disco and more during weekly club nights to supplement its Japanese gourmet spread and spirits on the menu. Original contemporary artworks are created for the club every six months – right now it features Japanese-inspired work by local graffiti artist Ceno2 on the walls, with swirling abstract motion graphics by visual artist Brandon Tay to match the music.
With a total worth amounting to more than $6 million, the pop art-influenced pieces on display in Zouk, Phuture and Velvet Underground are all from founder Lincoln Cheng's personal collection – favourites he wanted to share with the public. Zouk features a Roy Lichtenstein numbered print, while Phuture displays three commissioned futuristic paintings (from the '90s) by Massimo Iosa-Ghini, as well as James Rosenquist's 'Skull Snap' painting. But the main draw is Velvet Underground, which showcases over 20 unique art pieces, including digital artworks along the corridor, a tattoo art mural, one-of-a-kind prints by Andy Warhol, Takashi Murakami pieces and much more.