What makes a world-class party place?
The 'DJ Mag' Top 100 Clubs worldwide rankings are here again, and we're wondering what separates the cool clubs from the wannabes. We pit classy local establishment CÉ LA VI against 2015's list-makers to see how Singapore stacks up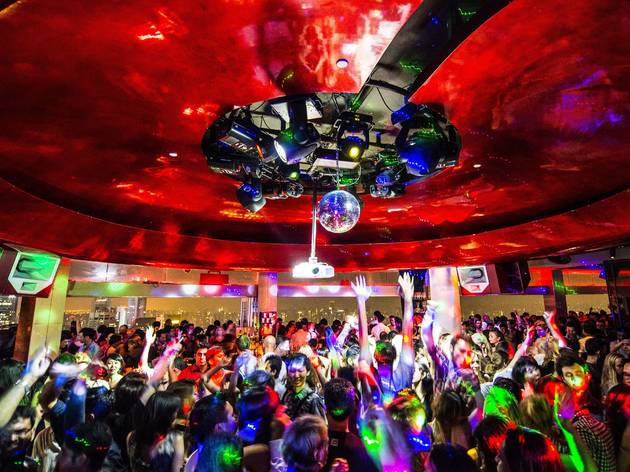 DJ talent
The winning secret: Besides a stable of solid resident DJs, what really pulls in the punters are internationally renowned DJs. Check out Spain's electronic haven Space Ibiza (second in the DJ Mag rankings last year), which boasts big names such as Nina Kraviz, Fatboy Slim and Disclosure. Or, Hakkasan in Las Vegas (the third last year) – it counts EDM glitterati such as Tiësto, Calvin Harris, Afrojack and Hardwell among the DJs who walk through its doors.
Alesso at CÉ LA VI Singapore
CÉ LA VI's claim to fame: CÉ LA VI has brought in many top DJ talents from around the world, such as hip hop beat-droppers Jazzy Jeff and Lil Jon, style maven-slash-DJ Samantha Ronson, and ambient chill-out dude Jose Padilla of Café del Mar fame. Local talent is also alive and thriving on the decks, with resident DJs Joshua P, YA5TH and Brendon P helming the turntables, as well as the world's most syndicated DJ and Russell Peter's official tour DJ, DJ Spinbad.
Buzzy club nights
The winning secret: A buzzing line-up and calendar is one way to keep things fresh for ADD-addled partygoers. Bulgarian institution Yalta (28th on last year's list) has its annual Solar Summer Festival, an essential date to rave about, while Pacha Ibiza's (4th) diverse club nights – from David Guetta's F**k Me I'm Famous to the disco-tech cool of Solomun's +1 bash – make it a party all day, every day.
Cirque le Soir performers hyping up the crowd
CÉ LA VI's claim to fame: CÉ LA VI is no slacker in the events department, either. It has hosted circus acts from London club Cirque Le Soir, glitzy Formula One parties, V Series bashes with Grey Goose, and the super popular Sky High Brunch pool party. And with 14 resident DJs – the most in Singapore – club nights deftly switch between music genres, from the house-heavy DYSKO nights to Top 40s to R&B, hip hop and urban.
Local flavour
The winning secret: From an old industrial power-plant situated in techno mecca Berlin (the city's home to last year's 16th-placed Berghain/Panorama bar) to Mykonos' cliff-hanging – literally – Cavo Paradiso (23rd), great party places work with the local character and scene.
The spectacular sky-high views
CÉ LA VI's claim to fame: While cliffs are in short supply on our sunny island, high-rise buildings aren't. Enter rooftop bars – come on, who doesn't love the idea of lounging above the masses with a cocktail in hand and a to-die-for view of the skyline. CÉ LA VI, perched atop the iconic Marina Bay Sands, wows both tourists and locals alike with its stunning panoramic views of the city skyline on one side and the Straits on the other. Now, that's the true city experience.
Cool interiors
The winning secret: Green Valley in Brazil is last year's chart-topper, and rightly so. The enormous festival-sized jungle club does everything larger-than-life, with an enormous lake, multiple bars, a pizzeria and even a boutique within the lush, green plantation of a surrounding valley. On the other end of the style spectrum, Seoul's Octagon (6th) opts for futuristic minimalism instead with its steely industrial design. Either way, the two have in common distinctive interiors that effortlessly emanates cool.
The renovated bar
CÉ LA VI's claim to fame: Inspired by the region's rich artistic legacy, the newly renovated CÉ LA VI Club lounge pays homage to Asian heritage with a distinctive South-East Asian influence in its interiors. Using the interplay of shadow and textures, Asian motifs are added to sensual effect, while stencils etchings and hand-carved frames add a unique decorative touch. Other highlights include a stunning vertical garden, towering temple discs, antique mirrors and a bar fitted with textured glass.
Until Feb 19, CÉ LA VI Singapore is canvassing for votes to put itself – and Singapore! – into DJ Mag's Top 100 Clubs worldwide rankings. Voters who post screenshots of their vote and hashtag #votecelavi/@celavisingapore also stand to win prizes like Pioneer DJ headphones, DJ controllers, a year's worth of free guest list, staycations and more. Cast your vote here at vote.top100clubs.com.
For more information, visit CÉ LA VI Singapore's Facebook page.