Absinthe Restaurant Francais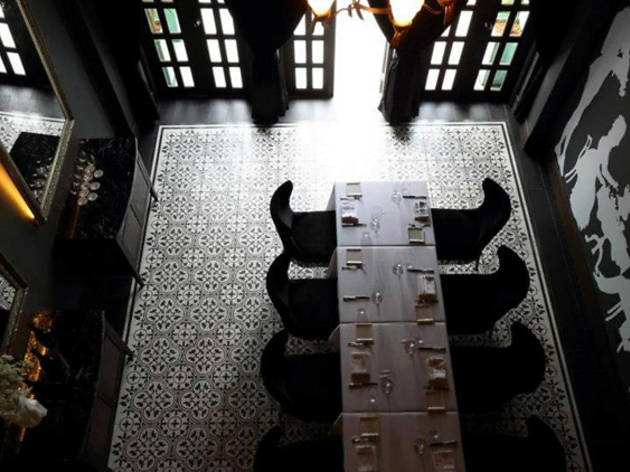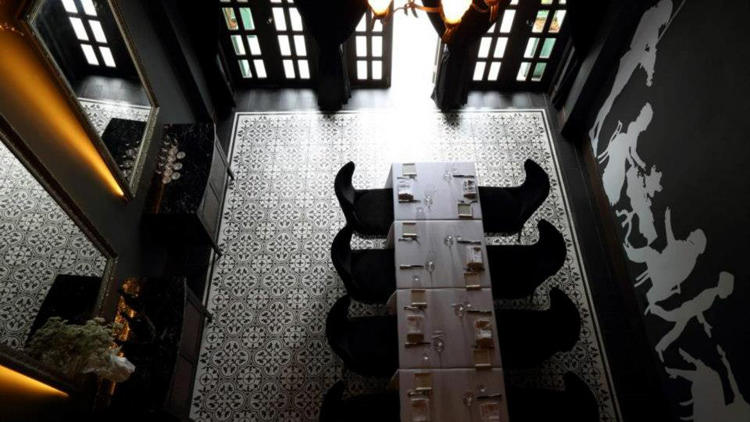 1/2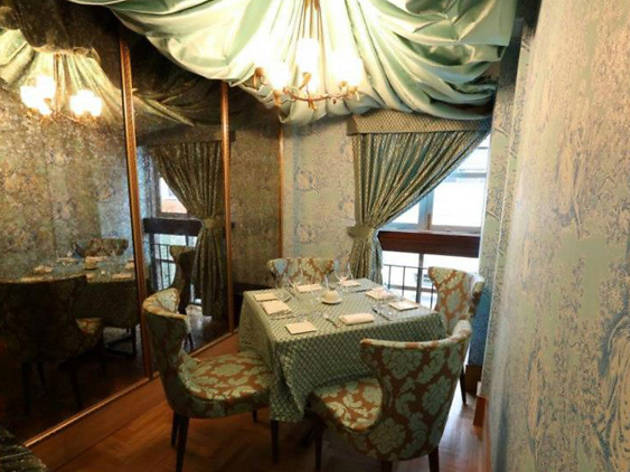 2/2
Time Out says
The mention of absinthe conjures up memories of a cocktail I drank years ago in a London bar. It was called a 'Van Gogh's Earlobe' and its haze-inducing qualities put me off absinthe – the liquor – for almost ten years. Fortunately, dining at Absinthe – the restaurant – is an entirely different experience and one I would happily repeat.
If fancy French fare is your thing, Absinthe delivers in spades. While some fine-dining restaurants run dangerously close to creating fussy or sterile interiors with service to match, this place has heart. The maître d's welcome is charming and attentive as he ushers us to our table in the long, narrow dining room. Sage-green wallpaper offers a subtle nod to the colour of the liquor that lends its name to the restaurant, and the open window to the kitchen offers an element of action.
The lively jazz soundtrack provides an upbeat vibe, while candles flickering on each white-clothed table shout romance. I almost expect to see men dropping to their knees with diamond rings in their hands as the other diners clap in delight and our host pops champagne for all. It's that kind of place. On the two nights we dine, there are no proposals to be witnessed, thank goodness. We're here to enjoy well-executed French dishes – and in most instances Absinthe delivers.

The entrée of foie gras is melt-in-your-mouth delicious and the addition of tiny hibiscus flowers gives it a perfect acidic punch. Served cold, the lobster ravioli consists of plump pieces of lobster encased in a thin sheet of pasta, but it's the addition of julienned pink guava and a lime sabayon that gives the dish a necessary twist and makes it truly memorable. Only an entrée of seared scallops with seaurchin emulsion disappoints. The scallops are perfectly juicy, but the dish is served a touch too cold, resulting in a bland taste. Luckily, the gazpacho soup is a spicy success.
The mains follow a similar pattern; most are outstanding while others fall slightly short. The roasted black cod is a standout: served on a bed of saffron risotto that is far lighter and less creamy than expected – and more successful as a result – it's the addition of a dill-scented jus that takes it to another level. The roasted duck is also delicious – the wafer-thin skin on the two breasts is cooked to perfection, although the accompanying polenta with porcini mushrooms is under-seasoned.
The slow-cooked loin of lamb is a slight disappointment to my dining companion because of the sous-vide method of cooking – and at $45, the portion is also too small. The grain-fed tenderloin of Black Angus beef is a better bet. It is perfectly cooked, and the potato galette, mushrooms and black truffle sauce deliver a beautifully rich flavour. The highlight among the skilfully made desserts is the absinthe sorbet accompanying a blueberry crème brûlée.
But it's not just the food that will keep me coming back to Absinthe. Although it has only been open for a few months (it is a joint venture with the team behind famed Italian eatery Oso, located upstairs) the restaurant has a charm that justifies the high price tag.
When mistakenly charged for a special starter of Iberico ham that we understood to be complimentary – it was delicious by the way – the maître d' removed it from our bill without a second thought. A classy move. The visits paid by the chef to each table are sincere, and when our knowledgeable waiter offered me a complimentary glass of dessert wine to enhance the flavour of our cheese course, it left a wonderful taste in my mouth in more ways than one, and overshadowed any previous hard feelings I may have had for absinthe.
Details
Address:
71/72 Boat Quay
Singapore
049860

Contact:
Opening hours:
Mon-Fri 11am-11pm, Sat, Sun and PH 5-11pm
Do you own this business?
Users say