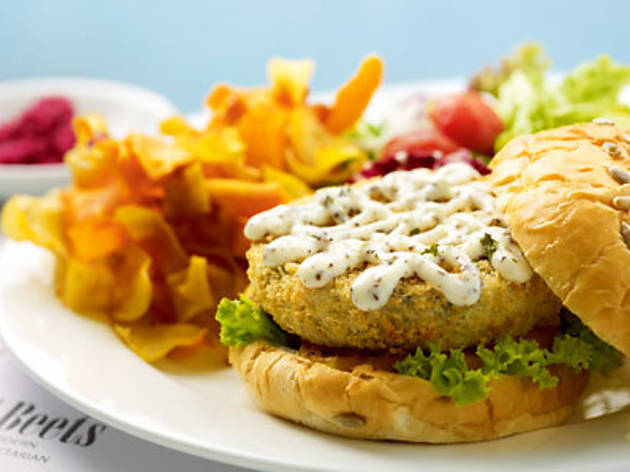 This sister restaurant of the next-door Carnivore Brazilian Churrascaria in Dempsey aims high with its fusion style, fancy plating – and its prices. If you're going to charge $15 for a salad or $10 for a fruit juice, they'd better be very good. Beets doesn't quite hit the level it aims for.
The space is pretty enough. In the corner of the converted barracks that formerly housed the so-so Oosh, the airy space boasts two differently styled mod-minimalist indoor areas and an outdoor timber deck. The decor, like the menu, is clean black-and-white, suggesting simple and healthy.
But many of the dishes just don't come together as they should. A colourful summer salad ($15) of mesclun with firm sweet mango chunks and slices of raw asparagus is bogged down by an undertow of hollandaise sauce. The slightly smoky roasted tomato and pepper soup ($8) comes with a piece of eggy, cheesy bread that's too soft and quickly becomes soggy. In the vegan-friendly vegetable cheong fun roulade ($19), the pungent mushroom sauce overpowers the shavings of black truffle.

The best dish we tried is the tofu burger ($20), an evenly soft, medium-thick seaweed tofu patty with hints of umami that sits on big wedges of well-grilled sweet pumpkin. The combination is balanced well with truffle aioli and mild beetroot relish. It's simple yet innovative, and made us overlook the overly chewy sunflower-seeded bun and non-crispy carrot crisps. The dessert of poached pear in soy chocolate soup with almond flakes ($12) is good, too – the soup has a glistening dark quality, even if it doesn't quite shake off the graininess of the soy milk.
When it comes to drinks, they're good but not quite as good as they sound, from the healthy Sunset Beets (beetroot, apple, carrot and orange, $10) to the extremely sweet from-the-mixer apple feijoa martini ($15). The lychee martini ($10) is the only cocktail made from scratch at this bar.
With eager but inexperienced wait staff, Beets Modern Vegetarian is less than the sum of its parts. Unlike East Coast's naïve restaurant, which was a game-changer when it opened, Beets looks the part but doesn't quite have the goods to justify the prices.
Venue name:
Beets Modern Vegetarian
Contact:
Address:
22 Dempsey Road
Singapore
249679

Opening hours:
Daily noon-3pm, 6-11pm
Do you own this business?