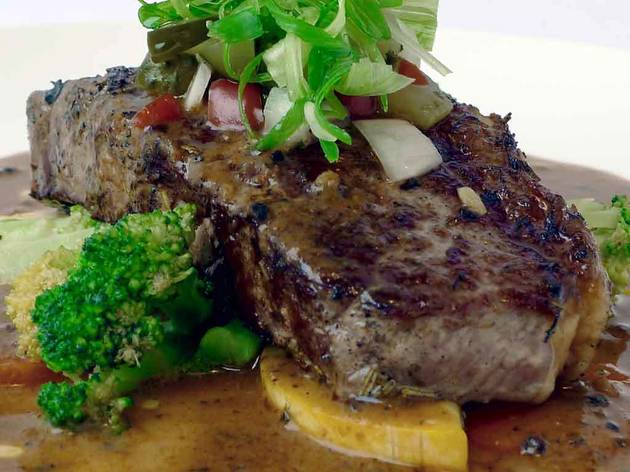 This promising new addition to Joo Chiat's restaurant row certainly looks the part: its black-and-white corner shophouse location, checkerboard flooring, colonial decor and airy whitewashed interior tick all the design boxes.

But in the kitchen, the creative heart of any restaurant, something is missing. That's not to say the Asian-influenced European fare is bad; it's just that you get the feeling that the restaurant is – like its appearance – a bit 'bistro by numbers'.
The very reasonably priced four-course set meals make a good light lunch. The pan-seared lamb is cooked to order and arrived perfectly medium-rare, the meat's juicy flavour accented nicely with a clear tarragon vinaigrette, and plated alongside dainty stems of asparagus and sliced potatoes. The pristine poached fillet of line-caught snapper with a plum-tinged ginger lime sauce had similarly strong touches, and came topped with additional strips of ginger fried to a wonderfully crunchy golden finish. There is an obvious cohesion in the dishes, but come dinnertime, the cracks start to show and one can't help but feel that Black Earth might have reached the extent of its creativity.
The evening meal was exactly the same as lunch, meaning a similarly tangled jumble of temperatures and flavours; the warm vegetables and strip of char-grilled marinated sirloin are topped with chilled pickles and drenched with cold black peppercorn sauce.

As with the other mains, every bite contained different degrees of sweet, salty, sour and spicy; and it doesn't help that the sirloin, toughened by the splash of cold dressing, was already dry to begin with.

The only impression made by the pan-seared salmon flavoured with lemongrass in a lime cream sauce is that it looked and tasted just like the lunchtime snapper, except this time it had donned a tart cream sauce as a rather gauche piece of eveningwear.

The wines ($8-$10 per glass) are served over-chilled; the desserts are uninspiring and appear thrown-together (strawberries with fresh cream, dates with yoghurt, or fresh mango with ice cream, $6-$7.50).
Despite having piled too much on their plates, promise still lurks somewhere within the gastronomic confusion of Black Earth. If they choose to moderate their menu a tad, we're sure their creative juices would be allowed to flow a little more freely. Celine Asril

Related stories:
Does Joo Chiat need saving?
Black Earth Museum
Venue name:
Black Earth Restaurant
Contact:
Address:
367 Joo Chiat Road
Singapore
427612

Opening hours:
Tue-Sun 11.30am-2.30pm, 6- 10pm
You may be interested in: