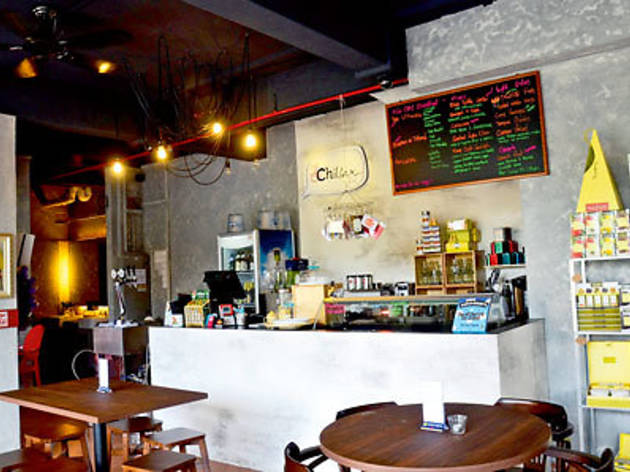 We like the idea of Chillax Massage Café, on the corner of Serangoon Garden Estate – an open-fronted café with a casual Australian feel, and a relaxed massage room upstairs. A lot about the concept works – though there are a few areas that let it down. The café has a vaguely retro feel, with old typewriters, a jar of iced gems on the counter, and a rack with old comics and those paper gliders that have come back into vogue as the early-'80s children have grown up.
There's a simple one-page menu, with food on the front and drinks on the back, and the food's all pretty good. There are five classic pastas (think vongole, $17, or carbonara, $16), bangers and mash ($18), truffle fries ($10) and a Wagyu beef rosti ($22). The highlights are probably the breakfasts – from a decent full English ($22) to 'Breakfast at Tiffany's' ($16), an eggs Benedict with sliced prosciutto and yuzu hollandaise. With only a Caesar salad ($14) offered as a lighter bite, we feel there could be more healthy options.
Drinks run from smoothies to boutique beers, Magners cider and an impressive selection of teas. The service, from co-owner Darren Wee (together with his wife Cecilia), is as friendly and hyperkinetic as you'd expect from a DJ at 987FM (he hosts Sunday's 'Only the Hits' at 11am). Also a drummer for local band Monochrome, he is unfailingly cheery.
But what really sets Chillax apart is the unusual café-massage combo. The massage room upstairs is a large, loungey room, but the brown wallpaper and upholstery make it feel more like a Chinese bathhouse than the retro-casual vibe of the café downstairs. Still, it's good that you can get quick massages. While it's possible to have a two-hour full-body massage ($105), we go for a cheap and cheerful ten-minute head massage ($10) and a neck-and-shoulder massage ($10). Both hit all the right spots, but could do with more oomph – the idea perhaps is for gentle massages after eating, but veterans may be left wanting more.
Overall, we like the place, but feel like a few tweaks would make it hum. The concept feels a little like disparate elements coming together – kind of retro-meets-Aussie beachfront caf-meets-Chinese massage parlour. They could give the massage room more of the café's offbeat style, and maybe have more 'chillaxing' elements downstairs, like comfy old chairs. Because it's a nice idea with nice staff and good food – in other words, it's so nearly there. Toby Skinner
Venue name:
Chillax Massage Café
Contact:
Address:
Serangoon Gardens Estate
28 Maju Ave
Singapore
556698

Opening hours:
Sun-Thu 11.30am-9.30pm, Fri-Sat 11.30am-10.30pm
You may be interested in: