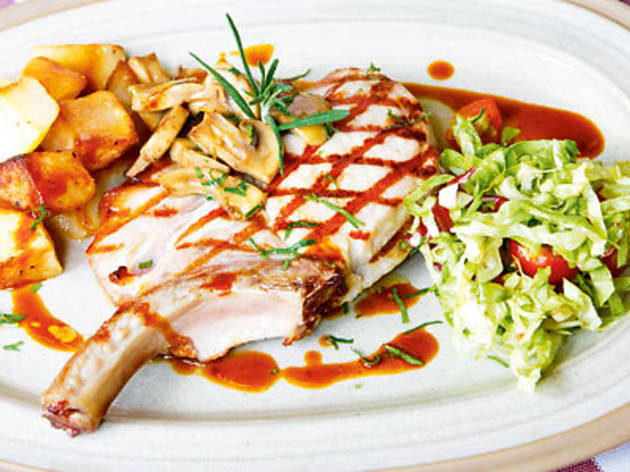 Planted along the busy stretch where Newton meets Thomson, this no-frills trattoria comes decked out with the requisite maroon-chequered tablecloths, dark wooden chairs and square mirrors set into the recesses of a terracotta wall. The laminated flooring and bright orange booths provided the first glimpse of inconsistency, a trait that came up throughout the meal.
Da Luca's pastas were the menu's weakest link. Former Garibaldi staff, chef Luca Pucciani's handmade tagliatelle was overcooked, but it was the sauces each dish bathed in that left the least to be desired. Duck meat in the ragù pappardelle was braised and shredded to a near pulp; linguine with fresh prawns and squid tasted one dimensional, with squid ink masking the seafood; and while providing adequately flavourful tang, the slow braised tomato sauce in the crab penne with crabmeat was still below par. Thankfully, it all went uphill from here.
A bowl of tender stewed tripe arrived after a bare simmer and the velvety texture created was softer than we imagined beef stomach could be. To top it off, rich flavours of melted butter and stewed tomatoes, topped with parmesan shavings, provided the kitchen with some credibility. Pucciani's strengths continued to show in his meat. Rustic, juicy and robust grilled pork chops with garlic and thyme are accompanied by tender, roasted potatoes and field mushrooms infused with the pork's juices. We savoured every last morsel of the crisp, fatty edges that lined the bones, leaving the plate almost spotless for the kitchen clean-up crew.
Upon devouring the last morsels, the youthful Pucciani came out to work the room, forging a connection with his diners. That, to us, was the homeliest of welcome gestures and left hopes that he's welcoming feedback. Yasmine Chen
See our list of Hot Tables in Singapore
Find a restaurant and book online
Venue name:
Da Luca
Contact:
Address:
Goldhill Plaza #01-1921
1 Goldhill Plaza
Singapore
308899

Opening hours:
Noon-3pm, 6-10.30pm
Do you own this business?
You may be interested in: