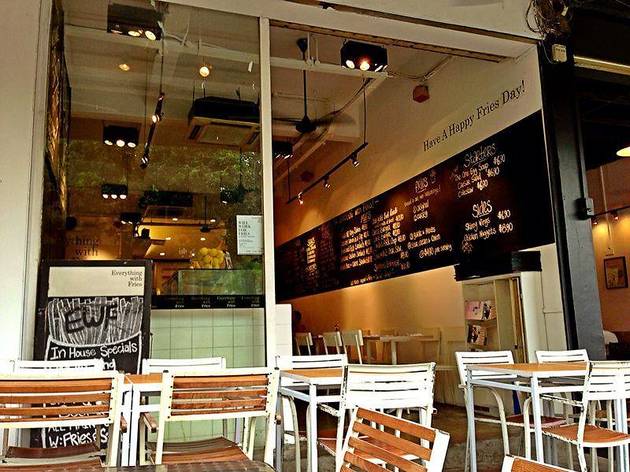 First off, let's talk chips. The concept of this new mini-chain of chi chi, Scandinavian-style café-cum-restaurants should be obvious from its downhome name. All the mains, of which there are ten, come with two different cuts of fries in four promising-sounding flavours: curry, salt and vinegar, sour cream and onion, and garlic and herb. So what's the verdict? Disappointing.
Fries are flavoured with that dry, synthetic shaker-style seasoning you can pick up in your average food store. The shoestring-cut sour cream and chive order arrived dusted with what looked – and tasted – like the sediment from the bottom of a tube of Pringles. The garlic and herb was suitably crispy on the outside and fluffy on the inside, but had no discernible taste of garlic. Rather lamely, a roasted clove had been set among the chips, as if, like a strain of influenza, its flavour would be catching.

Anyone expecting freshly made dips, then – and why wouldn't you anticipate a little fuss, given the tacit promise of the restaurant's name? – will be left cold. Our neighbour certainly was: 'Excuse me', he said optimistically to the waitress, 'you've forgotten my curry sauce.' She clasped her hands together and gently shook her head, artfully steering our smiley malcontent back to the reality of a sauce-less, no-frills, really quite average side order. Any complaints you may expect to hear in a restaurant should not be with its staple.
Oddly then, the chips are not this restaurant's strongest suit. But while the list of main courses isn't without its quirks – spaghetti bolognese and chips, anyone? – they're generally well executed, especially for the modest price tags. Char-grilled Karubi beef was the most ambitious, served perfectly tender and stringy in a light-brown barbecue sauce that didn't merge well with the dull coleslaw.

The lamb burger, however, was a hit; the gently spiced, moist patty topped with a tangy dollop of cream cheese, tomato relish and sautéed onions. All made in-house, the desserts have a retro French bent and prove a huge draw: hot banana and butterscotch pudding was sweet without being overly cloying and the mille crêpe, layers of French-style pancake, sandwiched a light, nutty chocolate cream that made a neat, not-too-heavy finale to the meal.
The other major flaw is the playlist. Someone's decided that the chic, minimalist interior, with its whitewashed walls and charming, Parisian bistro-style chairs, is not enough to pull the young, budget-conscious hip crowd. Deafening, R&B-infused club bangers quash any chance of our making use of the small library that's been set up at the back.

There was some respite with the comparatively soothing coo of Mariah Carey's 'One Sweet Day', but as we left, one of the waiters bopped his head to the dance-floor stomp of Beyoncé and Lady Gaga's 'Video Phone'.

'Have a happy fries day!' goes the scripted goodbye. 'See you again!' He will, because whatever flaws there are with the food, the super value for money and decent-enough roll call of comfort food make this a hard place not to like. Shame about the fries, though. Alexander Barlow
Venue name:
Everything with Fries
Contact:
Address:
40 Lorong Mambong
Singapore
277695

Opening hours:
Sun-Thu noon-11pm; Fri, Sat & eve of public holidays noon-1am
Do you own this business?