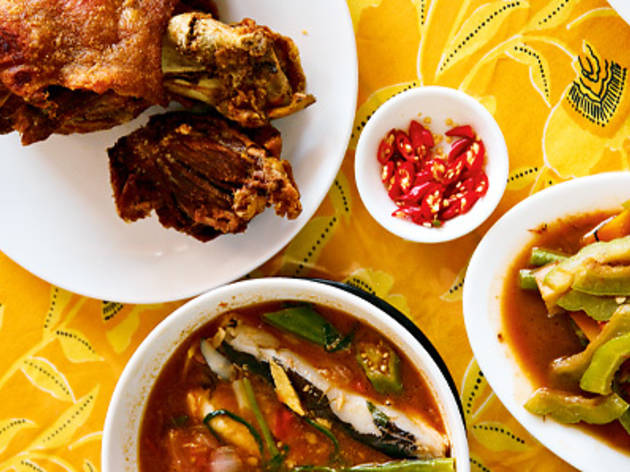 Time Out says
With its plastic tables, artificial flowers and Tagalog B-movies playing from a 12-inch TV plonked on a table at the back of the room, this 32-seater restaurant is a stark contrast to many of its trendier Joo Chiat neighbours. On one side of a paint-peeled wall hang framed black-and-white prints of popular Philippine destinations; across the room are pictures of a tourist bus in London's Trafalgar Square and a windmill in Amsterdam; and in one corner, a counter overflows with bottles of condiments that fight for space with a stack of glossy magazines (all back issues).

There's a psychological condition peculiar to Filipinos called horror vacui – the fear of empty space. Fortunately, this compulsion that had manifested itself in the confused interiors was reined in for the menu, with two to four dishes for each meat group – chicken, beef, fish and pork.
Unlike the other Filipino restaurants in the neighbourhood, Fiesta is attracting those who finish their working day at 6.30pm, rather than those who don't even begin until after the sun has set. Upon our Sunday evening visit, a couple of tables were joined together to accommodate two big groups who were looking for a family-style dinner.
Rainy weather inspired the request for a steaming bowl of sinigang na baboy, a clear soup flavoured with tamarinds and served with chunks of melt-in-your-mouth pork belly. The perfectly piquant taste was pleasantly undercut with the pork fat, which soaked into each spoonful of steaming white rice. Next, we dipped the pork in a fish sauce flavoured with a crushed piece of chilli, creating an addictive burn.

As it is rare to find a non-Chinese menu filled with pork dishes, we decided to make it a hog night. The rellenong talong is an aubergine omelette with ground pork. The salty marinade – soy sauce, black pepper, minced onion and garlic flavour the meat – was toned down by the simple, fluffy scrambled egg coating. A dip in the UFC Banana Catsup, a dubious pale red in colour, incorporated the missing sweet-and-sour flavours and brought the dish to the next level.
The final hurrah arrived with the sizzling hot plate of sisig, a popular Philippine dish inspired by poverty: it strips everything off a pig's head – ears, cheeks, snout, brain – and turns it into a mélange of crunchy textures. Perhaps catering to queasy diners not used to devouring rare parts of the pig, this version only used pork belly. Deep-fried to a perfect crisp, the ginger and calamansi juice cut through the grease.
Despite a few dishes veering away from traditional recipes, the owners, a Filipino family, keep it real with treacly music ('Bridge over Troubled Water', 'If I Had Only One Friend Left') blasting at full volume and a menu that covers all of the home-cooked bases. We will definitely be back: the pork knuckle dish we missed on the first visit is calling our name. James P Ong
Main courses $5-$8; pork knuckles $20.
Details
Address:
450 Joo Chiat Road
Singapore
427663

Contact:
Opening hours:
Mon-Thu 10am-10pm, Fri-Sun 10am-midnight
Do you own this business?
Users say