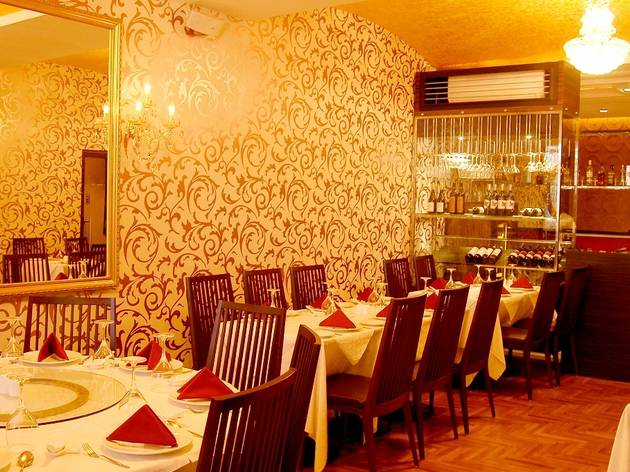 Time Out says
The Indian-Chinese dishes that are heating up the kitchen across the street from Mustafa Centre are not part of some new trend. The fusion of cuisines dates back centuries to the first Chinese migrations to India, when a new land's seductive spices were applied to the traditional cooking of the old. The relocation is displayed over Indian Wok's 15-page menu and, when served, the gastronomic results exceeded my expectations with flying colours and fiery flavours.
The interior is not shabby by any means, but the red-carpeted stairs leading up to the restaurant will have you wondering if you've made a wrong turn and into a shady massage parlour. But the door opens to a surprisingly attractive establishment, and gracious waiters offer a warm welcome. Exactly what kind of look they are going for is hard to pin down, though; it seems as though the designers were trying too hard with the painted gold ceiling, white tablecloths and embossed wallpaper.
My attention quickly turned from the embellished decor to spicy pickles (placed on the table upon arrival) and a long list of dishes that were crying out for my tasting. A mountain of crunchy deep-fried spinach was the first appetiser to arrive. The Sichuan chilli sauce that decorated the darkgreen cubes – comparable to croutons – got my mouth tingling. The spring rolls were leaning a bit more towards the Chinese border, and helped cleanse the palate with a subtle ginger flavour and a little less heat.

Deviled Prawns
If the mains were more hit and miss, at least each dish was executed with an element of surprise. Described on the menu as 'a wonderful Indian creation', there was little information as to what should be expected with The Vegetable Manchurian. This dish is made from a batter that's flavoured with red chilli oil, Sichuan pepper, minced garlic and green onions, and moulded into great balls of fire. Eager to try new dishes upon my second visit, this was one I just had to order again. The panfried noodles with cabbage, mushrooms and carrot lost their appeal when shortly after arriving, the once-crispy noodles became soggy and resembled something that came out of a can.
Leaving the border-crossing flavours aside, the sizzling brownie had to be tasted. Someone had already been feasting on the chocolate goodness when we arrived, so it was imperative for us to try this dish. Served on a hotplate, the waiter pours the molten chocolate sauce right in front of your eyes and a scoop of vanilla ice cream made a perfect accompaniment. The burning desire to unbuckle my jeans soon after devouring this sweet piece of heaven didn't bother me; it was that good.
The portions are generous and the staff courteous. Read: you'll be thankful that your water glass is constantly being refilled and that the air-conditioning is going strong when these dishes have you perspiring and your mouth burning. Even after wolfing down the chilli-smothered devil prawns, shredded chicken with soy garlic sauce and braised beancurd with black mushrooms, it felt as though I had only scratched this wok's surface.
See our Hot Tables listing
Find a restaurant and book online

Details
Address:
79A Syed Alwi Road
Singapore


Contact:
Opening hours:
Daily 11am-3pm, 6-10.30pm.
Do you own this business?
Users say