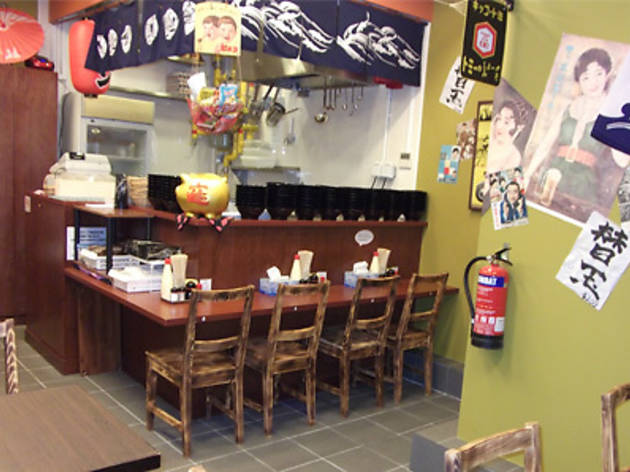 Time Out says
A fully air-conditioned, 18-seater, glass-enclosed cornershop at the bottom of the newly opened Orchid Hotel, daily operations are run by four guys – two Japanese cooks and two servers. But there are higher powers involved: this ramen shop is part of the Keisuke Tokyo chain, whose founder Keisuke Takeda scooped the top prize at the Tokyo Ramen Championship earlier this year. Let that be a testament to the authenticity and quality: having a meal at Tonkotsu King is like stepping into a timewarp, where 1920s-style Japanese idol and movie posters are displayed. The low-hanging curtains emblazoned with Japanese characters keep the modern city surroundings out of view, so you can stay focused on this carefully crafted world.
Tonkotsu (pork-based) miso ramen is the speciality. Bowls are topped with condiments such as the eat-as-many-as-you-like hard-boiled eggs in baskets scattered all over the shop, marinated beansprouts and grind-them-yourself sesame seeds. The ramen comes in three variations with three choices of toppings – normal, black spicy (a nose-tickling black pepper is added) and red spicy (a douse of strong chilli oil) broth can come with pork chashu, black fungus and/or a flavoured egg. Presented as in central Japan – the part of the country where this variation of ramen originated – a huge sheet of seaweed is anchored at the top of the bowl, and chunks of fat are suspended on the surface of the oily broth.
You can customise your ramen, choosing to have it with seaweed or without; a light, medium or strong broth; a greater or lesser quantity of chicken oil; and how well you want your noodles done. If, like us, you ticked 'normal' the whole way, it will be a rounded salty, cloudy broth that intensifies with every spoonful of the straight, 2mm-diameter noodles that offer little resistance on biting. The pepper in the black spicy cuts the saltiness a little, while the sharp chilli oil in the red spicy trims the fatty coating on the tongue.
The verdict? Sore o aishi ('We love')! It's all about the compact vibe, transactions in Japanese (to everyone, including their non-Japanese businessmen diners), back-in-time space and rich, hearty broth with springy ramen noodles. Even though prices are standard (payments are accepted in cash only), a meal in this capsule shop will perhaps only be a rare indulgence; these bowls are not for the chicken-hearted. Celine Asril
See Time Out Singapore's Hot Tables
Find a restaurant and book online
Details
Address:
Orchid Hotel #01-19
1 Tras Link
Singapore
078867

Contact:
Opening hours:
Daily 11.30am-3pm, 6pm-10pm
Do you own this business?
Users say