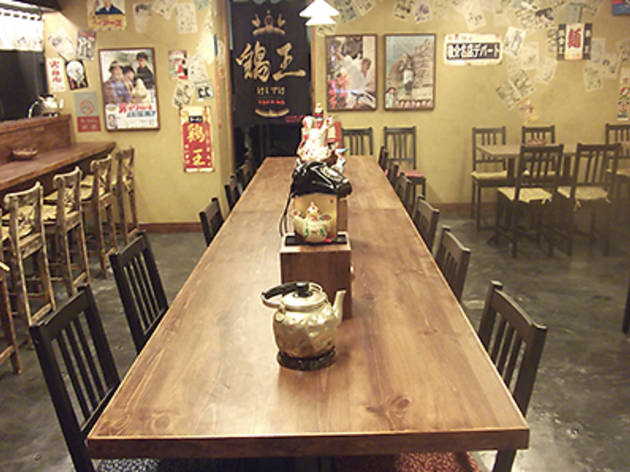 Staying on top is never quite as simple as getting there, and in the case of Keisuke Tori King, it's a classic example of the daunting task it faces to attain the lofty heights of its predecessor. We proclaimed ramen specialist Keisuke Takeda's second Singapore venture – the insanely sought after Tonkotsu King – as the island's best ramen in our September 2012 issue, but the chicken thigh-ramen combo at Tori King is a wildly different creature from its traditional pork bone cousin.
The décor is more or less the same: a cosy single room eatery (albeit in a shopping mall this time, and a roomier 32-seater compared to Tonkatsu's 18) plastered with movie posters and comic pages from a bygone era. There are also similar paper slips to fill out your order on, with three different ramen options (regular, black spicy or green spicy, $11.90-$16.90), which you can customise to your liking (hard or soft noodles, more or less oil, etc), as well as the all-you-can-eat baskets of hard-boiled eggs and beansprouts at the table.
What's changed is the broth – made from chicken bones and feet, seaweed and vegetables boiled for eight hours – and a huge chicken thigh (think Indonesian panggang style) that dominates every bowl served. With all the additional toppings (Japanese seaweed, flavoured egg and pork loin), there's almost too much to handle in the bowl. Fortunately, the helpful and ever-cheery waitresses solved the problem by providing extra plates for us to transfer the chicken to. And with space issues resolved, it quickly became clear: the tender, fall-off-the-bone meat and creamy, hearty soup was a winner.
This is Takeda at his experimental best – he also claims this ramen is an exclusive creation for Singapore. Don't miss the unique green spicy ramen ($12.90- $16.90), which features a dollop of special wasabi sauce swabbed onto the chicken – though we were apprehensive about too much wasabi in our soup, the resulting mixture was surprisingly mild, with an added flavour kick. Is it as good as Tonkotsu King? Probably not; we still prefer Takeda's rich and immensely flavourful pork broth, but it's a nice endorsement of the evolving ramen scene here that a simple bowl of noodles can throw up a myriad of options. And with both Kings located just a stone's throw from each other, the inevitable comparison is that much easier. The choice is yours. Lee Min Kok
See our Hot Tables listing
Find a restaurant and book online
Venue name:
Keisuke Tori King
Contact:
Address:
#03-15 100 AM
100 Tras Street
Singapore
079027

Opening hours:
Daily 11.30am-10am
You may be interested in: