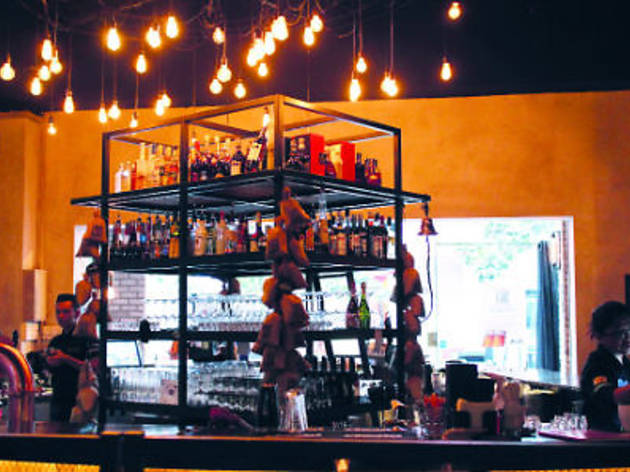 Time Out says
If there is a formula for your typical Clarke Quay bar, Kuro – meaning black in Japanese – certainly ticks all the boxes. Dishing out cheap beers, Japanese whiskies by the bottle and sing-along cover tunes by bands like Shirlyn & The UnXpected and Tabula, the space is clad in dark metal, salvaged grainy oak and reclamed furnishings that has captured the affections of just about everyone who's opened a restaurant, café or bar in the last year or so.
Attempting to cut through the noise of dining offerings in the area, the Japanese small plates here bear the signature of MBS superchef Hide Yamamoto, clearly working on a brief to create dressed down, bar-snackish Japanese dishes ($7-$25) and sashimi trios ($16-$22) to pair with bevvies like Nikka whisky (the collection here spirals upwards to a 25-year-old Taketsuru vintage, $15-$2,000) and Asahi on tap. What's served up though, is unsophisticated, deep- fried-everything fare reminiscent of a Texas state fair. Case in point: the Kurobuta black pig (lovely marbling and all) dunked into tempura batter. It was hard to take more than one bite when the first spewed out a gush of hot oil hidden in the folds of batter and sullied pork (we've heard this has since been taken off the menu).
The dubious invention of udon soaked in hot oil ($8) yields too chewy, sticky-on-the-teeth bites, and the battered prawns ($16), while astutely cooked to deliver a perfect meaty crunch, is ruined by a slathering of sweetish blueberry sauce. The potentially creative spider avocado roll ($18) is a limp tube of wasabi-laced soft-shelled crab topped with avocado and mentaiko licked with a whisper of flames from the blowtorch, and all accompanying salads are sad, wilted leaves drowning in an overpowering, sour sesame vinaigrette.
There's redemption in the prawn- paste chicken wings ($15), with its moreish herb-spiked minced pork fattening the boneless joint, but ultimately, order at your own risk – we took the advice of the helpful servers on our visits for recommended dishes and clearly it didn't take us far. The restaurant, outside of its social media and PR efforts, seems almost ashamed of its Yamamoto connection – there's nary a mention of the man on its menu, and no utterance of his holy name until the friendly staff were quizzed during a conversation.
Kuro might have tried to distinguish itself in concept and menu from the mishmash of bars and restaurants in its vicinity, but ultimately it's more suited for drinkers that like their whiskies and beer with a side of the area's glamour (and don't mind paying the premium for it). For now, this is the Clarke Quay everybar. Natasha Hong
Follow Natasha Hong on Twitter: Nathonggg
Details
Address:
#01-11 The Cannery
3C River Valley Rd
Singapore
179022

Contact:
Opening hours:
Mon-Thu 5pm-2am, , Fri & Sat 5pm-3am,, Sun 5pm-2am
Do you own this business?
Users say