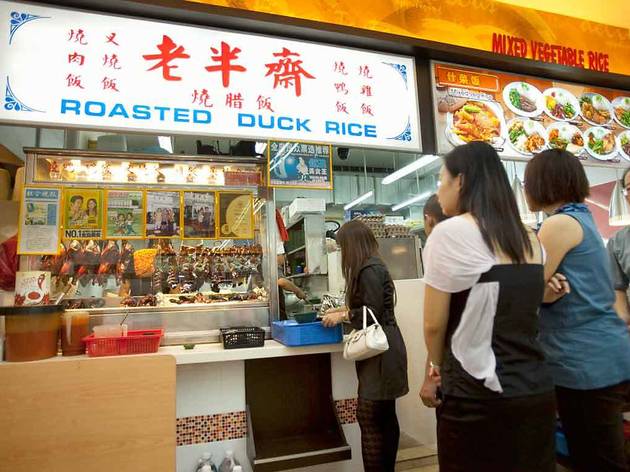 What set this boneless roasted duck apart was its soft, slightly elastic skin with a thin, almost not-there layer of fat encasing moist and tender dark meat. The accompanying rice was a little too al dente for us, but its heady fragrance was reminiscent of chicken rice. A light, homemade dark sauce was draped over the duck, and on the side was a small bowl of soup made from duck bones and preserved vegetables; its combination of sour and salty tastes nicely complemented the comforting flavours of rice and bird. Celine Asril
INTERVIEW WITH THE HAWKER: Mr Lin Ding Jie, 53
He's been roasting ducks for around 33 years now. The current premises (Coffeeshop at Blk 119 Bukit Merah Ln 1) are temporary – at least till the renovations to #01- 20 Alexandra Village Hawker Centre are complete, which should be around March 2011.
What is the secret behind your tender, moist roast duck?
I stuff the seasoning into the belly of the duck. As it cooks, the fl avours are 'pushed' out into the meat and skin. It's similar to harnessing one's inner kung fu really.
What kind of seasoning do you use?
The base is a combination of oil and water – I fry this until it gets dry.
How long does it take for you to cook the birds?
I cook them overnight.
What kind of ducks do you use?
Fresh local ducks from Malaysia. The frozen ones do not have the oils that line the inside of their belly – it is the oil that makes the meat tender.
Your rice is also more fragrant than most. How do you make it?
It is you fan (oil rice). The rice is cooked in an oil base with onions, garlic, salt and a little MSG.
Like this? Try these...
• Lim Seng Lee Duck Rice, 38 South Buona Vista Rd (6475 9908)
• Heng Gi Roasted Goose and Duck Rice, #01- 406 Tekka Food Centre, Blk 665 Buffalo Rd

This story first appeared in 'Step up to the plate' (TOS Apr 2010)
| | |
| --- | --- |
| Venue name: | Lau Phua Chay Roasted Duck |
| Address: | Singapore |
| Opening hours: | Sun-Fri 11am-7pm |
You may be interested in: