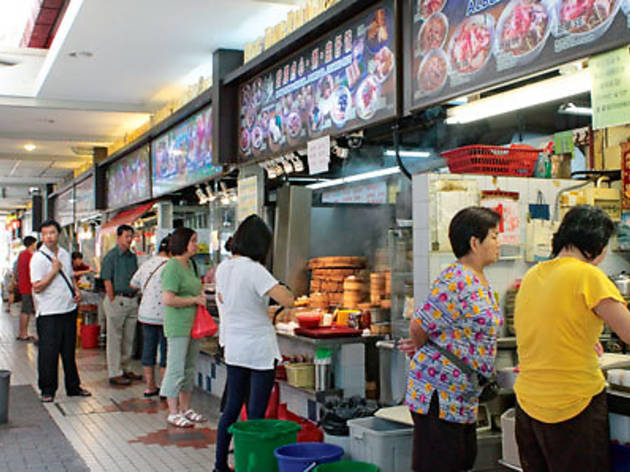 Lavender Food Square is quiet by day but bustling by night, with most of the stalls open until 2am and many dishing up their wares until 5am. Hot and crowded, it has a very local feel, with lots of unusual hawker dishes such as turtle soup, crocodile soup and quail's egg siew mai.
The wanton noodles with char siew ($4/$5) at Kok Kee Wanton Noodle (Stall 6) are legendary, though the stingy portions and queues put a slight dampener on the gorgeous sauce. We prefer Hong Kong Tim Sum. Porridge.Steamed Rice (Stall 9). Though piping hot abalone porridge ($6) is the speciality, we like the other dim sum specials – fish roll dumpling, quail's egg siew mai and celery prawn dumpling (all at $3.20 per basket).
Another highlight is Miow Sin Popiah/Carrot Cake (Stall 4), with popiah ($1.50 per roll), packed with peanuts, lettuce, radish and beansprouts; and aromatic carrot cake ($3/$4/$5) fried in freshly made lard, with generous helpings of chai poh and fish sauce. Along the very same row, right at the end, is Eminent Frog Porridge Main Branch (Stall 17). One of the few places in town to serve frog porridge, the highlight is their perfectly cooked frog with dried chilli/spring onion ($8 per frog/$17 for three).
Across at the other corner of Lavender Food Square is the famous Bugis Street Ngak Beef Kuay Teow (Stall 28), serving beef noodle soup ($4/$5) with tender beef and subtle herbal tinges. Just on the left is Kin Turtle Soup (Geylang Lor 35, Stall 27). The turtle soup ($20/$25/$30/$35) comes with plain or yam rice, with the turtle meat boiled in a strong herbal soup that masks the pungent smell. The stall also offers a tender crocodile meat soup ($10/$15). Charmaine Tan
Venue name:
Lavender Food Square
Address:
S21 Lavender Food Square
380 Jalan Besar
Singapore
209000

You may be interested in: