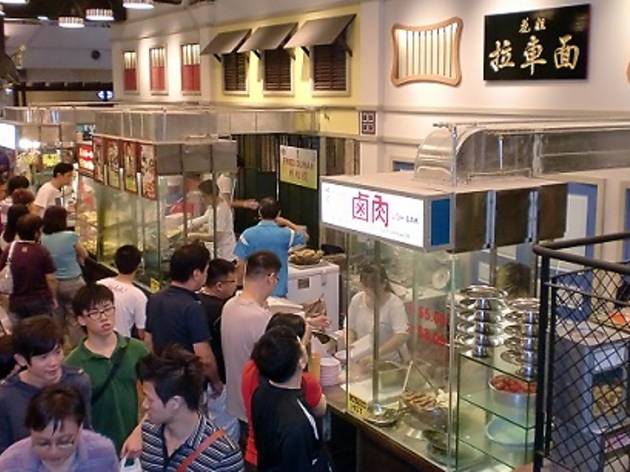 Time Out says
WHAT IT'S LIKE: This food court on the third floor of Jurong Point 2 shopping mall pays homage to the street food of Malaysia. Its name comes from a popular saying meaning 'Malaysia can!' (also the name of a campaign started by former Malaysian Prime Minister Mahathir Mohamad). It is already consistently swamped by heaving throngs of hungry diners, leaving barely enough room to move – let alone breathe. If you visit on a weekend, be prepared to be squashed and jostled.
Part of the draw (aside from the popular Jurong Point itself, one of the largest malls in Singapore with over 450 shops) are the first-rate credentials of the hawkers selected by the Fei Siong Group, a veteran outfit in the local cheap eats scene. There are 17 cloistered vintage stalls and pushcarts, each with at least 20 years of history. Note, however, that these are essentially franchised stalls operated by Fei Siong, not run by the original Malaysian street hawkers themselves. Reportedly, authentic recipes have been reproduced (though we discovered some discrepancies, read on to find out why); the teeming crowds of diners certainly approve. Prices are also surprisingly reasonable for an airconditioned setup.
Apart from the claustrophobic environment, the centre has done a fine job in recreating the nostalgic vibe of the 1960s. Diners are transported back to this golden era at the 300-seater through a clever combination of distressed retro reproductions and props set against the blaring soundtrack of bubble gum Mandarin pop oldies. All in all, it's a worthy contender to the Malaysian Food Street (another indoor concept), which opened at Resorts World Sentosa earlier this year; regrettably, unlike its rival, Malaysia Boleh! does not feature any halal-certified stalls.
WHAT TO EAT: One of the oldest heritage stalls in the centre is Penang Jalan Cheong Fatt Tze, which has been dishing out piping hot bowls of hearty Hokkien prawn mee ($3.50/$5) for the last 50 years. Its most fervent followers swear by its rust-coloured aromatic, slightly spicy pork-prawn broth, which is ladled over egg noodles or vermicelli before being topped with juicy shrimp, tender pork slices and fried shallots.

The wait at Petaling Street Famous Claypot Chicken Rice was unexpectedly short, and upon closer inspection, we were disappointed to find out that the stallholders were using gas burners to prepare the eponymous claypot chicken rice ($5/$8), rather than the customary charcoal stoves, which were prominently displayed in front of the stall. Purists will definitely notice the lack of smokiness – a key characteristic that distinguishes an exceptional claypot chicken rice from a mediocre one. Still, there was a crunchy (and carcinogenic) burnt rice crust, which took a herculean effort to prise from the bottom with a plastic spoon, as well as the generous portions of salted fish and sweet Chinese sausages. This is still pure comfort food, although not at its utmost best.
Klang Ba Ku Teh's ($5/$8) adaption of this heritage favourite is definitely brawnier than Singapore's take on this dish. Pork ribs and pork belly are left to simmer for hours on end with garlic, dark soy sauce and a clutch of Chinese medicinal herbs to produce a robust but not overpowering broth. Hailing from Penang, Lorong Selamat churns out lip-smacking oyster omelettes ($4/$6/$8). The eggs are slightly undercooked to give the omelettes a languid, gooey texture, which complements the plump oysters perfectly.

For a sweet ending, head to Penang Gurney Drive 98 for soft and fluffy apom manis (Malay crepes) or steamed pandanus-laced pancakes ($2 for 4), which are made to order in traditional pans. Patrons can choose between four fillings – banana, kaya, peanut and corn – but we like the first two options best. Linda H
Details
Address:
#03-28 Jurong Point 2
1 Jurong West Central 2
Singapore
648886

Contact:
Opening hours:
Daily 10am-10pm
Do you own this business?
Users say