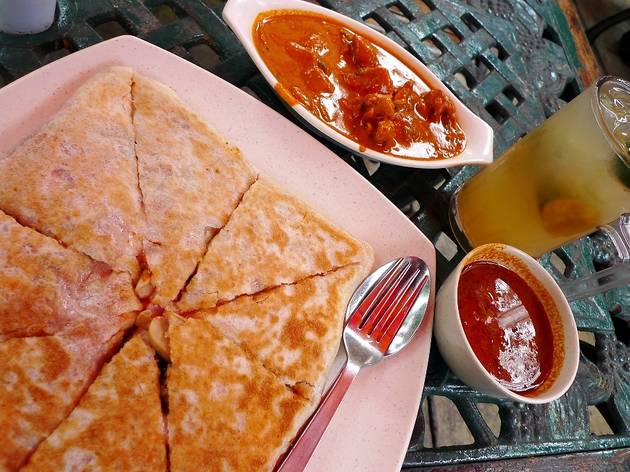 Mr Prata, located near Evans Lodge and a stone's throw from the Botanic Gardens, churns out prata and rich curries to many a hungry soul in need of a 4am food-fix. The modest alfresco-dining establishment may be lacking comfort, but makes up for it with its diverse menu and brisk service. At the last count, more than 40 prata festooned the menu, complemented by both meat and vegetarian curry dishes from all over India, naan bread from the tandoor, and Singaporecentric fusions (see Mee & Meehoon Mix Goreng). Wash it all down with a manly Milo Godzilla and you'll be complete – at least till tomorrow, same time, same place.
Venue name:
Mr Prata
Contact:
Address:
#01-02
26 Evans Road
Singapore
259367

Opening hours:
Daily 24 hours.
Do you own this business?
Rating Breakdown
5 star:

0

4 star:

0

3 star:

0

2 star:

0

1 star:

1
Horrible Service for Terrible Food!!
I had tried this place a few months ago. The food was horrible and not authentic at all! (yes, I'm a food caterer and I can tell.)
Today, when I was at the NUS Bukit Timah Campus nearby, I had this sudden craving for prata. I wanted to give this place the benefit of doubt. I was kind enough to give them one more chance to compensate for the so called food that was served the previous time, but my magnanimity was not reciprocated!
I did not have cash, which is why as soon as I entered the place, I asked if I can pay by NETS and to my surprise they agreed. With this delight, I placed my order and proceeded to the billing counter to make the payment. Unfortunately, the NETS machine kept declining my payment so this middle-aged woman at the counter asked me to wait in the side as there were other customers who were lining to pay. Meanwhile, my order was ready and the waiter came near me to pass the food packet. I was about to tell him that I had not paid for it yet when this woman at the billing counter yelled at the top of her voice, "Eh, Don't give him lah! He hasn't paid yet!". Then I asked her to try once again, but it failed. She then passed my card to her coworker and rudely said, "This boy doesn't have money, you try lah!". He then asked me if I had entered the PIN correctly. I said, "yes, and I have enough money in my bank account". When it failed again, he returned my card to me and said, "It's not working!".
I then had to walk two kilometers to the nearby ATM where I used the same card and PIN to withdraw cash (so even SG50 baby knows clearly who is at fault). By then, I no longer had the mood to eat the food and I was super upset, NOT because of the errors in NETS payment machine. Unfortunate incidents like these can happen at times, but the least that the people at the counter could do is not be rude and obnoxious to make everything even worse. And I strongly feel that people in the food industry especially should not see it as a mere business, but a service and a very noble one! One must remember that we are serving people more than food, we are serving them love, care and compassion. Or at least that's what I do for the people I cater to. And although one cannot expect the same from such businesspeople who lack passion for food and compassion for the humans eating it, it is high time for a change in their attitude.
Later, I went back to the restaurant, made the payment by cash and walked away without collecting the cold food lying at the counter. Why? Coz it's not food anymore, but a bunch of ingredients mixed tastelessly with arrogance and hatred. Also, I did it to give them a chance to do some self-reflection, which they most probably won't!