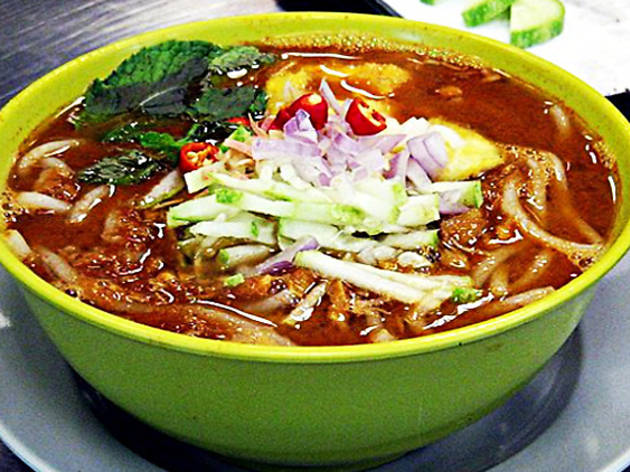 The nondescript façade belies the rich Penang fare offered here, some of the best this side of the Malaysian border. Plus point: friendly and helpful staff who will even give you a drink as you wait for your takeaway. The flavourful hor fun duck soup ($8.50), with its huge braised duck leg, can actually feed two light eaters.
Venue name:
Penang Kitchen
Contact:
Address:
5 Coronation Road, #01-05
Singapore
269406

Do you own this business?
Rating Breakdown
5 star:

0

4 star:

0

3 star:

0

2 star:

0

1 star:

1
So this is supposedly one of the spots to eat Assam Laksa. And there are not many in Singapore. However, having just travelled from Penang and missing the amazing cuisine there. The Assam Laksa is ok but lacks the sourness (tamarind), is a tad salty and is less fishy (because they may be cheaping out with less fish based broth) than it should be. But its fine, maybe not worth the & $8+ that they charge for it, but if your missing Penang it might do the job. But BEWARE, the service is slow, poor AND they are DISHONEST with the bill. First they wanted to charge us 20 cents for water, so they miscounted and snuck another 20 cents under another line item hoping we wouldn't notice. Whatever its only 20 cents. Then they double charged us for a dish we only ordered 1 of. Then they didn't want to recalculate the tax and service fee (duh, if you charge more for something you didn't eat, naturally the tax and service charge should be reduced). But EVEN THEN, the cashier tried to sneak in another lime juice even after all this miscalculating, almost as if she wanted to see if she could sneak in another $4 without us noticing (WHAT you didn't think we would notice and can do speed math?! Dude I'm fucking Asian of course I am a walking calculator). Then to top it off, they gave us ATTITUDE for knowing our shit? NOT worth the trek at all. You may be a neighborhood institution and survive on neighborhood business but anyone traveling: DO NOT BOTHER MAKING THE TRIP TO EAT HERE, it is a waste of your cab fare and your tummy.