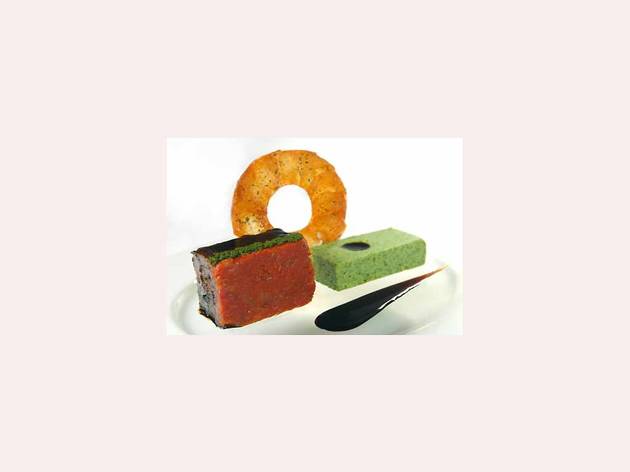 This modern European restaurant's move out of 45 Joo Chiat Place (now occupied by Chu Dao Chinese Cuisine) has led to a much more affordable menu. Highlights include the scallop carpaccio starter, served with truffle ice cream and French caviar ($21), and the Australian grain-fed beef tenderloin with charcoal powder, black rice and crispy oxtail for $39 – a bargain compared to the $98-$168 range before. We like the desserts, too – particularly almond panna cotta with hashima jelly ($15) and chocolate fondant with coffee ice cream ($15).
Main courses $21-$43.
Previous review:
I have grown weary of that ubiquitous formula followed in the latest 'avant-garde' restaurants. It will take more to impress and satisfy me than a scoop of savoury sorbet or a dollop of that 'you've seen it once…'-flavoured foam. While both of these party tricks make it onto Private Affairs' modern-European-with-an-Asian-touch menu, happily for us, chef Paul Ng has a few other inventive methods tucked up his apron sleeve.
After building up his portfolio at eateries like Les Amis and Pierside Kitchen, Ng has set up shop in Joo Chiat. Here an up-and-coming dining scene thrives just a few doors down from several seedy KTV lounges, where private affairs of another sort ensue. Inside, the dark hardwood floor glows underneath sparkling, ever-so-chic chandeliers. There's no need to blindfold your beau on the way to the restaurant; they'll have no idea where you're taking them and certainly no idea what's in store until the food has been placed on the table.
But even then, be warned: compared with the college-level chemistry lessons you would receive at Ferran Adrià's El Bulli or Wylie Dufresne's wd-50, this six-course meal came with little or no explanation from Ng's staff, whom I'd compare to junior high substitute teachers. They're there just to make sure things get done, but have little or no knowledge of their subject. When I enquired about the oxtail blanquette – it was covered in a thin, unrecognisable gel – the waiter pointed out the ever-so-obvious mushrooms and fled before I had the chance to follow up on my question. The waiter's giggling after our questions made me feel like a putz for showing curiosity – or even for being there to indulge in these wacky concoctions in the first place.
Service aside, chef Ng prepared several stand-out dishes. Presented on on a black-slate serving board, the pan-fried foie gras succeeds in bringing together four unlikely accompaniments – beets that have been transformed into a crunchy coral, camomile jelly, aragame oil and a pomegranate vinaigrette. The Hokkaido scallops received high marks from both my dining partner and myself, arriving perfectly tender, seasoned with smoked miso powder atop corn noodles. The star player in the lobster bisque – one of the chef's signature dishes – is the tricolore cannelloni wrapped around a salmon and lobster salad. The lush roll lies in the bowl before the soup is ladled at the table, ensuring it's consumed at the perfect temperature.
The seared tuna, however, falls short. I felt gypped when the white soya lime sorbet (surprise surprise) and mirin yuzu foam (yawn) both melted and disappeared quickly on the plate. On my next visit I would consider replacing my main course with extra starters; the beef cheek lacked any real crunch and its smoky aroma reminded me of hickory barbecue sauce bought from a store. The kurobuta pork was served alongside avocado gnocchi, blood orange and fermented black garlic, and saved the rather dry meat, making it somewhat more palatable.
The desserts made up for many of the bumps along the way. The chocolate florentine, with Baileys powder and pistachio couscous, is served alongside a scoop of mouthwatering white chocolate ice cream. The thick passionfruit purée and basil gel in the pistachio cheese sandwich also testify to the chef's sweet success.
Some say the point of molecular gastronomy is to make diners think, in which case Private Affairs succeeded with flying colours. Unfortunately, by the end of my meal, the apparent lack of communication between kitchen and dining room meant that not all my thoughts were positive. Alexandra Karplus
Venue name:
Private Affairs
Contact:
Address:
25 Boon Tat St
Singapore
069622

Opening hours:
Mon-Sat 11.30am-2.30pm, 6-10.30pm
Do you own this business?