Saha Signature Indian Restaurant & Terrace Bar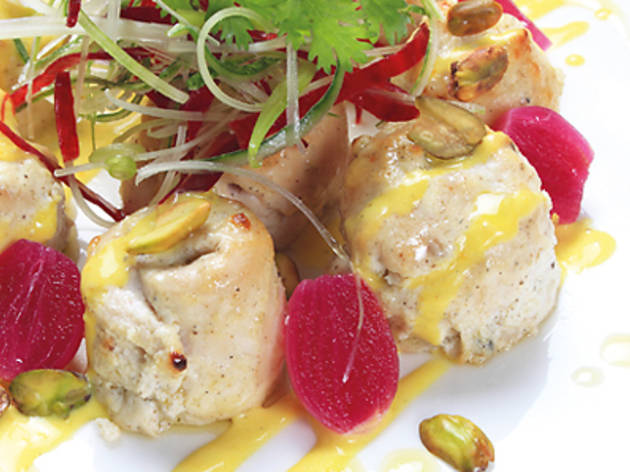 Time Out says
Saha has plans to close its Duxton Road restaurant soon and move to the National Gallery by November 2015.
After encountering the cuisine of Abhijit Saha (owner of European restaurants Caperberry and Fava in Bangalore) on a trip abroad, the owners of Duxton's Russian restaurant Buyan invited the award-winning Indian chef to come set up a Singapore outpost. Saha Signature Indian Restaurant & Terrace Bar is the result, occupying Buyan's upper level.
Saha maintains most of Buyan's interiors – not a bad move, as the original palette of jewel-toned hues does lend itself nicely to an Indian restaurant, and the pictures (from the chef's travels across India) lining the staircase add a touch of personality and sense of place.
Reflective of the chef's photo journal, the menu is an eclectic representation of Indian regional cuisine, from northern favourites like daal makhani (black lentil stew, $24) to southern dishes like Malabar prawn curry ($35) and Hyderabadi lamb biryani ($38). However, these are not run-of-the-mill dishes you'd find in any Indian joint. Chef Saha has obviously given a lot of thought to flavour pairings (some unique combinations include dried fenugreek leaves with foie gras), and often prepares dishes using his favoured modern cooking techniques, like sous vide and the occasional molecular touch.
A traditional Punjabi dish, daal makhani, is a tricky one to master, and Saha's version unfortunately fell short – while somewhat creamy with a welcome lingering heat, it still tasted watered down. However, all was forgotten when the red snapper curry ($35) was served. The fish was firm and fresh, and the gravy tangy and flavourful, with the black and yellow mustard giving just enough of a nose-clearing edge. The pashmina chicken kebab ($32), too, reflected chef Saha's mastery of flavours. The marinade was redolent with cardamom, and just creamy enough to moisten the perfectly grilled chicken. The dishes go well with steamed basmati rice, but at the ridiculous price of $12 a pot, it might make more sense to go with the naans ($10/two) – again, the price barely justifies their modest size, but they do have interesting additions like parmesan and black olive powder.
For dessert, the almond halwa baklava ($18) came highly recommended, but we found ourselves eyeing our neighbours' coconut soufflé ($15). The halwa filling was very good, but it got lost in the filo layers and an overwhelming taste of milk powder that bordered the dessert on cloying. If you're already full, it may be wiser to stick with the complimentary petits fours (the rose cream profiterole was divine) and a nightcap. The cocktail list, while compact, offers some Indian-inspired options, but choose wisely. Besides the fact that it was made with India's Old Monk dark rum, the Indian Mojito ($18) tasted just like a regular one; adventurous options like the Kari-Tini (gin, vermouth, curry leaves and green chilli, $18) might prove more exciting.
During the restaurant's opening weeks, it seemed to draw in late night diners – even at 8pm, the place was quiet, with crowds coming in later to fill up the 36- seat dining room. When it's slow, the personable servers can get a bit too attentive, though they don't lose their efficiency or eye for detail when the night gets busier either.
All in all, a meal here is solidly enjoyable. Sure, there are some misses in the execution, but clever navigation through the menu should save you from costly mistakes. As it continues to settle into its Duxton perch, we're sure Saha will definitely blossom even more.

Details
Address:
9A Duxton Hill
9A Duxton Hill
Singapore
089593

Price:
FREE
Contact:
Opening hours:
Mon-Sat noon-3pm, 6-11pm , Closed on Sun.
Do you own this business?
Users say