Away from the city, some 100 metres above sea level, lies Arbora Hilltop Garden and Bistro. Its scenic locale, atop Faber Peak, offers a unique dining experience: sample all-day brunch plates while soaking in panoramic views of the Harbourfront neighbourhood.
There are a few ways of getting to Arbora. You could drive, or hike up by foot, but a trip via the cable car offers the most scenic, and convenient, route. Settle in, and enjoy a bird's eye view of the city. And the scenery continues over at Arbora; grab a seat at the breezy alfresco deck, or escape the heat at its indoor seating area – both overlooking lush greenery and the blue sea.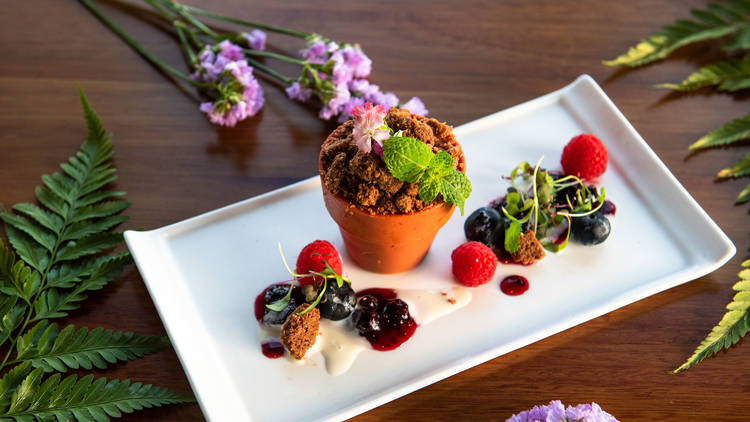 To pair with the view, choose from its refreshed, botanical-inspired menu made to reflect the surrounding landscape. Start with the caesar salad ($15), served in a jar with dressing on the side, which makes for a fun mealtime activity for the little ones. There's also the tangy Arbora rojak ($16), tossed with shredded green papaya and mango instead for a lighter, fruit-forward spin on the hawker classic. Other highlights include the pineapple-glazed pork ribs ($28), where the fork-tender meat comes marinated for over four hours in pineapple purée and tomato sauce; and the too-pretty Flower Pot Surprise ($16), a sweet treat of an edible chocolate pot, filled with lemon cream, cookie crumble, and berries.
The drinks selection, similarly, comes with a tropical spin. Sip on the Arbora Singapore Dream Tea ($6), an exclusive blend of black tea leaves perfumed with flower buds and dried berries. And those thirsting for a mid-day tipple can look forward two summery concoctions: Botanic Watermelon Boost ($12), shaken with fresh watermelon juice and gin; and the Malibu rum-based Botanic Pineapple Boost ($12).