After years of serving fine steaks on the mainland, homegrown chophouse Bedrock ventures to an offshore locale to open its second outlet. Located on the first floor of Oasis Resort Sentosa Hotel, the restaurant will draw inspiration from its coastal address to offer the best that the sea – and land – has to offer.
Before entering the space, take a quick peep at the wine cellar located adjacent to the entrance; the cosy alcove comes flanked by rows of rare and organic labels, and spotlights two dry ageing cabinets filled with hunks of choice cuts and fresh catch. Then, head inside the dining hall, dressed in handsome Art Deco motifs of geometric-lined ceiling and lavish plum-hued seats; or soak up the island breeze at the outdoor patio, lined with potted greens and string lights.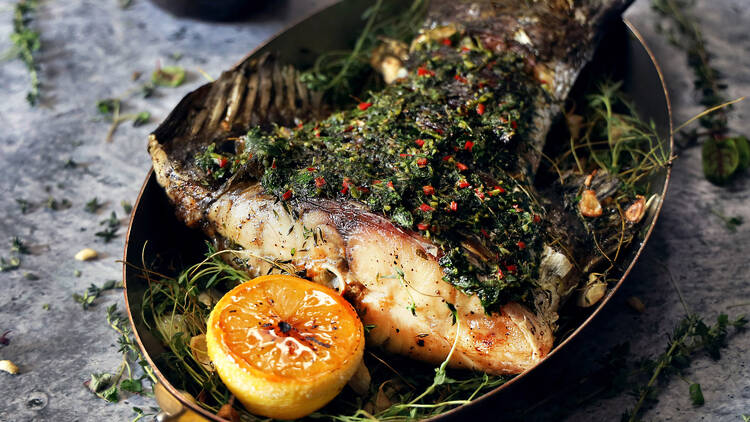 The menu expands beyond traditional offerings of red meat to spotlight lighter, fresher flavours. To start, slices of kingfish sashimi ($32) are dressed in a refreshing ceviche-soy dressing; and warm slices of grilled pears are paired with arugula and blue cheese dressing. From the ageing chamber, local barramundi tail ($88) is first left to sit for seven days to lend a firmer, meatier bite, then finished in the oven with a blanket of chimichurri. Or try the turbot served on the bone ($68), a juicy slab fortified with kombu butter.
Of course, the main highlight of applewood-grilled steaks remain. Dry-aged Australian barley-fed striploin ($110) is charred with smoke, or splurge on the prized Kobe wagyu striploin ($268). Pair each bite with sauces of red wine, made with veal jus, and tarragon-hinted béarnaise; or try the hot favourite, a house-made chilli oil cooked with bacon bits for extra oomph. Save space for the signature macaroni and cheese ($22), gooey and tinged with truffle; and spicy Brussels sprout ($16) tossed with quinoa and chilli oil.