Argentinian steakhouse Bochinche has moved into a bigger home along Club Street, and with it comes a makeover. The dining hall comes upgraded to fit more tables, and the walls are clad in ruby red textures that bring to mind a well-marbled beef.
It helps hint at what's to come: fine cuts that are grilled over charcoal, or wood-fired to impart a delectable char. Beef from Argentina remains a signature; grass-fed ribeye ($65) is an easy choice with its juicy bite. Bochinche also looks beyond the borders of the country to curate choice cuts from around the world. Sirloin from Australia ($65), or the impressive vintage Galiciana striploin ($140) where castles are left to graze for at least five years, then dry-aged for some 38 days with a coating of beef tallow to develop a more intense, richer flavour. Cut through the grease with spoonfuls of chimichurri.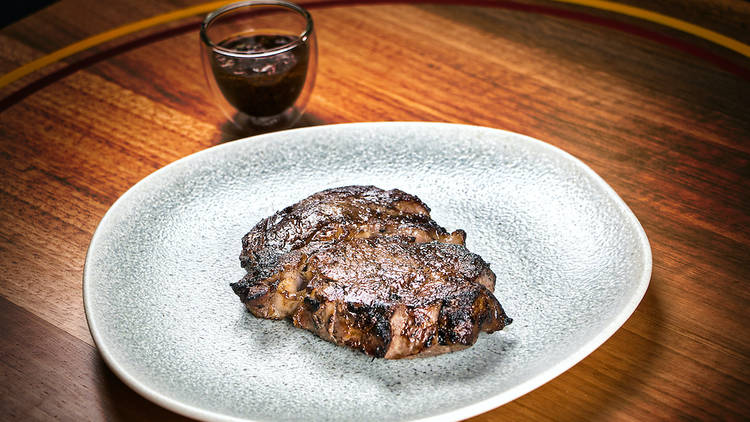 The new menu also expands beyond the realm of red meat. Starters, like the burrata ($29), help whet the appetite, with milky Italian cheese dressed with biting lacto-fermented tomatoes to lend a fizzy brightness; while the Spanish-style arroz verde ($27) is a spice-scented dish studded with raw scallops and finished with grilled Argentinian prawns. Parcels of ham and cheese empanadas ($5), bursting with steam and confit onions, are also worth snacking on while waiting for the meats.
Be sure to save space for sides of thrice-cooked chips ($10), hinted with heady garlic notes, and roasted cauliflower ($15) laced with pistachio pesto and sweet raisins. Between bites, sip on wines from the restaurant's collection of over 50 labels (of which 30-odd are from Argentina), which includes the red Animal Malbec 2019 from Mendoza ($23/glass), tinged with fresh notes of plums and blackberries; and the light-bodied white Rutini Torrentés 2018 ($85/bottle) that boasts floral characteristics of jasmine and rose.