At this hip hawker centre, you can clink glasses of wine and slurp down wonton noodles, or pair warm porridge with smoke-kissed pork belly. Cluny Food Court is a cash-free, multi-concept dining destination by the Les Amis Group that brings together five exciting brands under one roof. Tucked away at a quiet corner of the Singapore Botanic Gardens, look forward to a hearty yet affordable feast – all while being surrounded by scenes of nature.
Come hungry, and take your pick from different cuisines. Mui Kee Express offers a condensed selection of the signature rice gruel, velvety and smooth, from the Hong Kong-based chain. Wok-kissed congee can come simmered with fish belly ($13.80), homemade pork balls ($9.80), sliced garoupa ($10.80), and more. Or check out S'mao Barbecue for a more potent punch of smoke. Specialising in Texas-style grilled meats, cooked over hardwood fire, expect thick slabs packed with char and juice. The dinner-exclusive All in Plate ($24) provides a sampling of its signature creations: lip-smacking pork ribs, honeyed pork belly, and tender pulled pork served alongside fries and coleslaw.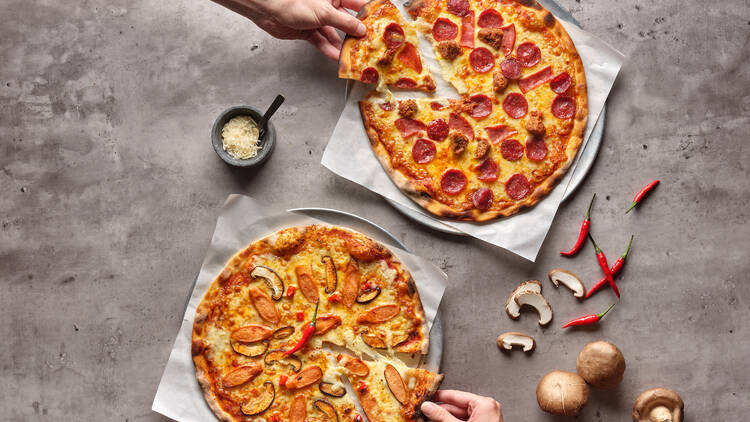 Project Penyek by Ansar doles out reliable plates of rice. The Muslim-owned stall pairs scented rice with either addictively crispy fried chicken ($6.50), or deep-fried black pomfret ($7.50). Satay ($5 for five) also comes conveniently served in a cup, complete with cubes of rice cake and chunky peanut sauce. Also worth a try: Piccante Pronto, the Halal offshoot (pending official certification) of Les Amis' Peperoni Pizzeria. Suprema (from $12.50) covers Roman-style thin-crust pies with a slick of spice. Chilli padi is sprinkled among other toppings of chicken sausage, shiitake mushroom, and onions for a fiery bite. Or slurp up truffle-scented mushroom Alfredo ($12) finished with a baked layer of gooey Parmesan cheese.
Swing by Laifaba Express to have a taste of its souped-up wonton noodles. The chef updates a time-tested family recipe to imbue a modern touch into the classic bowl; springy noodles come crowned with wood-fired char siew slices and plump parcels of dumplings ($8). The noodle house also roasts up crackling-topped pork belly, soy sauce chicken, and duck. Feeling the heat? Cool off with a cold beverage from the drinks stall. Besides traditional brews of barley ($2.80) and kopi (from $1.90), boozy options of beers ($6.80) and wines ($8/glass, $40/bottle) can also be purchased to elevate the meal experience.