The directions to Coexist Coffee Co might sound a little dubious, but those who are willing to make the journey will be greeted by a secret rooftop café.
To find the hidden establishment, first, drop by the industrial area of Bukit Batok and look out for the unassuming Hillview Building. Once there, a security guard might ask if you are here to visit "a canteen" – and proceeds to direct you into a cargo lift. "Go up to the seventh floor, then up the [flight of] stairs," he says.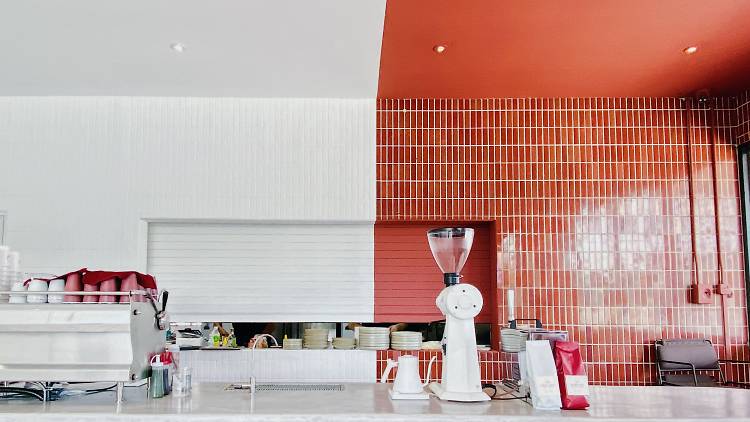 And unlike the dingy decor of the industrial locale, Coexist Coffee Co is a sun-strewn spot that exudes minimalist charm. An impressive cantilevered table splits the space into half: One side is outfitted simply in white, while the other side is splashed with red. Those willing to brave the heat can choose to head outdoors and dine at the rooftop patio, which comes with partial views of the greenery at Bukit Batok Nature Park.
The food features an all-day breakfast selection, including classics of avocado on toast ($14) and a greasy fry-up ($22) of bacon, sausages, and mushrooms. Get the burrata ($10), a milky treat of cheese brightened with balsamic tomato and lashings of honey.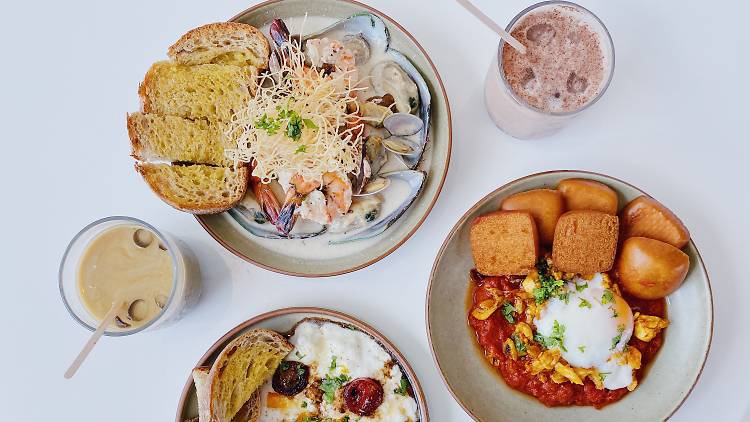 A portion of the menu comes inspired by Asian flavours, resulting in creations that include smoked duck bao ($12) or chilli crab shakshuka ($16), which comes across more like a spiced tomato dip with chunks of crab meat. Fish and chips can also come slathered in fiery sambal mayonnaise ($20), while beef burgers might be drizzled with rendang reduction ($22). Those not in the mood for spice can try the seafood coconut broth ($18) – packed with clams and mussels – that is soothing, sweet, and slurp-worthy.
Much like the duo-coloured room, the drinks program is an equal representation of coffee- and tea-based options. Choose from the usual espresso-based variants of mocha ($5.50) and piccolo ($4.50), or opt for cups of matcha and hojicha spiked with double-shot espresso ($6.50) for an extra dosage of caffeine.