People are drawn to palaces and castles to experience a slice of luxury. Their appeal lies in the grand, gilded, and often gold-hued interiors; swoon-worthy spaces that pique curiosity. This is why most (us included) are drawn like magpies to the glossy Corduroy Palace, never mind that the entrance is hidden in the dingy back alley of Gemmill Lane.
It shares the same entrance as Proper Slice, a takeaway-only cousin of pizzeria Lucali BYGB. Venture deeper, and scenes of the industrial kitchen are replaced with a classy dining room instead. The revelry is about to begin.
Snuggle up in oversized banquettes that help give the illusion of privacy. The restaurant claims to line the floor with over 21 different vintage rugs, while famed contemporary art pieces, including a Picasso original, help dress the fabric-lined walls. But some of the richness in details are lost in the dramatically dim lighting.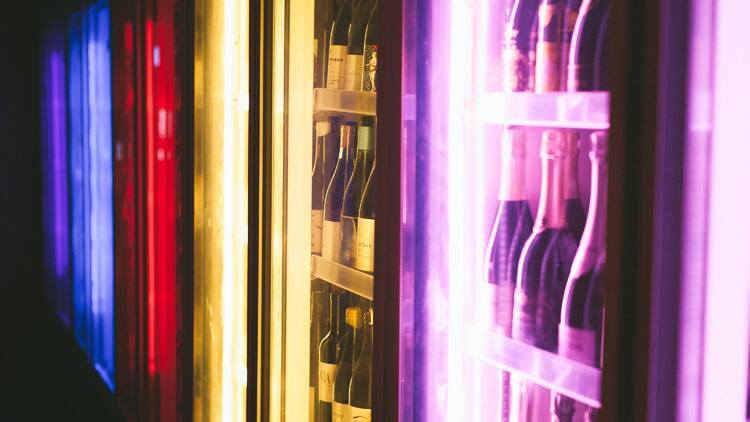 Luckily, the row of 10 wine coolers come brightly hued in shades of the rainbow. The 300-strong selection is designed to be self-service, but with labels that start from $100 up, it is best to pick the mind of head sommelier Marcus Chen (formerly of Jaan by Kirk Westaway) for recommendations.
The food menu, too, advertises a pricey selection that runs the range from hearty classics and indulgent treats. Instead of the usual bivalves, try lining the tummy with warm dumplings ($50 for 10) instead. Essentially a platter of souped-up xiao long bao, steamed parcels from You Peng, a hawker in Bukit Timah, are crowned with orbs of caviar. Of course, the dish comes accompanied by a pair of jade chopsticks. They were undoubtedly great, but the delicate flavour of the fish egg is sadly lost to the vinegar-laced dressing that doused the dish.
Also done well, and priced high, are coins of chicken cordon bleu ($34), where surprisingly tender meat enrobes slices of ham and cheeses of parmesan and provolone, served with a side of green peas. Waldorf salad ($25), an ode to the old-school, trades the usual lettuce with earthy kale leaves. Everything comes tossed in a dressing creamy enough to make the palette beg for a drink, or two.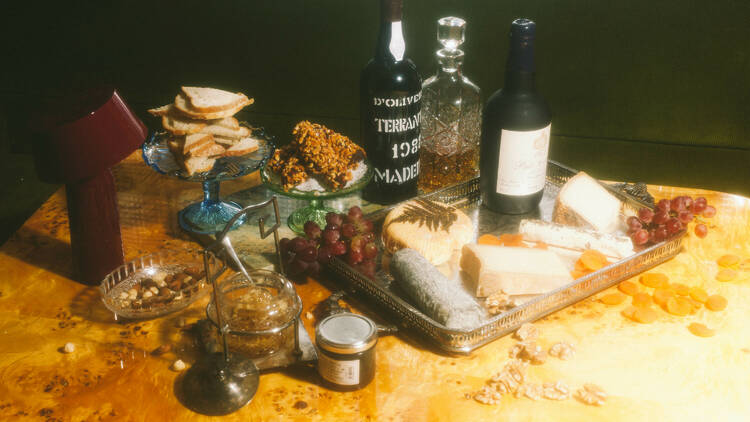 Splitting a full bottle might be hard with the current two-pax rules. So get a classic cocktail instead (the only kind available). Martini ($35) is a smooth, American-sized 140ml pour that can last throughout the meal, finished with blue cheese-stuffed olives for extra fun and funk. Desserts can come in the form of cheese ($50/$75) or massive sweet pies ($18) of lemon and coconut.
During the meal, a trolley might be wheeled by the table to offer bumps of caviar ($20) – a true sign of opulence. Even the washroom is lavished with branded hand products (Le Labo) and trays of knick-knacks: matchboxes, keychains, and condoms. "It's for those feeling lucky tonight," shares a waitstaff. Visiting Corduroy Palace is certainly not an everyday affair; but it certainly offers a chance to enter a glamorous world, dripping in hedonistic charm.
Time Out Singapore reviews anonymously and pays for all meals. Read our restaurant review policy here.

What the stars mean:
★ Poor ★ ★ Promising ★★★ Good ★★★★ Very good ★★★★★ Exceptional