Minimalist cafés, with white-clad walls and simple decor, are a dime a dozen in Singapore. But if there is any place that's making this pared-down aesthetic feel fresh and exciting, it's Daizu Cafe.
The café gets its youthful energy from its young team with an average age of 26. While previously running a beverage catering business, a dip in business during the stay-home period spurred the enterprising group to diversify and look for alternative sources of income. They eventually settled on opening an eatery – one grounded on Japanese minimalist influence. "We wanted something very zen," says creative director Briano Yong.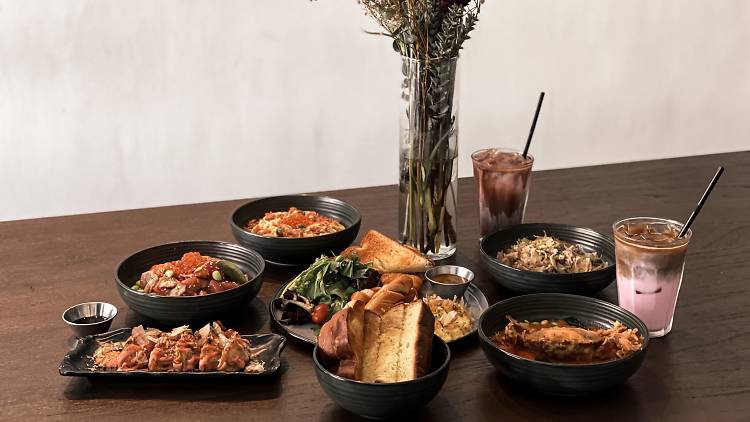 This is why Daizu Cafe first stands out with its expansive space; a loft-style, two-storey interior that lets in plenty of morning sunlight. "When people come in, we wanted a space where people can unwind and recharge," shares Claire Huang, who takes charge of the Daizu Cafe's business development. "Our focus when we started this space was not just about the food."
That's not to say that the menu hasn't been given much thought. While some might come for the picture-worthy space, its novel brunch plates that fuse Japanese flavours with Western cooking techniques are equally intriguing. Founder Nicholas Lau noticed a gap in the "causal Japanese space", and decided that he wanted to inject into the cuisine a playful spin. The result: unique creations of lemon miso eggs Benedict ($24), mixed chirashi salad ($18), mentaiko chicken dumplings ($10), and more. Sauces, from wasabi mayonnaise to curry aioli, are also made from scratch.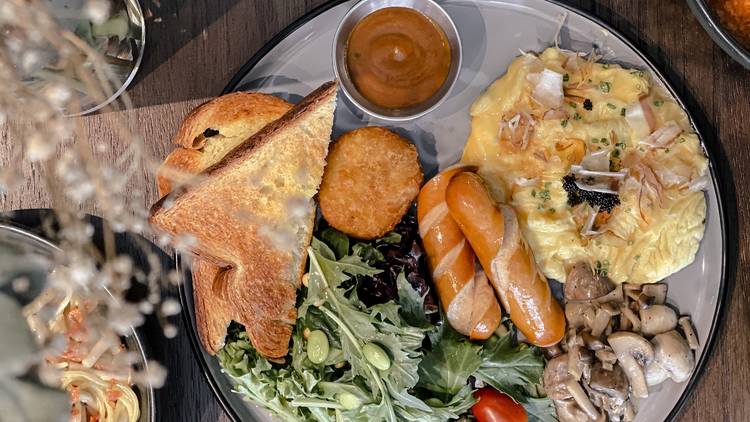 These are then used to cook up stand-out dishes that include the garlic butter sakura ebi ($16), a take on carbonara with garlic butter sauce and crunchy sakura ebi; the agilo olio-inspired chicken paitan ($14), where spaghetti comes tossed in umami-packed thickened chicken broth; and the hearty Daizu brunch ($22) with brioche, spiced chicken sausage, rosti hash, and truffled scrambled eggs with a cheeky addition of black ebiko that brings to mind beads of caviar.
The Japanese-influence carries through to the drink selection as well. Sip on the pretty, bittersweet strawberry latte ($7), or sample its selection of premium matcha and hojicha (from $6), sourced from Kyoto and served as in without any sugar added to let its nutty flavours come through. Classic espresso-based drinks are also available and comes brewed with a three-bean blend from Papua New Guinea, Brazil, and Guatemala.
Choose to settle down at the upstairs nook of the café – a perfect spot to people-watch, or chill out at the pet-friendly outdoor patio. Either way, a visit to Daizu Café will prove a treat for both your eyes and appetite.