Inspired by the buzzy Australian café scene, the owners of Dewgather sought to recreate their own buzzy coffee spot back in Singapore. Stepping into the 120-seater space feels like entering an indoor oasis; the 3m-long aquamarine-hued coffee bar churns our cups of aromatic brews, while the glass-panelled ceiling and terracotta motifs add a touch of summery vibe.
Need a dose of caffeine? Dewgather serves an exclusive blend that is roasted in-house, using sustainably sourced beans from Brazil and Guatemala, to bring out notes of caramel and chocolate in each sip (from $3). Or try the houjicha latte ($8), with a hazelnut-like aroma that settles into umami, seaweed fragrance.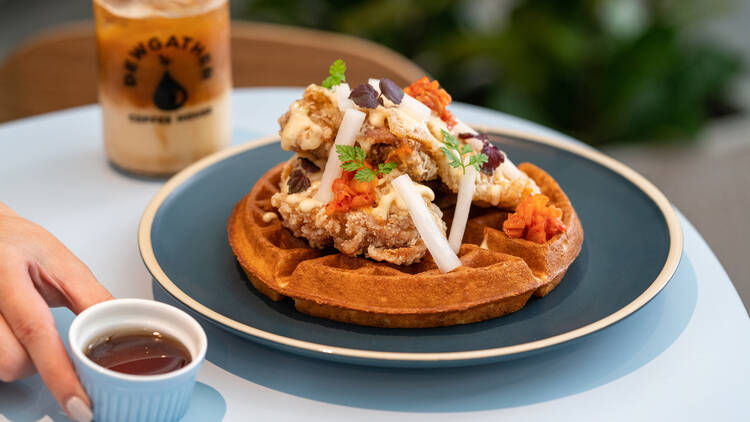 Classic café grub comes tinged with Asian influences to present novel options worth ordering. Strands of linguine ($27) come perfumed with a herb-scented sauce, with pops of baby capers to add tang and brightness to the dish. Fillets of swordfish make for a hearty, meaty bite. The usual waffle and chicken ($20) get a makeover as well. Korean-style fried chicken, which comes with a thinner coat of batter, tastes lighter than most versions served elsewhere. It then gets piled atop airy buttermilk waffles, then finished with kimchi and strips of pickled radish to help cut through the grease.
Dew Harvest Bowl ($22) is a sleeper hit that amps up the flavour of clean-tasting salads. Beetroot-pickled cauliflower, cashew nut pesto, and roasted vegetables come together in sweet, smoky harmony. For desserts, French toast ($18) is a treat for the eyes. Thick-cut brioche is crowned with vanilla-speckled ice cream, brown sugar crumble, and a colourful ring of candy floss.